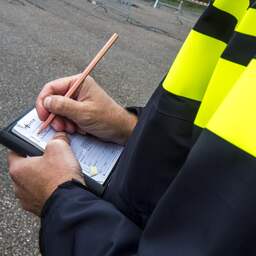 Nov 20, 2023 at 4:29 pm Update: 16 minutes ago
The government's plan to increase traffic fines is meeting resistance from the Council of State. The fines for minor offenses will be increased to close gaps in the budget, but the advisory body does not think this is a good reason.
Fines for, for example, driving through a red light or talking on the phone behind the wheel are intended to increase road safety, according to the Council of State, one of the cabinet's most important advisors. The fine amount must therefore be in proportion to the violation and the question is whether this will still be the case after the increase.
According to the Council of State, the outgoing cabinet would do better to first investigate the consequences of higher fines before making a decision. If that study shows that the increase is not necessary and does not ensure safer traffic, the government should abandon it.
Minister Dilan Yesilgöz of Justice and Security wants to increase traffic fines by 10 percent next year. Just over half (5.7 percent) is adjusted for inflation, but the remaining 4.3 percent is intended to get the national budget in order.
Fear of less understanding of fines
There is now a fear that if the measure is actually introduced, there will be less and less understanding of traffic fines. This may be accompanied by more and more citizens going to court because they disagree with the fines.
The Public Prosecution Service (OM) was also critical of the plan a few months ago. The Public Prosecution Service believes that the higher amounts are no longer proportionate to other penalties for more serious offenses, such as drunk driving. Then Yesilgöz said that it is necessary to increase the fines, because otherwise the cabinet will have to cut back on police or the Public Prosecution Service.
The fact that the Council of State is critical of the proposal does not mean that the increase will not go ahead. The Council of State only provides advice.