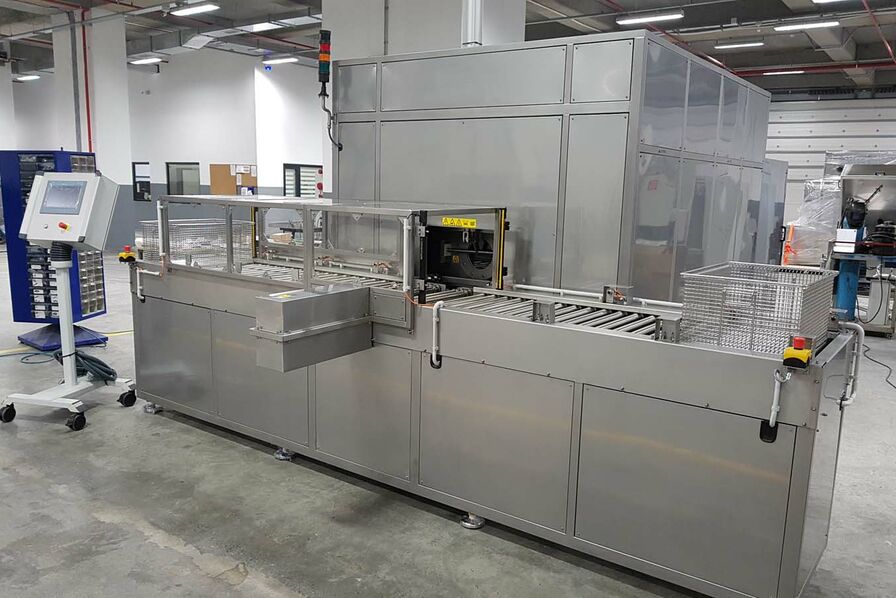 The issue of waste also agitates the cosmetics industry. In order to reduce the use of plastic in packaging, more and more brands are choosing glass. However, the various containers made from this infinitely reusable material become single-use due to a lack of reuse solutions. Based in Montauban in Tarn-et-Garonne, Ibbeo Cosmétiques, a brand of cosmetic products based on natural ingredients, decided to remedy this.
It has just launched Coveco, its subsidiary specializing in the reuse and deposit of cosmetic glass. This eco-efficient industrial washing device aims to wash in large series and recirculate the glass cosmetic packaging of Ibbeo Cosmétiques as well as other players in the sector.
The benefits of washing and reuse are numerous: reducing the number of packaging, preserving water and energy resources, reducing waste and promoting local employment. In addition, this concept of reuse of glass containers is part of a circular economic model, close to the manufacturer, the distributor and the consumer and which responds to new consumption uses.
"We have been continuously improving for ten years to reduce our environmental impact and our CO2 emissions. The idea was born in 2019 when we responded to the call for expressions of national interest on the reuse of glass packaging from Ademe and Citeo. This is where we set up an efficient and environmentally friendly glass washing solution"says Vincent Bobo, co-founder of Coveco and Ibbeo Cosmétiques.
A machine that adapts to any container
The SME is then rewarded in 2021 by Ademe, Citeo and the Occitanie Region who decide to support it in the development of this revolutionary project, unique in France. Indeed, if washing tools already exist for glass food containers, Coveco's solution is a first in cosmetics, a field which must meet numerous regulatory requirements in terms of traceability, hygiene and microbiology. Thus, after two years of R&D and tests and nearly a million euros of investment, the Coveclean technical solution will see the light of day in 2023.
This machine, protected by a patent, never before seen on the market, has been designed to wash different sizes and shapes of glass cosmetic packaging. It can wash perfume bottles as well as cream pots ranging from 15 to 500 ml. To develop Coveclean, the Montalban-based company joined forces with Microsemi, a Toulouse-based company specializing in cleaning solutions for industrial parts.
"In our business, shape is a strong brand identity so everyone develops containers with different appearances unlike in Bordeaux where all producers have the same bottle. Standardization is therefore impossible. Our biggest challenge was to develop technology that could properly wash all types of packaging regardless of their shape and size. Before us, this did not exist"explains the manager.
A capacity of 400,000 pieces per year
How Coveclean works is quite simple. Upstream, before washing, the various lids, caps, pumps and labels are removed by hand from the containers. Then, they are placed in boxes where they go through stages of spraying, immersion in detergent solutions and ultrasonic cleaning before being steam dried. A cycle lasts on average around fifteen minutes.
"Depending on the type of bottle, washing can take up to 24 steps. Spraying, immersion and ultrasound are very effective and make it possible to eliminate all traces and residues of cosmetic products, whether oil, gel or cream textures. »
Inaugurated mid-October, the Coveco pilot washing unit has a capacity of 400,000 glass containers per year. With Ibbeo Cosmétiques needing 100,000 pieces per year, the tool should also provide washing services for other brands. Five contracts with clients, kept secret, have already been signed. From January 2024, the company will begin honoring its contracts. The unit will create around ten jobs.
" The entire sector has questions, studies or tends to move towards reuse. We have a lot of ongoing discussions with interested brands of all sizes in France and Europe. »
A favorable legal framework
The success of this reuse project relies largely on the participation of consumers in returning their empty bottles to partner collection points. "Consciences are awakening. More and more people know that the environmental situation is no longer sustainable and want to change their way of life to take action, but few initiatives exist. Coveco is one of them »believes Vincent Bobo.
On the professional side, legislation could give it a boost. Indeed, the anti-waste law for a circular economy (Agec), set by the Ministry of Ecological Transition, provides for the end of the marketing of single-use plastic packaging by 2040. All companies are concerned and those who do not meet the requirements of the law are exposed to heavy fines.
Duplicate the model everywhere in France
Concerned about improving the environmental practices of its market while generating employment, the SME wants to duplicate its washing unit throughout France in the years to come. In order to automate the additional steps, before washing (removing caps and labels), Coveco is looking for financial partners. Discussions are underway to assess the best way to raise funds.
While waiting to create jobs and generate turnover via its subsidiary Coveco, the formulator and manufacturer of natural cosmetic products, founded in 2011 by Vincent and Pascale Bobo, employs seven people and generates 300,000 euros in turnover. notably through a distribution network of 200 points of sale in France.
"Coveco is complementary to Ibbeo. From 2019, we removed cardboard boxes and plastic bottles from our products and chose glass and paper labels. We hope that many players will want to be part of this environmental approach which can revolutionize the sector. We cannot continue to have single-use packaging. The 7th plastic continent is a reality. All industries will have to embrace reuse and repair"concludes the business manager.