Patriots
"I can see two men sitting down, respecting one another and saying to each other that, 'Maybe it's time.'"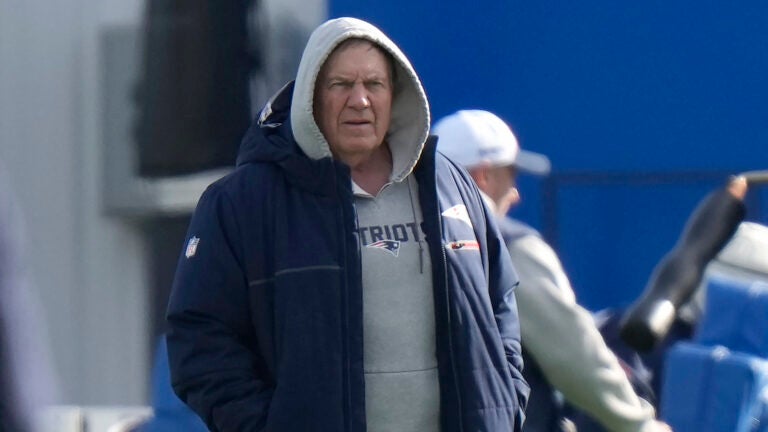 The narrative has quickly shifted for the 2023 Patriots.
All of the optimism this summer rooted in the odds of a potential playoff push has dissipated off of a 2-8 start.
And with seven more games left on the docket before this season reaches a merciful end, most of the discourse in Foxborough now hovers around both Mac Jones' future as New England's starting quarterback — and Bill Belichick's job security as head coach.
During his weekly radio spot on WEEI's "The Greg Hill Show" on Monday, former Bengals great and current CBS NFL analyst Boomer Esiason was asked his opinion on whether or not both Jones and Belichick will remain with the Patriots beyond this season. 
"I would think that it's unlikely both are back next year," Esiason said. "Let's put it that way. I think that that's why I put that one on the top of the list, that one of the two are not going to be back, and most likely Mac Jones is not going to be back."
Given the lackluster returns that Jones has put forward this season (10 touchdowns, 10 interceptions in 10 games), coupled with the hope that New England scoops up a blue-chip QB prospect in the 2024 NFL Draft, the writing seems to be on the wall that Jones' time as QB1 is coming to a close.
But even with this year's disastrous results, could a coach with Belichick's resume really be sacked in the coming months?
Esiason said that it wouldn't come as much of a shock if Belichick is leading another team from the sidelines next fall.
"Number two, I would probably say that I would not be surprised if Bill was coaching somewhere else next year," Esiason said. "I would not be surprised. Now, I'm not going to go to the length of some people and say, 'I know exactly where he's going because he knows where he's going.' I'm not gonna say that because I don't know that. I have no inkling of that.
"But I can honestly say to you that I can see two men sitting down, respecting one another and saying to each other that, 'Maybe it's time. Maybe it's run its course. Maybe things need to be different around here.' And if Robert Kraft wants to change the way things are done up there, he's going to have to most likely let Bill Belichick leave, because Bill controls everything. You guys know that better than I do. He's not going to take a diminished role in any aspect of any of it up there.
"And I do know that he wants to get that win total record, and I would be the same way if I were him, that I would want that record in the worst way. So, in order to do that, he may have to go to another team. Who that other team is, I have no idea."
While most of the commentary doled out by former NFL players and media personalities has mapped out Belichick's impending exit after 24 seasons in New England, former Patriots safety Devin McCourty said last week that Belichick remains the best man for the job going into an offseason of change.  
"I think it'll be Coach Belichick," McCourty said when asked who New England's coach in 2024 will be on WEEI's "The Greg Hill Show". "I think that should happen. I think there are other things that they can do to fix the issues that they've had, but I also believe that this team needs to build over time."
Sign up for Patriots updates🏈
Get breaking news and analysis delivered to your inbox during football season.
Newsletter Signup
Stay up to date on all the latest news from Boston.com