Warning: SPOILERS lie ahead for Fear the Walking Dead's series finale!
Summary
Fear the Walking Dead season 8 ends with an epic showdown between Troy and PADRE, as Madison seeks revenge for her daughter's death.
The finale showcases the growth and changes of the characters, leaving the possibility for future stories and spinoffs.
Madison and Alicia are reunited and set off to Los Angeles to rebuild their home and help survivors, opening up new and exciting possibilities for their future.
After eight seasons, Fear the Walking Dead has come to a close. Developed by Robert Kirkman and Dave Erickson, the show has acted as a spinoff of the main AMC title, centered on a family in Los Angeles struggling to survive in the early days of the zombie apocalypse. Contending with deranged survivors as much as the walkers themselves, the show has seen a large variety of characters come and go, including Lennie James' Morgan from the mainline Walking Dead.
Fear the Walking Dead season 8 memorably saw the return of Kim Dickens' Madison after her perceived death in season 4, now seeking to take down PADRE and get revenge for the death of her daughter, Alicia. The series finale culminates in an epic showdown between Troy and his forces and the reformed PADRE as he unleashes a horde of walkers on the island safe haven, nearly killing off the group. Seeking to make up for her flaws, Madison blows up the island fort to take the walkers out, only to be saved by Tracy and reunited with a still-alive Alicia, setting off to Los Angeles to rebuild their home and help survivors there.
Related: Fear The Walking Dead Ending Explained: All Returns, Twists & What Comes Next
In anticipation of its premiere, Screen Rant interviewed showrunners Andrew Chambliss and Ian B. Goldberg to discuss the Fear the Walking Dead series finale, the fates of various characters, and their thoughts on the franchise's future.
Chambliss & Goldberg Talk Fear The Walking Dead Series Finale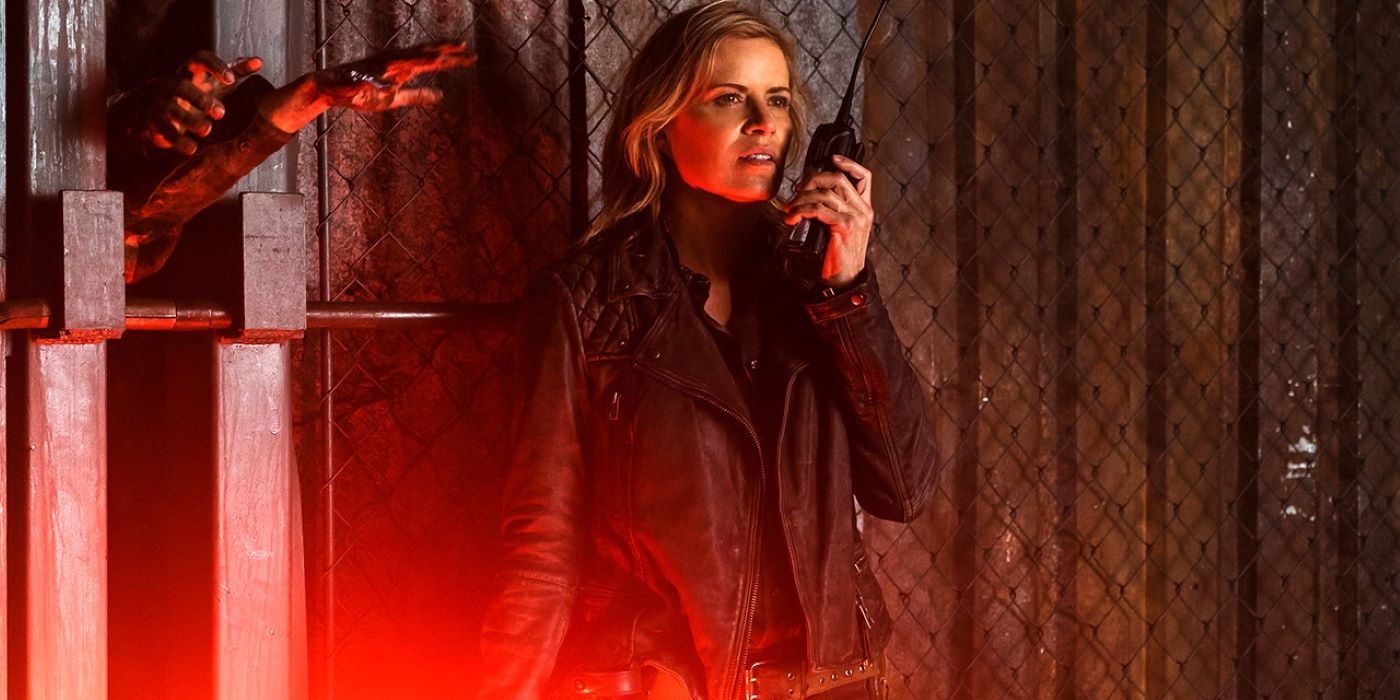 Screen Rant: I am very excited to chat with you both. I've really admired your work on this show since coming on board as showrunners in season 4, and it's just gotten crazier and more exciting ever since. The finale is a very fitting one, with you guys having been on so long with the show, when did you first know what the ending for the show would be?
Andrew Chambliss: Very good question. You know, we found out towards the end of season 7 that season 8 would be the final season. At that point, we started really throwing around different ideas for how the show would end. Ultimately, for us, you know, this started as a show about Madison fighting for her family, and it felt like it should end with Madison with her family. So, we always had the idea that Madison and Alicia would be reunited at the end of the season, so kind of as early as the end of season 7, we were already talking to Alicia about having her come back to give that kind of satisfying conclusion. So, it was kind of at that point from the end of season 7 that we were really thinking about how we would kind of narratively bring all the characters together so that that would be possible.
Now, with that said, I do find it interesting that Alicia is absent for pretty much this entire season until the finale, was there ever a different plan for her character in terms of maybe having a dual story between her and Madison that eventually would converge? Or was it always the plan to have her just be sort of a final appearance, while focusing on Madison?
Ian B. Goldberg: The way that it played out was always the plan, and there were a couple of reasons for that. A big one, a practical one, was that Alycia Debnam-Carey was no longer a series regular on the show as of the end of season 7, so building out any larger story for her would have been very challenging. Alycia was off doing other projects, she was not as contractually tied to the show, and so that just opened up a pathway for us to finding a different way to create that reunion. But, the way that we chose to do that was by creating this narrative question about Alicia's fate and seeing what that did to Madison and the other characters, and the places it took them to emotionally, and bringing Alicia back at the end of the finale we saw as Madison's karmic reward for kind of ultimately making the right decision and not letting go of her ideals, even in a very dark moment. So, that's kind of how that all came together.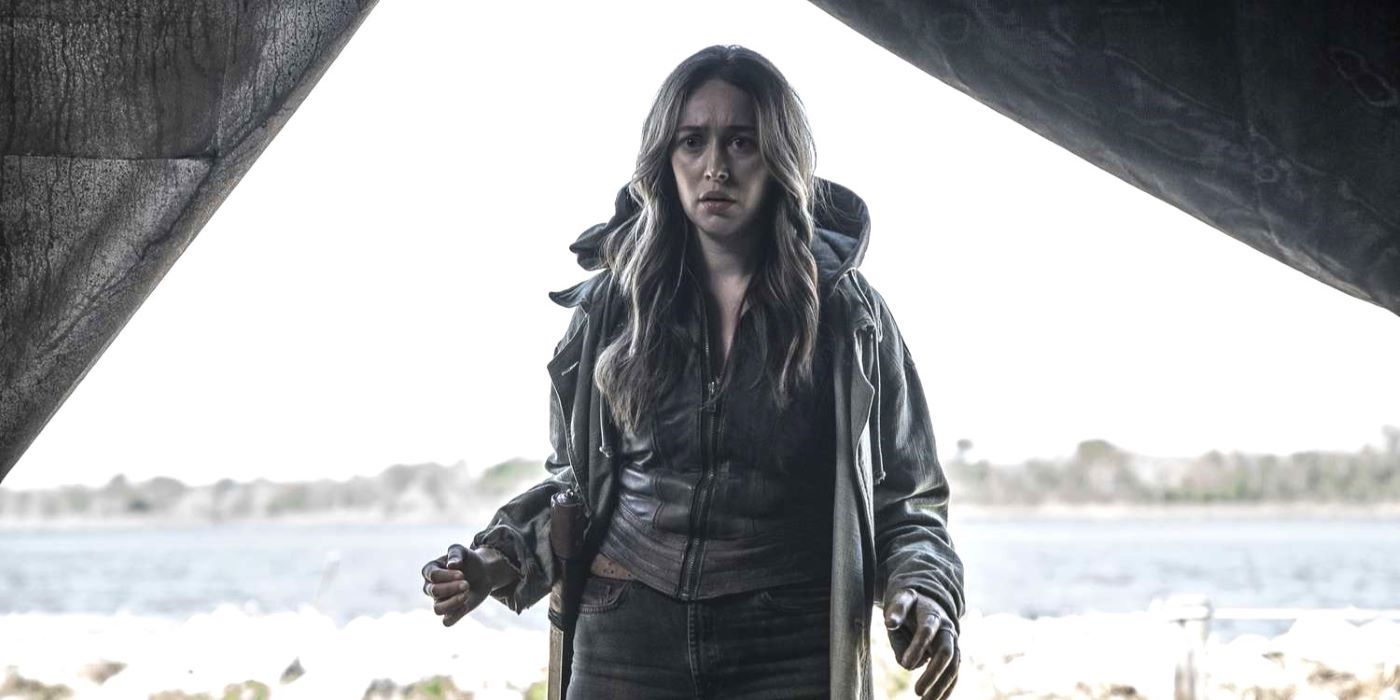 I love the way it plays out. But with that said, the finale really throws quite a few rug pulls from the audience in terms of Madison's potential death twice, as well as PADRE's near downfall. I'm curious if, in previous versions of the final script, there were ever actual killings of any of these main core characters before you ended up with what we have?
Andrew Chambliss: Kind of as we conceived the story, we knew that the characters who survive are all going to survive, so we didn't really go down any roads and then double back to change that. I think, for us, we wanted this to be a finale that showed how all these characters had changed, and it felt like in order to see that change, we needed to have the potential for future growth. For so many of these characters, I think this is just kind of a moment where this chapter of their lives is ending, and the next one is starting. For us, we want to feel like these next chapters were continuing in all these different directions, and it just didn't include death for any of them.
Well, I'm glad that it didn't, having followed these characters for so long, it definitely would have hurt seeing some of them go. But with that said, talking about future growth and closing the chapter, we do see the main group split up at the end, and you talk about wanting to have them have future growth. Do you guys have ideas for future character stories, whether it be part of the anthology series that's going on, or even a spinoff?
Ian B. Goldberg: That's really more of a question for Scott Gimple and AMC. You've seen the finale, so these characters stories are constructed in such a way that they live on, there is more story to tell. They are going their separate ways, but they're all carrying the weight of Madison's and Alicia's legacy. And there is certainly a lot more story to tell there, so, we'll see, I guess is the answer. But our goal was to just bring Fear to a satisfying conclusion, and to leave open the possibility of more storytelling should the powers that be decide that they want more.
Is there any character in this show who either you introduced or who you just helped develop over the seasons that you would love to see continue on in this franchise?
Andrew Chambliss: I want to see a Daniel and Skidmark spinoff. [Chuckles] Like a Turner and Hooch, but Daniel and Skidmark.
I think that would be great. Ian, how about yourself?
Ian B. Goldberg: Oh, a prequel series with John Dorie at Humbug's Gulch and how he navigated the apocalypse before meeting June.
I would love that, I would love more of Dorie in general, that was such a great character. So, in the final shot, we see Strand getting to see Alicia and Madison and Tracy all together. But was there ever a thought of having everybody see them all alive, or was it always going to be just Strand that was the one who got to have that knowledge that they were alive and together?
Andrew Chambliss: It's funny, it was always just Strand, we did play around with some version where Strand actually had an interaction with Madison and Alicia. But to us, the moment just felt more poetic, if it played as really a grace note, and he knew that his dream for Madison was coming true that she was going to get to have this time with her daughter and kind of allow it to be just their moment. That's what felt kind of true to us, so that's the story behind that.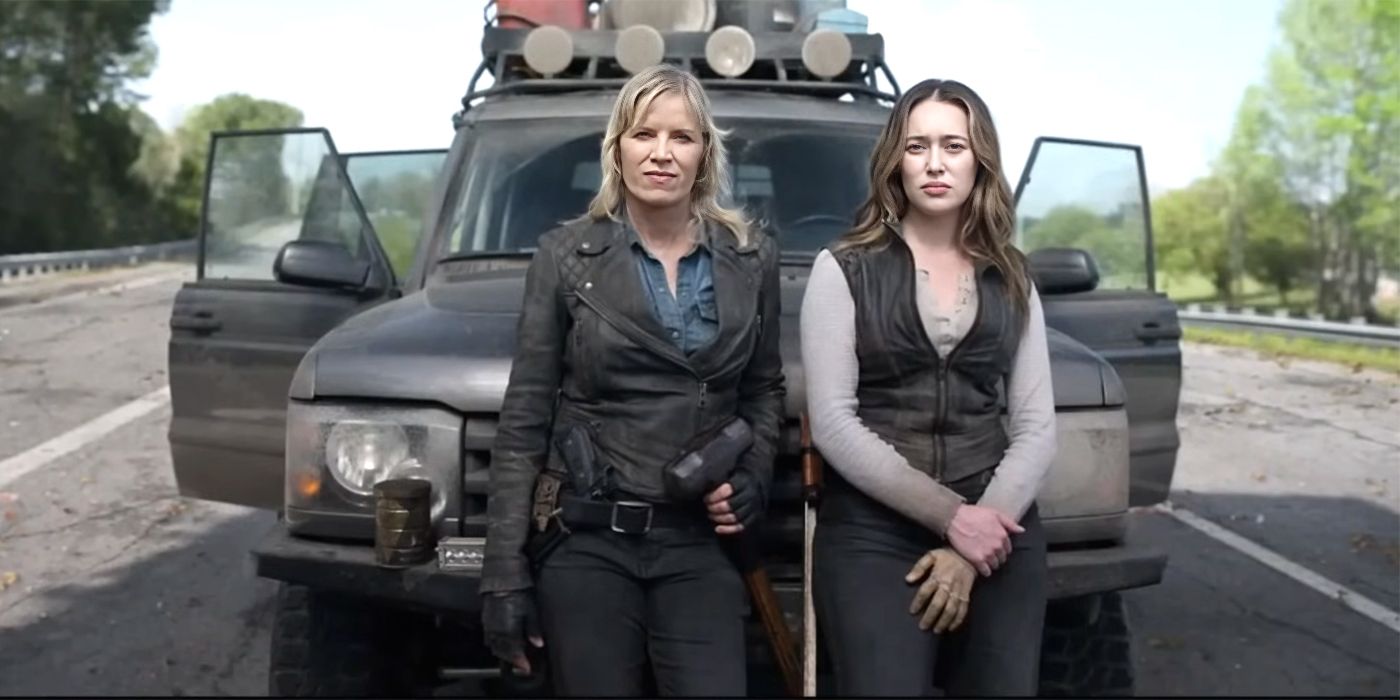 I love that, I think it is very poetic. Now with Madison and Alicia going off to LA, do you think that prevents them from coming back in future incarnations, or do you think that invites something new and exciting for their future?
Ian B. Goldberg: Oh, definitely new and exciting. They're returning to their home, but that home has changed a lot since they were last there. So, they have a lot of rebuilding to do, but I think it's exciting to think about who they will come across in their journey back to LA, once they get back to LA, you can just sort of imagine a whole new family being created out of that. That's what's exciting about this, and what we hope, that people's imaginations will run wild for the future possibilities of what might happen to these characters as they go their separate ways because there's a lot more there. They have a lot still to do.
About Fear The Walking Dead Season 8B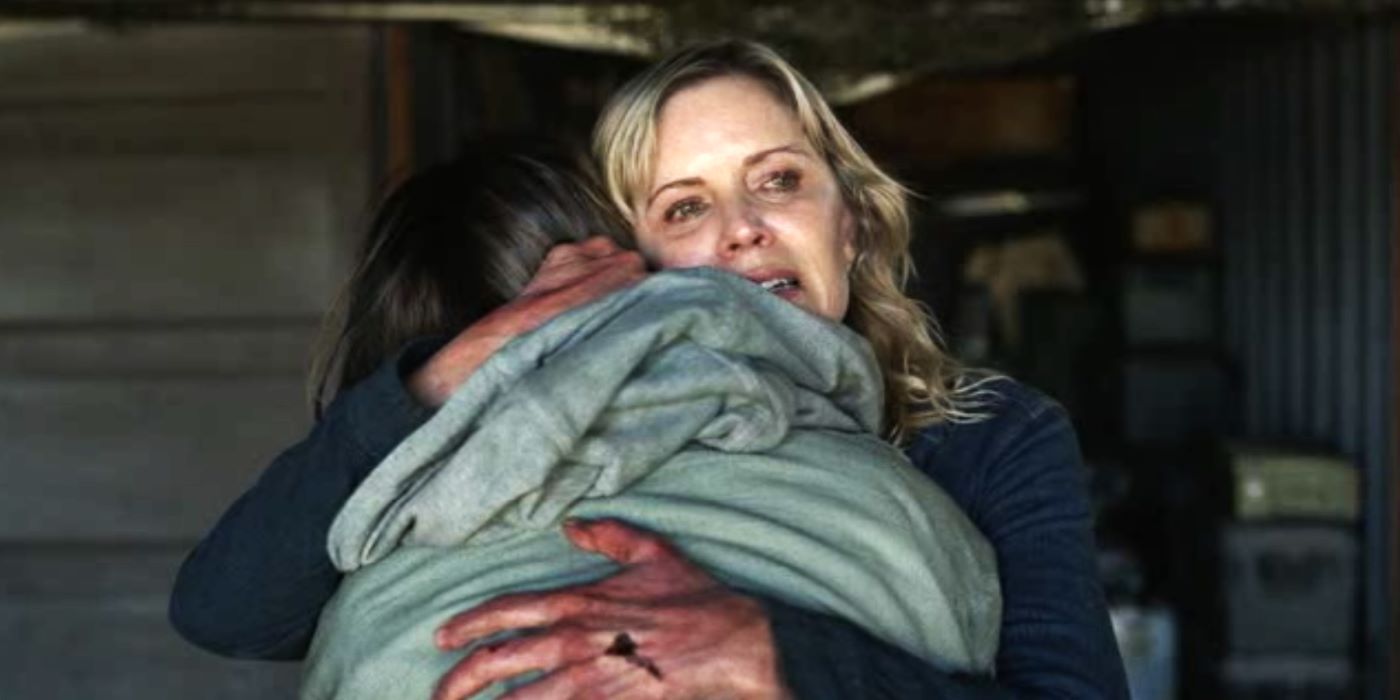 Now that Shrike (Maya Eshet) and her influence are gone, Madison (Kim Dickens) sets sights on transforming PADRE into the safe haven the old Stadium was meant to be. But in doing so the island becomes a target as well as a beacon as word of Madison and this land of resources spreads, attracting unwanted attention that puts PADRE back in peril and questions whether our heroes even deserve to save it.
All episodes of Fear the Walking Dead season 8 are available to stream on AMC+.
Release Date:

2015-08-23

Cast:

Cliff Curtis, Frank Dillane, mercedes mason, Elizabeth Rodriguez, Kim Dickens, Ruben Blades, lorenzo james henrie, Alycia Debnam-Carey, Colman Domingo

Genres:

Drama, Horror

Rating:

TV-MA

Seasons:

8

Story By:

Robert Kirkman, Tony Moore, Charlie Adlard

Writers:

Ian Goldberg, Robert Kirkman, Dave Erickson, Andrew Chambliss

Network:

AMC

Streaming Service(s):

Hulu, Amazon Prime Video

Franchise(s):

The Walking Dead

Directors:

The Walking Dead

Showrunner:

Dave Erickson, Ian Goldberg, Andrew Chambliss