Nov 20, 2023 at 10:55 PM Update: 8 minutes ago
Slovenia secured a place at the European Championships next summer thanks to a 2-1 win over Kazakhstan on Monday. The Czech Republic also won a ticket with a 3-0 victory over Moldova.
Kazakhstan could have prepared itself for a European Championship for the first time with a victory over Slovenia. National coach Magomed Adiyev's team held up well in the first half, until the ball hit the spot in the 41st minute after a clumsy foul. RB Leipizig attacker Benjamin Sesko shot in confidently.
Kazakhstan's courage did not yet sink. Just after halftime, Ramazan Orazov tapped in the equalizer from close range. It was going to be incredibly exciting in Ljubljana, the fans also felt. But in the 86th minute, Benjamin Verbic provided redemption in a tempestuous stadium. The Panathinaikos midfielder determined the final score with a nice long shot: 2-1.
The defeat means that Kazakhstan's European Championship dream comes to an end for the time being. The country has been sentenced to play play-offs. Thanks to the victory, Slovenia has secured second place behind Denmark, which surprisingly lost 2-0 to Northern Ireland due to goals from Isaac Price and Dion Charles. Finland won the away match against San Marino 1-2.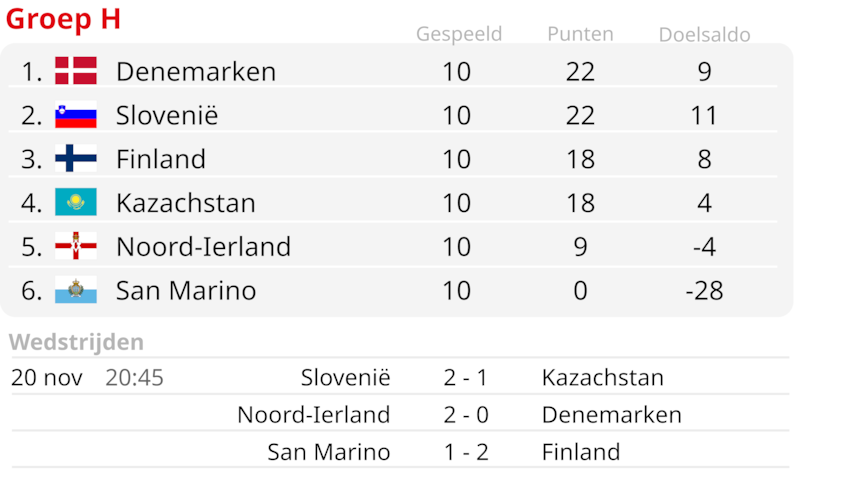 The Czech Republic qualifies with a simple victory
The Czech Republic needed a draw to qualify. The team of FC Twente player Michal Sadílek immediately started looking for a goal in the opening phase. This was rewarded in the fourteenth minute: after an excellent through ball, David Dooudera was able to run freely and score. He opened the scoring with a low shot into the right corner.
Moldova had to win in Olomouc, Czech Republic, and tried not to hang their heads after the early goal. The team failed to become dangerous, but took more initiative in the second half. That was short-lived. In the 72nd minute, Tomás Chorý headed home with a powerful header. Tomás Soucek increased the celebration in the ninetieth minute with the 3-0.
The victory secured the Czech Republic second place behind Albania, which drew 0-0 against the Faroe Islands. Albania had already qualified for the European Championship.