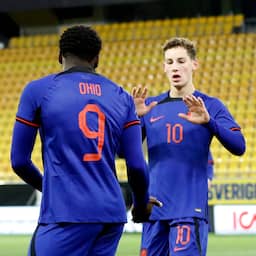 Nov 20, 2023 at 8:06 PM Update: 9 minutes ago
The Dutch Juniors did good business on Monday in the hunt for a European Championship ticket. The team of national coach Michael Reiziger won 2-4 against Young Sweden in the Boras Arena and thus remains clear in the European Championship qualifying series.
After a mistake by Sontje Hansen, Sebastian Nanasi gave the Swedes the lead after half an hour, but the Dutch Juniors leveled three minutes later. NEC striker Hansen corrected his mistake with a good shot from close range.
Ruben van Bommel scored the second goal of the match after the break. After Youri Regeer's shot hit the post, the AZ striker kept an overview. He scored his first goal in the Dutch Juniors' shirt with a low shot into the far corner.
The match really took off in the absolute final phase. Substitute Noah Ohio made it 1-3 in the 92nd minute, after which Noah Persson scored the tying goal for Sweden. Less than a minute later, Van Bommel ended all tension with his second goal of the match.
After victories over Sweden, Gibraltar (twice), North Macedonia, Moldova and Georgia, the Dutch Juniors are still clear in the European Championship qualifying series. With eighteen points from six matches, Reiziger's team is well at the top of group C.
The group winners and the three best runners-up qualify for the European Championships, which will be held in Slovakia in 2025.
European Championship qualification standings
Netherlands 6-18 (+16)

Georgia 5-10 (+1)

Sweden 5-7 (+6)

Moldova 5-6 (-5)

North Macedonia 4-3 (-3)

Gibraltar 5-0 (-15)