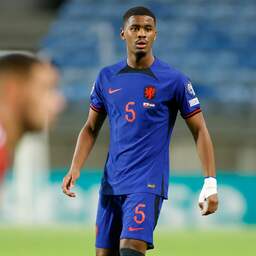 Nov 21, 2023 at 10:00 PM Update: 3 minutes ago
Jorrel Hato goes down as the second youngest Dutch player since 1931. In the past 92 years, only Matthijs de Ligt was younger on his international debut.
Hato made his debut on Tuesday in the European Championship qualifier in Faro against Gibraltar. The Ajax defender, who came on halfway through when the score was 0-3, is 17 years and 259 days old.
De Ligt was 17 years and 225 days old when he started in the World Cup qualifier against Bulgaria on March 25, 2017. By the way, that didn't go so well. Partly due to an error by De Ligt, the Dutch team lost 2-0 in Sofia. The debutant was substituted at half-time.
The youngest player in the 118-year history of the Dutch national team is Jan van Breda Kolff, who was 17 years and 74 days old when he played his first international match in 1911. Mauk Weber (in 1931) and Dé Kessler (in 1909) were also younger than Hato. The born Rotterdammer is therefore the fifth youngest Dutch player ever.
There are now a total of seven players who played for the Dutch national team before their eighteenth birthday. Legendary players such as Marco van Basten, Gerald Vanenburg, Clarence Seedorf, Patrick Kluivert, Frank Rijkaard and Wesley Sneijder were eighteen years old on their debut. Johan Cruijff was nineteen years old.
The Netherlands against Gibraltar started on Tuesday at 8.45 pm in the Estádio Algarve.
Youngest players ever in the Dutch team
Jan van Breda Kolff – 17 years and 74 days (1911)

Mauk Weber – 17 years and 105 days (1931)

Dé Kessler – 17 years and 222 days (1909)

Matthijs de Ligt – 17 years and 225 days (2017)

Jorrel Hato – 17 years and 259 days (2023)