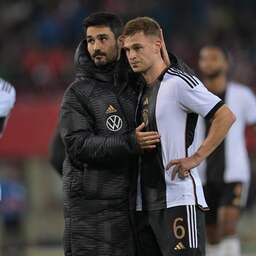 Germany lost a friendly international match for the second time in a row on Tuesday. National coach Julian Nagelsmann's team lost 2-0 to Austria.
Marcel Sabitzer gave the Austrians the lead in Vienna after half an hour. The Borussia Dortmund midfielder surprised goalkeeper Kevin Trapp with a shot into the short corner.
German hopes for an equalizer were extinguished shortly after halftime by a red card for Leroy Sané. The Bayern Munich attacker suffered a short circuit in a duel with PSV player Phillipp Mwene. After a serious foul, a kick and a heavy push, the referee thought it was enough and Sané was allowed to intervene.
The Austrians then easily won. Christoph Baumgartner made the decision in the 73rd minute by putting the 2-0 on the scoreboard with a nice marker. That was also the final score.
Germany lost an exhibition match for the second time in a row. Nagelsmann's team lost 2-3 against Turkey in Berlin on Saturday. Germany is organizing the European Championships next summer and therefore did not have to play any qualifying matches.
Germany will probably play a practice match against the Netherlands in March. This friendly match will only end if both countries end up together in the European Championship group. The draw on December 2 will determine that.