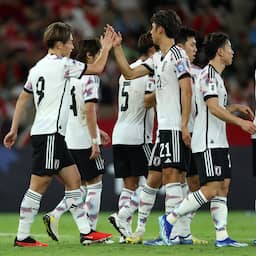 Feyenoord player Ayase Ueda scored again for Japan on Tuesday. Five days after his hat-trick against Myanmar (5-0), the striker scored two goals in the World Cup qualifier against Syria (5-0).
AZ defender Yukinari Sugawara also scored a goal in Saudi Arabia, the country where Syria's home match was played.
After Takefusa Kubo's opening goal, Ueda increased the score in the closing stages of the first half with two goals in three minutes (0-3). Sugawara scored the fourth Japanese goal after halftime, after which Mao Hosoya put the final score on the board: 0-5.
Ueda, who does not have a starting position at Feyenoord, was allowed to start again in Japan. After two games, he leads Japan in the qualifying group with six points, three points more than North Korea and Syria. Myanmar is still winless.