Summary
Lawmen: Bass Reeves episode 4 sheds light on Edwin Jones, a charismatic visionary who uses persuasive speeches to inspire hope in the black community.
Edwin Jones claims to be a businessman from Chicago and promises to help every black community member own their own land, but his plan remains unclear.
While Bass Reeves and Edwin Jones share a belief in God, their contrasting expressions of faith and principles could lead to a fascinating interaction if they meet in the series.
Edwin Jones has become a prominent yet still somewhat mysterious supporting character in Lawmen: Bass Reeves. The Paramount+ series has primarily focused on the historical depiction of real-life Old West lawman Bass Reeves (David Oyelowo), who famously became one of the first black Deputy U.S. Marshals in the southern United States. While Bass has certainly had his hands full trying to capture as many known outlaws as possible either dead or alive, his wife Jennie (Lauren E. Banks) has been just as busy taking care of their ever-growing population of children.
Lawmen: Bass Reeves episode 4 gives more of a spotlight to Edwin Jones (Grantham Coleman) than it has in previous episodes, featuring him delivering a sermon-like speech at a town meeting while claiming not to be a pastor. Jones is evidently a trained rhetor who has mastered the ability to use his words persuasively and paint pictures of a better tomorrow. This is exactly what he does when visiting Bass and Jennie's hometown of Fort Smith, Arkansas, promising to help every black member of the community own their land someday. While his visions are certainly earnest, Edwin Jones has yet to demonstrate exactly how he plans to make his dreams for others a reality.
RELATED: How 1 Yellowstone Actor Brilliantly Shaped The World Of Lawmen Bass Reeves (& Made It Better)
Bass Reeves' Visionary Businessman Edwin Jones Is A Fictional Character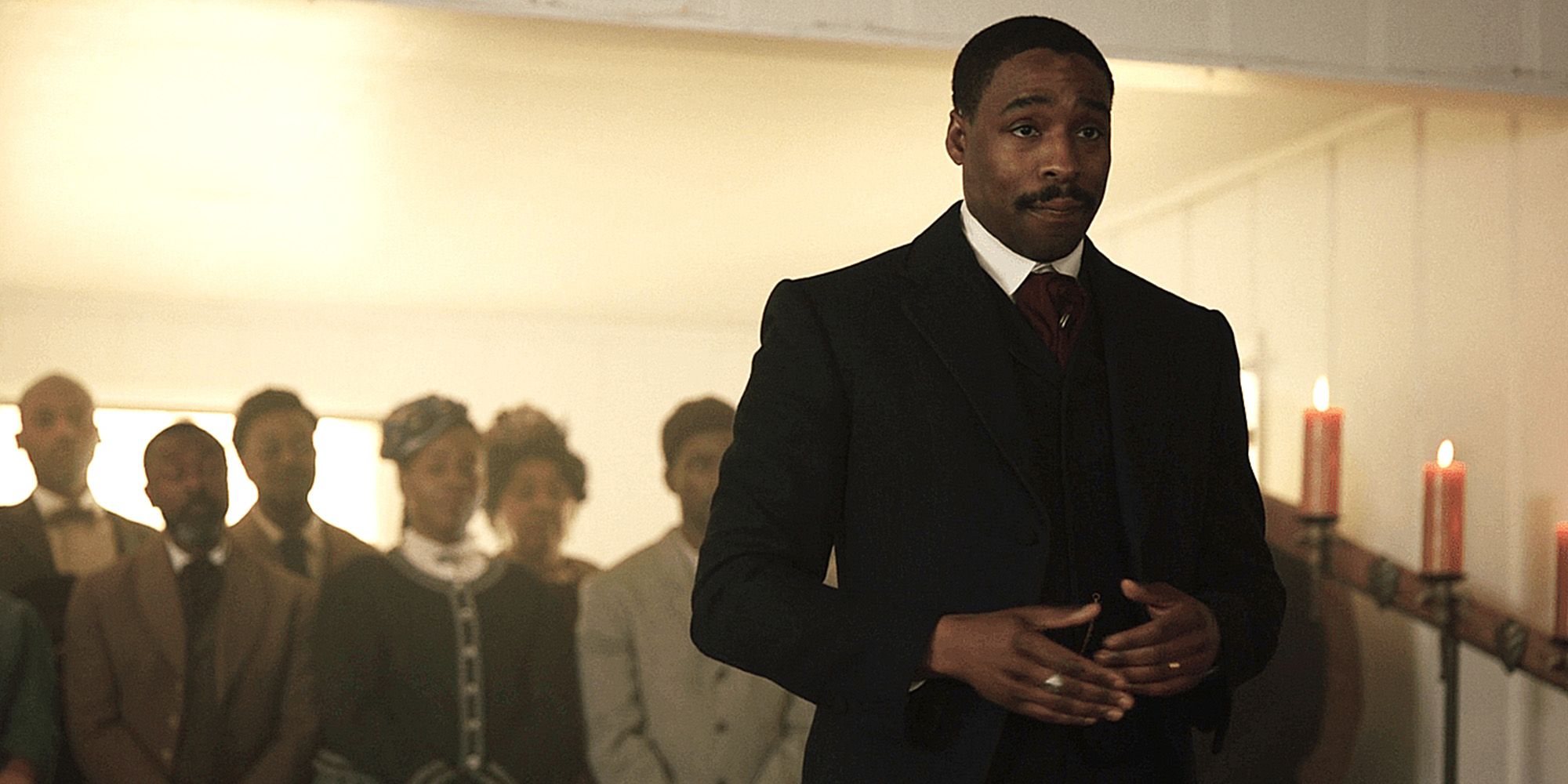 The lofty visionary Edwin Jones is not based on a real-life character within the world of Lawmen: Bass Reeves. Claiming to be from Chicago, Edwin Jones uses the word of God to help others believe in their abilities to overcome life's greatest obstacles, including the difficult road for members of the black community in Arkansas to one day own their own land. Edwin also happens to be the apparent husband of Esme, who was previously enslaved along with Jennie as depicted in Lawmen: Bass Reeves episode 1. Edwin, Esme, and Jennie all eat and share conversation together, but it's not very clear after four episodes of Lawmen: Bass Reeves where the trajectory of their characters will end up.
Edwin Jones' projection of himself as a prominent businessman from the northern United States could prompt Jennie to ask her husband Bass for a change in their lifestyle. Lawmen: Bass Reeves episode 4 started to peel back the layers of Bass Reeves' suffering for being apart from his wife and kids for so long while on the job. Edwin Jones appears to contrast and potentially devalue the chosen profession of Bass Reeves, particularly because Edwin found wealth and happiness through a career that doesn't risk his life or sacrifice family time as Bass does.
How Edwin Jones' Visions Contrast With Bass Reeves' Principles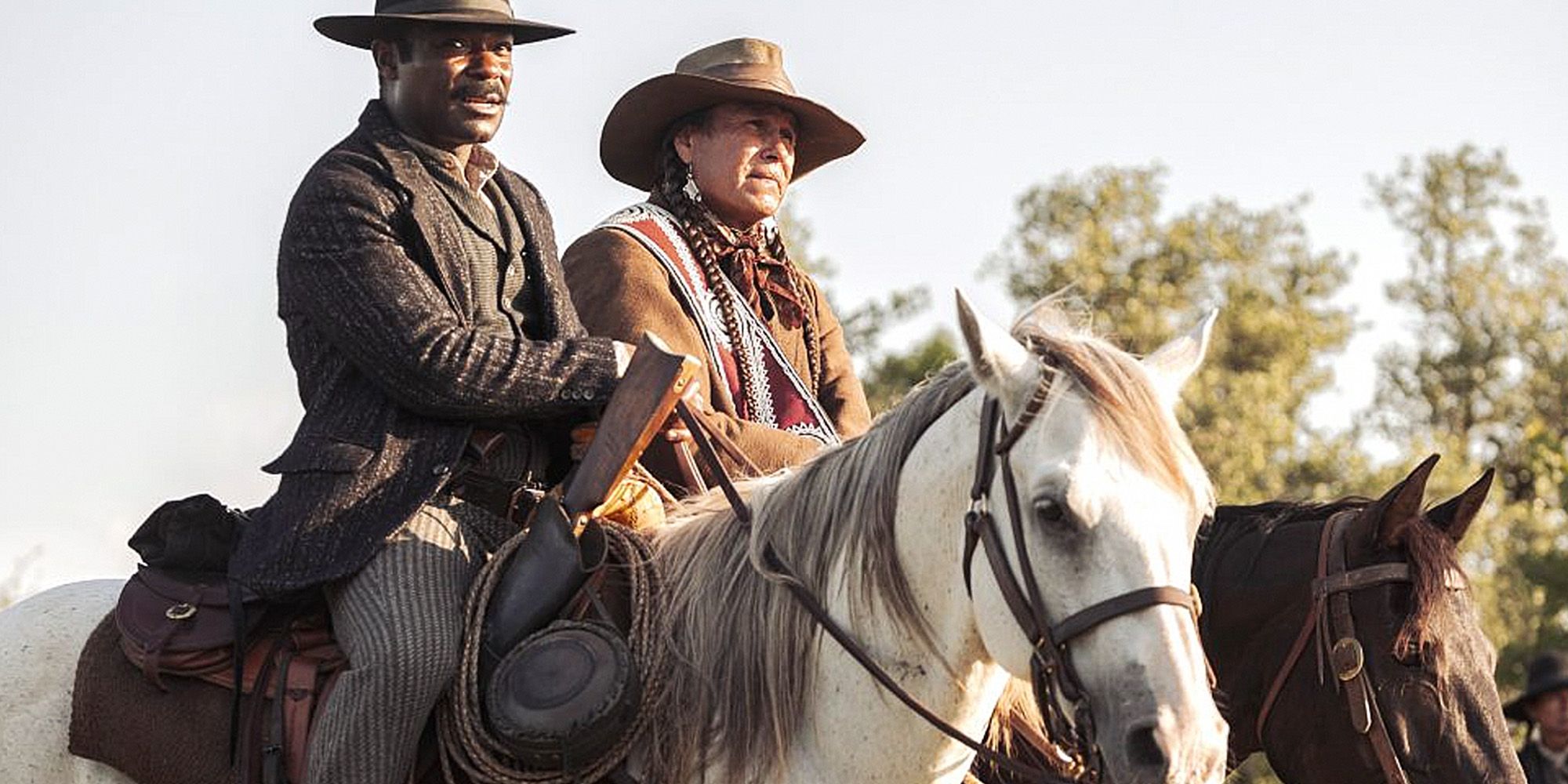 Although Bass Reeves and Edwin Jones have not met after four episodes of Lawmen: Bass Reeves, it's clear that the two men would have very different opinions on how to live a righteous lifestyle. What Bass and Edwin do share is a common belief in God; Edwin uses his religious beliefs as a source of inspiration for himself and others, while Bass employs his faith to keep him alive in his professional game of survival. The two men could find common ground in their conception of God, although they seem to lead separate lives entirely with Bass's deepest obligation to the law of the United States.
The main difference between Edwin and Bass, however, is how each expresses their faith and principles. Edwin appears spirited through his impressive rhetoric and empowered visions, whereas Bass demonstrates his faith through his steadfast moral code as a lawman. If Bass and Edwin do get the chance to meet in Lawmen: Bass Reeves, it would be fascinating to discover how they would interact, as the chances of them being friends or foes appear to be even based on their similar faiths yet very different principles and practices.
Release Date:

2023-11-05

Cast:

David Oyelowo, Dennis Quaid, Forrest Goodluck, Lauren E. Banks, Barry Pepper, Grantham Coleman, Demi Singleton, Garrett Hedlund

Genres:

Drama, Western

Rating:

TV-MA

Seasons:

1

Writers:

Chad Feehan, Jacob Forman, Taylor Sheridan

Streaming Service(s):

Paramount+

Directors:

Taylor Sheridan, Damian Marcano, Christina Alexandra Voros

Showrunner:

Chad Feehan, Taylor Sheridan