Local News
Some Jewish Bostonians are calling for a ceasefire. But those beliefs come at a cost when it comes to family.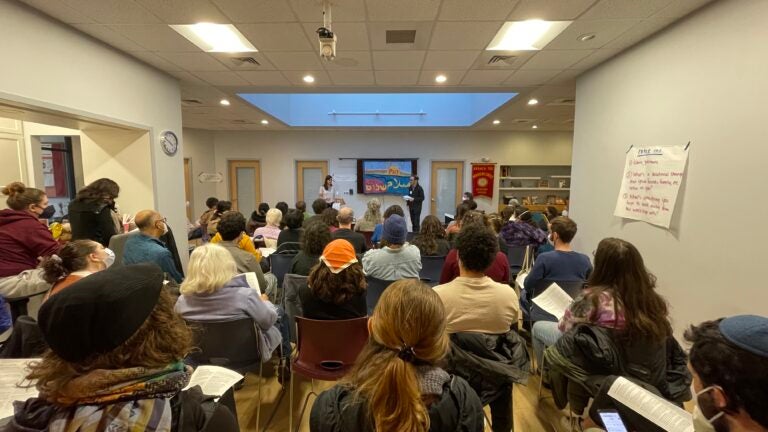 After more than a month of reeling from the Oct. 7 attack on Israelis and loudly demonstrating in the streets of Greater Boston, a group of mostly Jewish activists spent their Sunday getting vulnerable. 
The event was held for those who feel disconnected from their community — mostly for differences of opinion when it comes to Israel's government and how critical American Jews should be of it amid the conflict. IfNotNow, a national group of Jews calling for a ceasefire and an end of aid to Israel, hosted the discussion over snacks and hot tea, using the meeting space for Boston Worker's Circle, a local progressive Jewish group that has also been involved in similar demonstrations as of late. 
The timing of the event before a major U.S. holiday that brings families together made it even more necessary, said member Dalya Lessem Elnecave.
"The stereotype is Thanksgiving is the time when you have major political arguments with your family," Lessem Elnecave said. "We're really trying to make it so that's not what happens, and conversations we have are constructive and are led sort of with the intent to give our message but not end up in major conflict with people we love."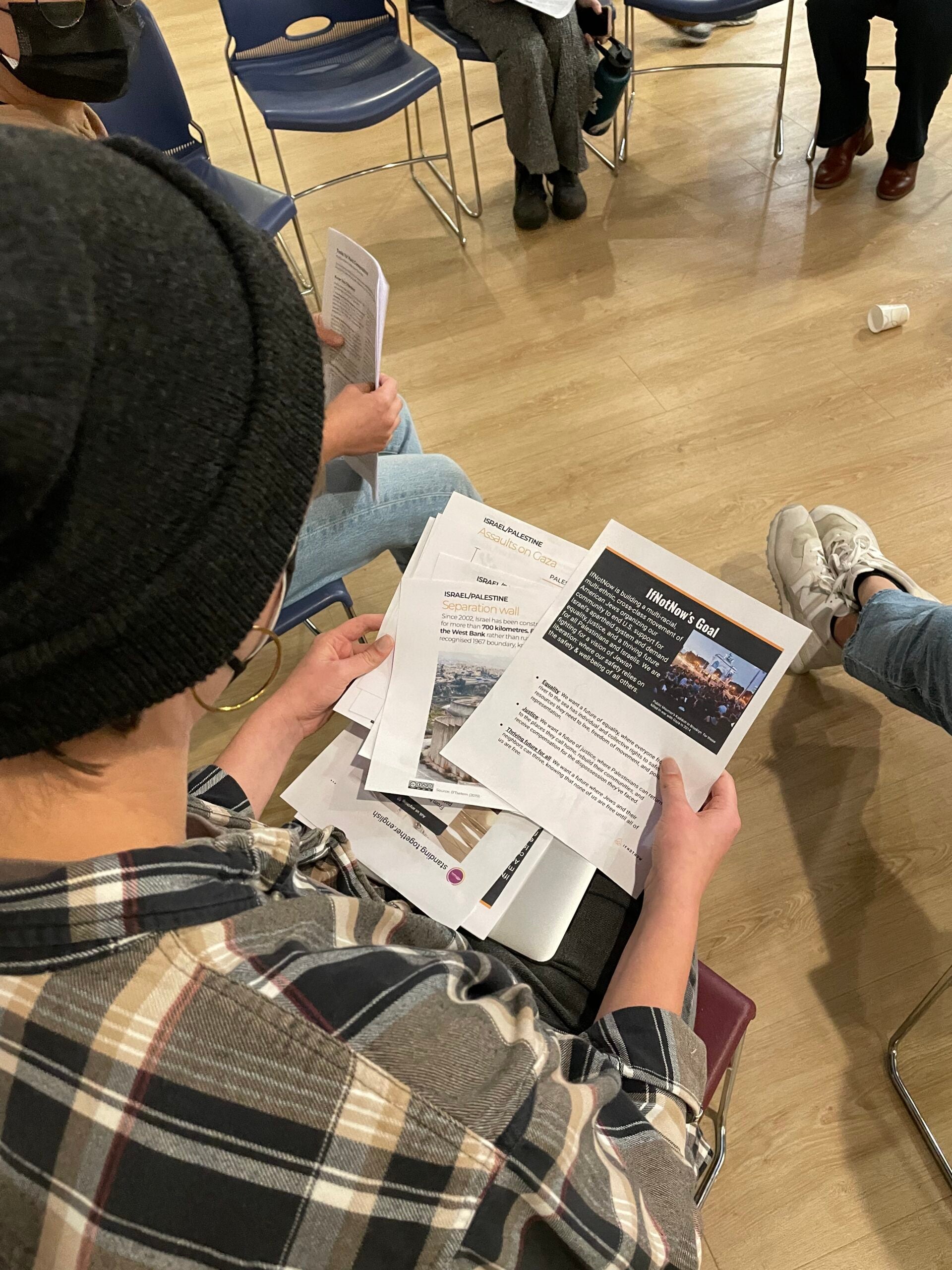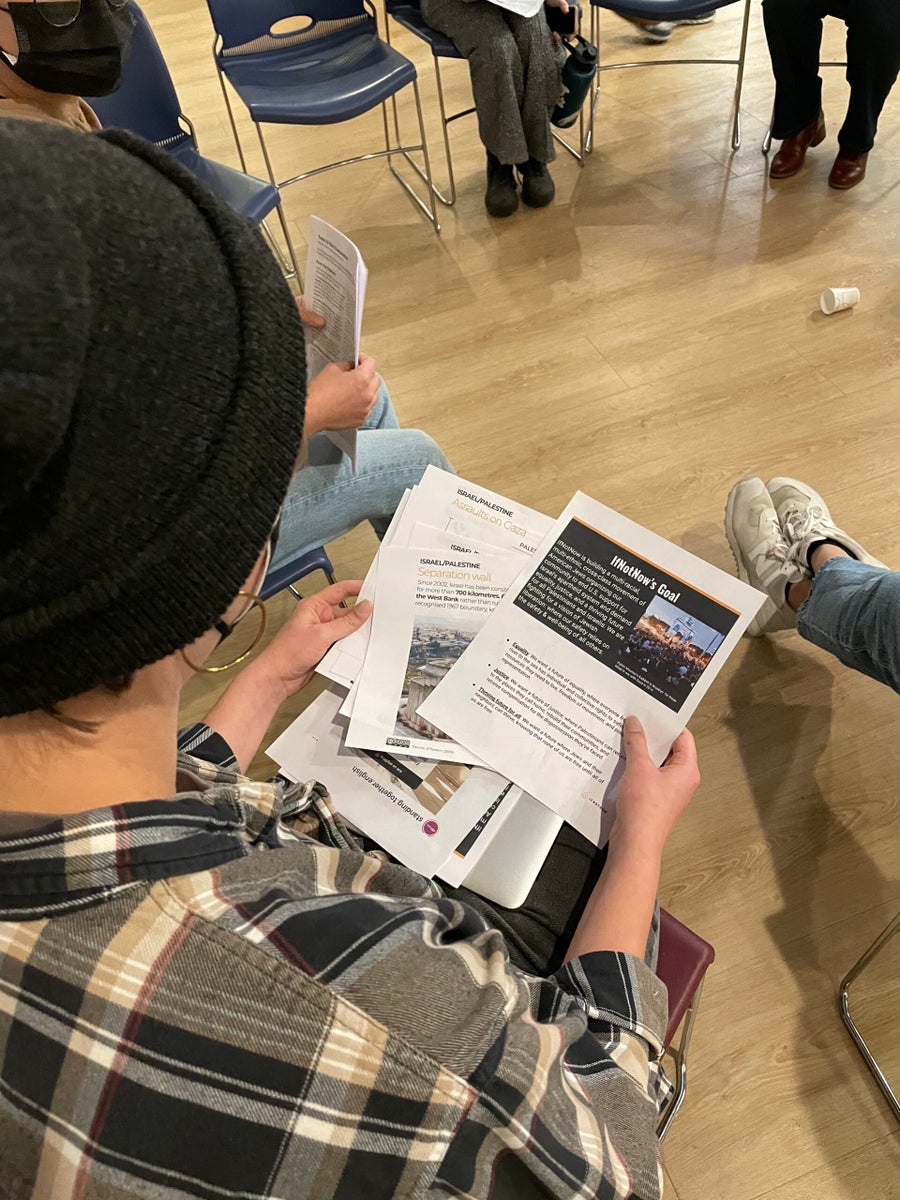 Around 45 people showed up, many of them IfNotNow Boston members, but for some it was their first time attending the group's event, hoping to glean from the participants in the room their struggles to talk to family and friends as the Israel-Hamas conflict continues to take lives thousands of miles away.
"Members of my family or members of my community being called antisemitic or a self-hating Jew has been a lot of it, which is emotionally taxing," Lessem Elnecave said.
Others have been told they're "betraying" their Jewish community or that they don't care about the loss of life in Israel. 
The last several weeks have resulted in heated conversations, or sometimes none at all, with loved ones.
And in Boston, tensions have run high on college campuses, with Harvard students doxxed over a pro-Palestinian letter, Jewish students fearing for their safety at several schools, and a Palestinian student group chapter getting disbanded at Brandeis.
Among Jewish organizations, Boston Worker's Circle resigned from the Jewish Community Relations Council of Greater Boston after they attended a ceasefire rally and were threatened to be removed from the council, The Boston Globe reports. 
Maya, who didn't want her last name published for fear of retaliation, said while she has attended rallies, she's avoided posting her opinions to social media because of the constant backlash.
"The second that your name is on something, the second that you post something, the second that you're publicly identifiable with a side, the torrent that comes your way right now is very overwhelming," said Maya, who was born in Israel and has family there now. 
Nathan Foster, an IfNotNow member, said it has differed person to person on whether or not they feel safe discussing their views on Israel given the retaliatory backlash — even privately with opposing loved ones. But he was able to attend with his parents an IfNotNow-hosted vigil that mourned the lives lost in both Israel and Palestine, and said his family cried.
"I care about my parents a lot. I'm glad that they accept that I'm standing up for my values that I believe my community taught me," Foster said. "But that doesn't mean we can talk about everything." 
Members of IfNotNow and Jewish people who lean further left skew younger. Discussions around family conversations at Sunday's event largely pointed to understanding the trauma and antisemitism faced by parents and grandparents. 
"There is somewhat of a generational divide," said Mira Revesz, who planned Sunday's event. "We want to have these conversations to bring folks of other generations into that value with us."
But it goes beyond age. These progressive stances on ending aid to Israel and calling for a ceasefire come at a time when many Democrats — even some American Jewish Democrats — are also finding it increasingly difficult to support Israel's actions against Palestinians.
This is evidenced in one Gallup poll, which saw for the first time in April 2023 a dip in sympathy for Israel among Democrat respondents, and a higher percentage of Democrats expressing sympathies for Palestinians at 49% compared to Israelis at 38%. And in a Pew Research Center poll conducted in 2020 that looked at American Jews' level of connectedness with Israel, only 28% of Jewish Democrats or those who lean Democrat strongly opposed the BDS — boycott, divestment, and sanctions — movement, and 20% believed the Israeli government was sincerely working toward peace in the region.
In the current conflict, about 1,200 Israelis have been killed, while more than 12,700 Palestinians have been killed, the Associated Press reports. In light of the death toll, public opinion could be cooling on supporting Israel's war effort and therefore has split Americans, according to a new poll from NPR.
"The horror of this present moment is one of a moral reckoning where I hope and see many people moving onto the side of realizing we don't have to choose between Israelis and Palestinians," Revesz said. 
As Sunday's event came to a wrap — with song and reflection — the group was asked what they would take away from the evening of sharing experiences of what some called isolation and alienation within their Jewish community.
"We're not alone," one member said aloud, to collective agreement in the room. "We can also rely on each other."
How is the Israel-Hamas conflict impacting your relationship with your community/family?
Newsletter Signup
Stay up to date on all the latest news from Boston.com