Summary
Obliterated is an action-comedy series about an elite military team who must save Las Vegas from a real bomb after defusing a decoy.
The show's creators combined their signature humor with expertly choreographed stunts to create a perfect blend of comedy and adrenaline.
The military advisor ensured accuracy in weapons handling while allowing certain liberties for entertainment purposes, and actors collaborated to bring the best out of their characters.
Obliterated tells the story of an elite military team who, in the midst of partying to celebrate the defusing of a nuclear bomb, discover that their work has only just begun. The bomb in question was a decoy, and a very real device is somewhere in the city of Las Vegas. The team must change gears at the height of their debauchery and, sober or not, work together to save the city.
Obliterated was created by Josh Heald, Jon Hurwitz, and Hayden Schlossberg before the team got to work on Cobra Kai season 6. The storied comedy writers brought to bear the signature humor they utilized on past projects like Harold & Kumar Go to White Castle and Hot Tub Time Machine, but enlisted a team of experts to ensure the action sequences of their new Netflix endeavor had the right blend of adrenaline and authenticity. Two of those experts were stunt coordinator Marcus Young and military advisor and retired Navy SEAL Kevin Kent.
Related: Obliterated: Release Date, Cast & Everything We Know About The Netflix Show
Marcus Young and Kevin Kent spoke with Screen Rant about military authenticity and the crazy action sequences of Obliterated.
Marcus Young & Kevin Kent Talk Obliterated
Screen Rant: This show is such a great blend of action and comedy. When you are putting stunts together and making sure everything is safe, how much do you also consider tone?
Marcus Young: We try to put it in there, but the more we're working with the actors, the actors have a better idea of where the comedic sense goes, so it's kind of a give-and-take with them. We'll run them through the sequence, and, "These are the points that we think need to be highlighted. Maybe we'll cover it with a lower angle to make it more dynamic for you." I think it's a real give-and-take because the actors know their characters better than anyone. It's not fair for me to come up with a sequence and say, "This is where you're supposed to laugh," or, "This is where that comedy beat is." That's their character, so I think they know it best, and we'll adapt to that.
Kevin, you're the military adviser on this. You have, obviously, an incredible history, and so much knowledge on the subject. Where is it most important for you to make sure that things are pinpoint accurate to the real world, and where are you personally comfortable with things being fudged and exaggerated?
Kevin Kent: On certain things it's acceptable to kind of tweak things or take certain liberties. The things that I tried to make sure were spot on are, for example, their weapons handling. [I try to focus on] the stuff that, specifically, the actors are going to be doing, to the point where they don't have to worry about any of that technical stuff when they're actually trying to act and do their job as actors. If they're worried about, "How [am I] holding this pistol?" and it's eating into their mental capabilities of not being able to remember their lines and stuff like that, that's where I'm failing as a tech advisor in that respect. There are certain aspects, like shooting a rocket-propelled grenade out of the sunroof of an Escalade, that—

Marcus Young: I didn't write that. [Laughs]

Kevin Kent: We tweak certain things. I'm not saying you couldn't do that; you could probably do it at least once. Luckily, we have great writers and creators. Jon, Josh, and Hayden have an open door policy to the point where I could go to them and be like, "Hey, technically, it would be like A, B, C, and D. This would be this way," or, "This would be that way." And they either adapt to it or go, 'Yeah, we're not really too worried about that." I go, "Hey, that's my job. I gave them advice, and now they can make an educated decision and go, 'Do we want to worry about how it's going to look, or is it such a small part of the story that it doesn't really matter?'"
Maybe you can both speak to this one, but were there any actors who, more than anyone else, were really into stunts, or making sure they got the handling and everything right? Was anyone super excited and wanting to jump in?
Marcus Young: I think they all had their enthusiasm in different ways, especially when it came to their sequences that came up. And [there was] a lot of, like, "I think this should happen, and this." So, it's a collaboration of what the actors personally feel like their character needs to do, and then also our side of making it entertaining for the audience and taking them on a ride. I think it's working together and bringing the best out of both of us.

Kevin Kent: Yeah, same thing. [I'll] kind of piggyback off of what Marcus is saying. Obviously, [with] Eugene's character, when he's in the helicopter, there's not a heck of a lot of stuff going on with that. But, when it came time for his sequences–his dream sequence, when he's fighting people in the penthouse suite, killing people, sliding across the floor in the bar–he definitely was in tune, like, "Hey, I really want to make this look good. Let's go the extra effort to really make it look great."
About Obliterated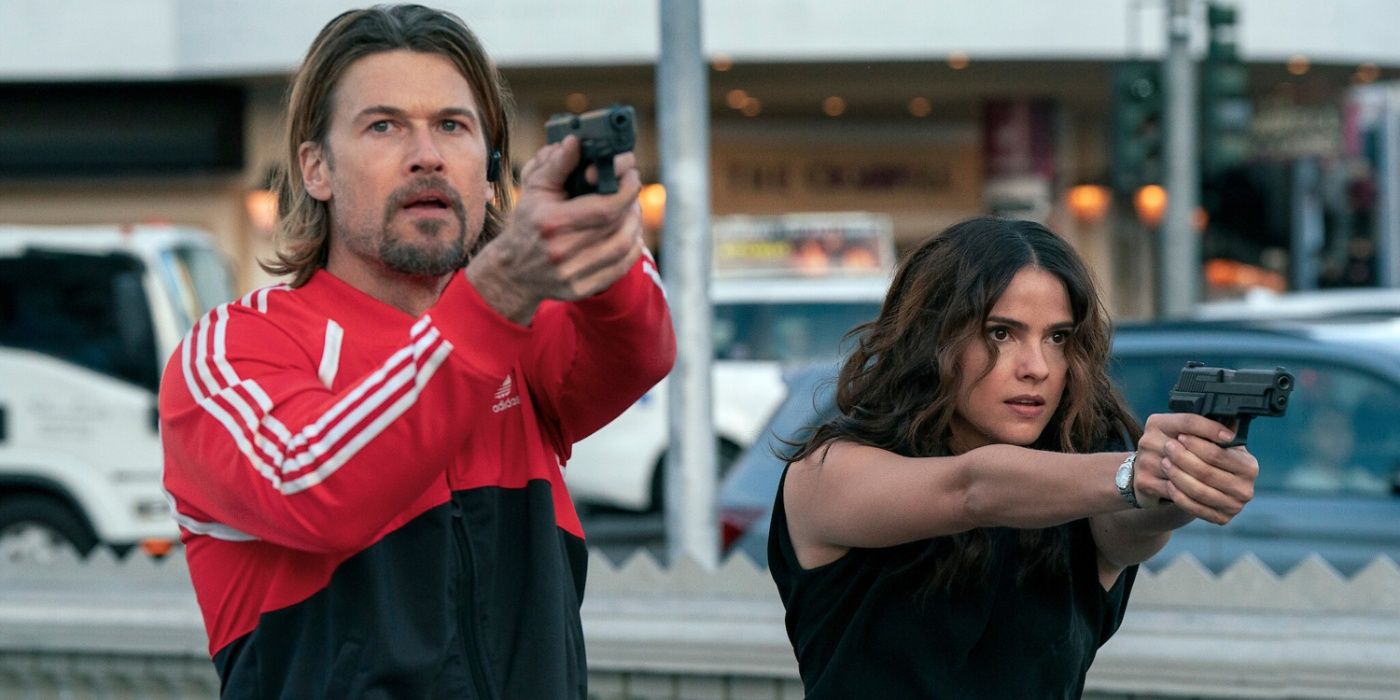 Obliterated is a high octane action-comedy that tells the story of an elite special forces team who thwarts a deadly threat to Las Vegas. After their celebratory party, filled with booze, drugs and sex, the team discovers that the bomb they deactivated was a fake. The now intoxicated team has to fight through their impairments, overcome their personal issues, find the real bomb, and save the world.
Check out our other interview with Obliterated showrunners Josh Heald, Jon Hurwitz, and Hayden Schlossberg.
All episodes of Obliterated will be released on Netflix November 30th.
Source: Screen Rant Plus
Release Date:

2023-11-30

Cast:

Nick Zano, Shelley Hennig, Terrence Terrell, C. Thomas Howell, Paola Lázaro, Alyson Gorske, Eugene Kim, Kimi Rutledge

Genres:

Action, Comedy, Drama

Seasons:

1

Writers:

Josh Heald, Jon Hurwitz, Hayden Schlossberg

Streaming Service(s):

Netflix

Directors:

Jon Hurwitz, Hayden Schlossberg, Josh Heald

Showrunner:

Jon Hurwitz, Hayden Schlossberg, Josh Heald