Arts
"It's a way for us to authentically talk about ocean health within our mission and within our site."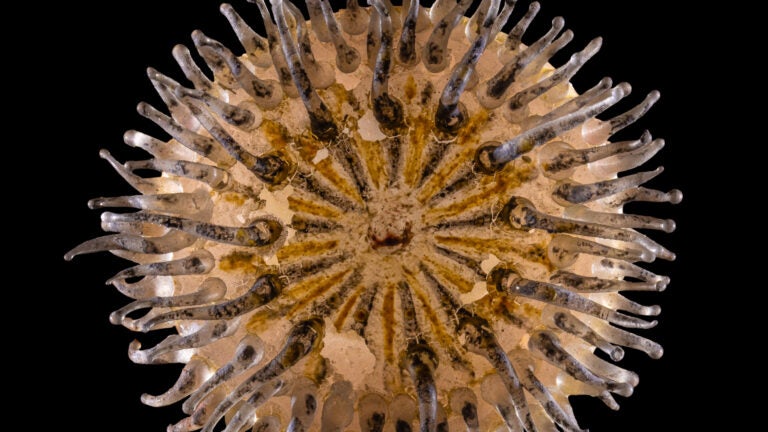 MYSTIC, Conn. — An enterprising father and son in Dresden, Germany, Leopold and Rudolf Blaschka, found success in the 19th century by hand-blowing glass models of marine invertebrates and selling them to universities and natural history museums around the world, from New England to Tokyo. Harvard and Cornell bought around 1,000, in total, by mail order in the 1870s and 1880s.
As it turns out, many of those same types of invertebrates were also traveling the world — and they still are, transported by maritime traffic, clinging to the hulls of ships and riding in their ballasts. Some of those native European creatures, modeled in glass long before terms like invasive species and biofouling were coined, are now thriving in Stonington Harbor in the Mystic River Estuary, off the coast of Connecticut.
Those well-traveled species are the inspiration behind "Spineless: A Glass Menagerie of Blaschka Marine Invertebrates" at the Mystic Seaport Museum nearby, through September 2024. Included in the rare loan of more than 40 delicate Blaschka models, mostly from Harvard's Museum of Comparative Zoology, are several whose pesky counterparts are blanketing nearby docks and pilings.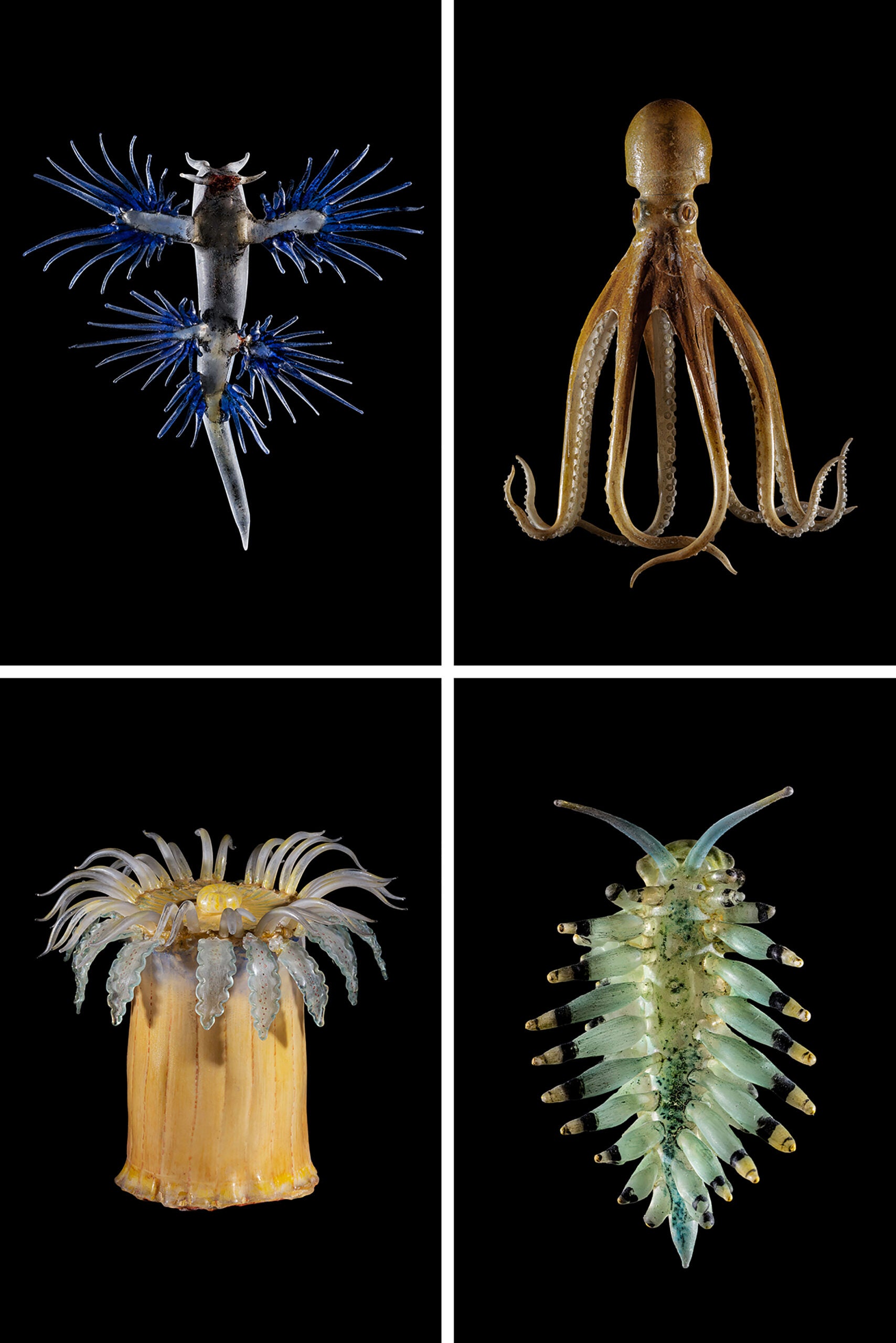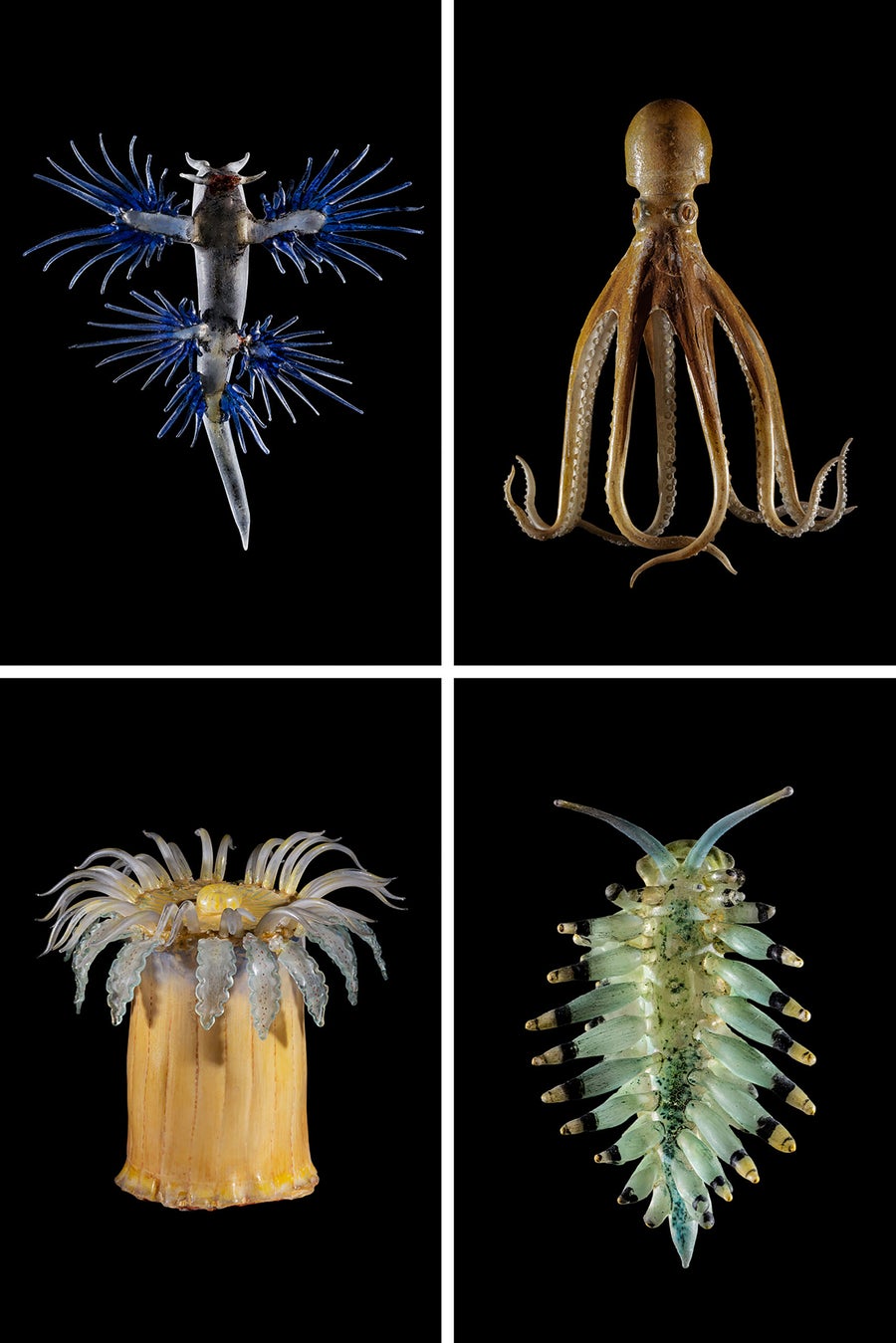 It's the first time that the Blaschka models have been given so much historical context, from 19th-century sailors' journals and jars of preserved specimens to zoological illustrations that informed the Blaschkas. The museum even included a few related contemporary artworks.
"It's a way for us to authentically talk about ocean health within our mission and within our site," Christina Brophy, senior vice president of curatorial affairs at the Mystic Seaport Museum, said while sitting out on one of its sunny decks last month. The largest maritime museum in the United States, it's better known for whaling vessels than ecological research. But one of the show's curators, James T. Carlton, director emeritus of the Williams-Mystic Coastal & Ocean Studies Program of Williams College and the Mystic museum, has been scraping ship hulls since 1982 and cataloging his findings to record the area's changing biodiversity.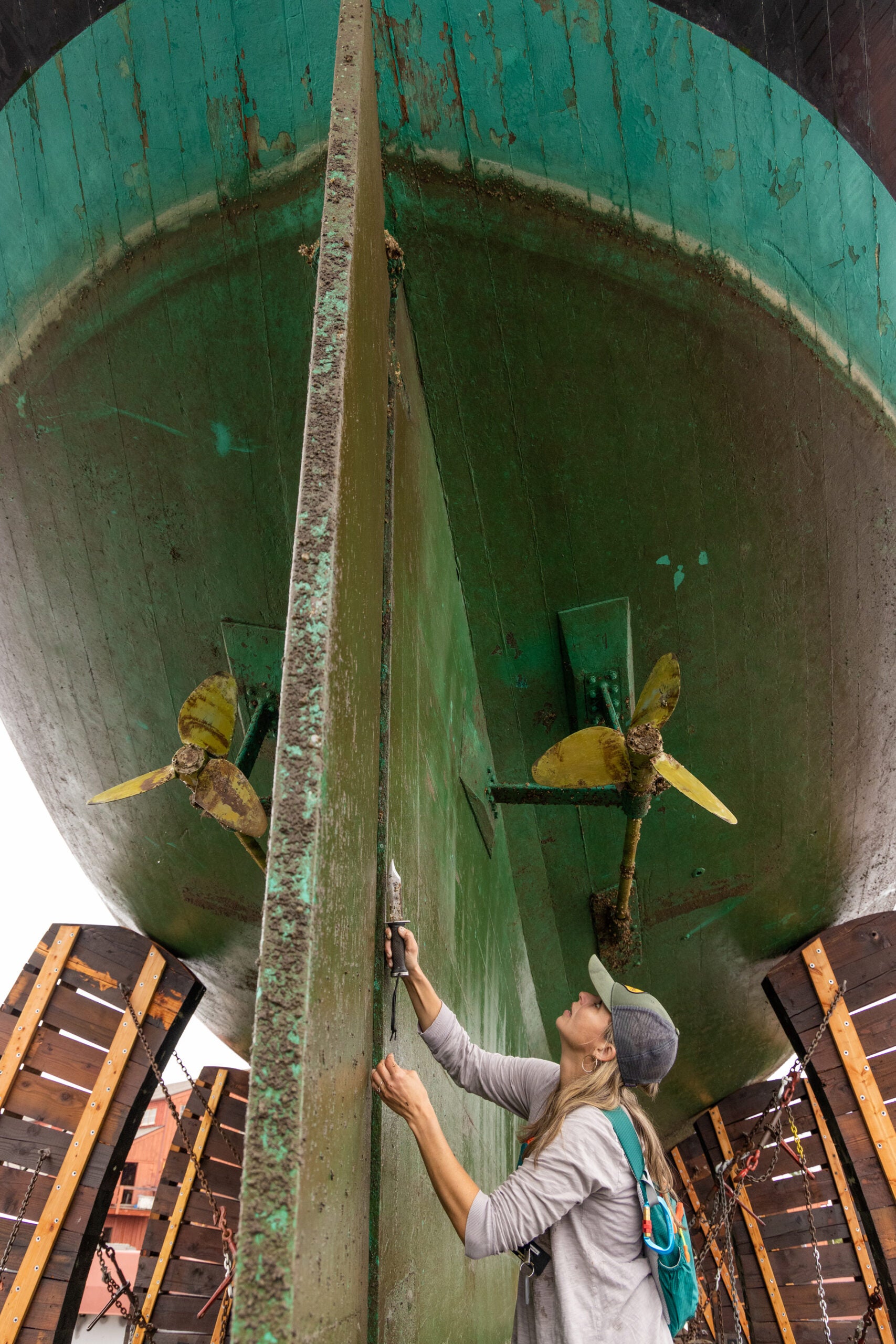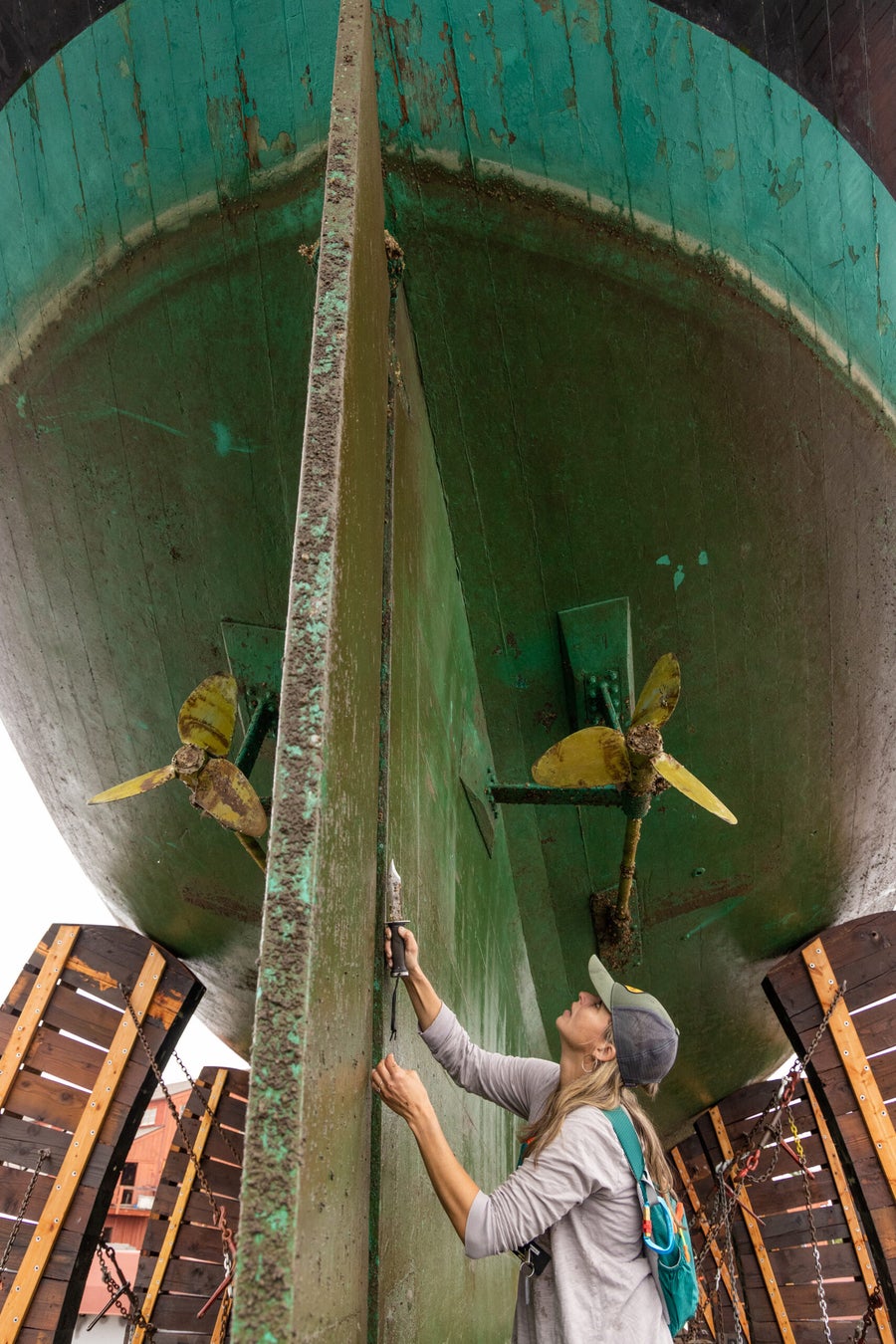 The Blaschka glass models are fragile and rarely travel. But the museum secured a wide variety, including sea anemones, octopuses, squids, tube worms and sea squirts.
"We were looking for species that had both a local story and a global story, species that have been spread around the world by ships for centuries," said Carlton, who collaborated with the museum's curator of collections, Krystal Rose.
In an era before scuba diving, underwater cameras or mass-produced textbooks, the Blaschkas' lifelike sea creatures were the gold standard of marine zoology teaching models. Invertebrates could not be taxidermied, and collected specimen lose their color and form when preserved in jars, as we can see from the many on view here, including some dating to the 19th century.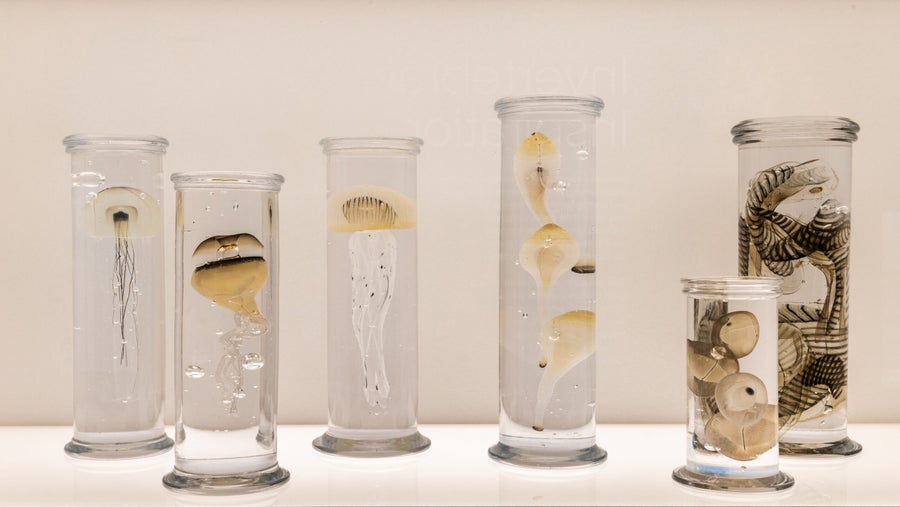 Leopold (1822-95) and Rudolf (1857-1939) Blaschka offered around 700 marine invertebrate species, which they sold through catalogs like Ward's Natural Science Establishment of Rochester, New York. Created by the process of lampworking — glass blowing using an open flame — and then painstakingly hand-painted, the models were designed to look more realistic than beautiful. But they are works of art, with their multiple layers of glass and fine frills, fringes, suckers and tentacles. (They are rarely on the market, but a Portuguese man-of-war brought around $13,000, and a jellyfish, around $20,000, at a Christie's London auction in 2019.)
"They were a more or less accurate rendering of the species," said James Hanken, a professor in Harvard's Museum of Comparative Zoology, who spearheaded the cleaning, restoration and display of that institution's 434 Blaschka models in the early 2000s, after finding them stored in dusty boxes.
"The Blaschkas were very, very, specific about their parts," said Elizabeth Brill, a glassworker and marine biology field technician who restored Harvard's collection (and Cornell's before that). "They knew exactly how long each tentacle should be, from one species of jellyfish to the next." Brill restored the one jellyfish on view, which is missing some of its fragile tentacles (replicated by the Blaschkas by coating wires in glass).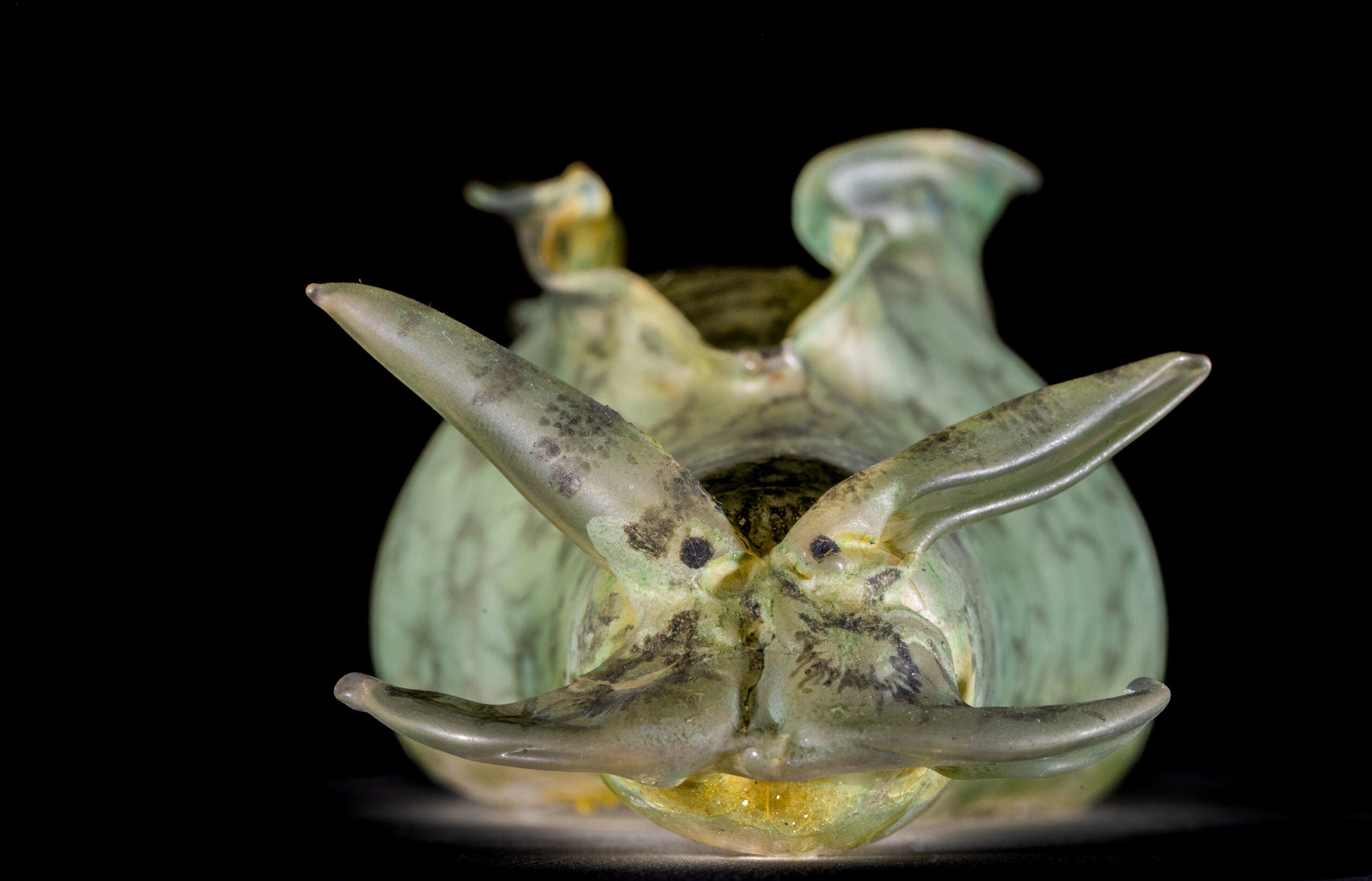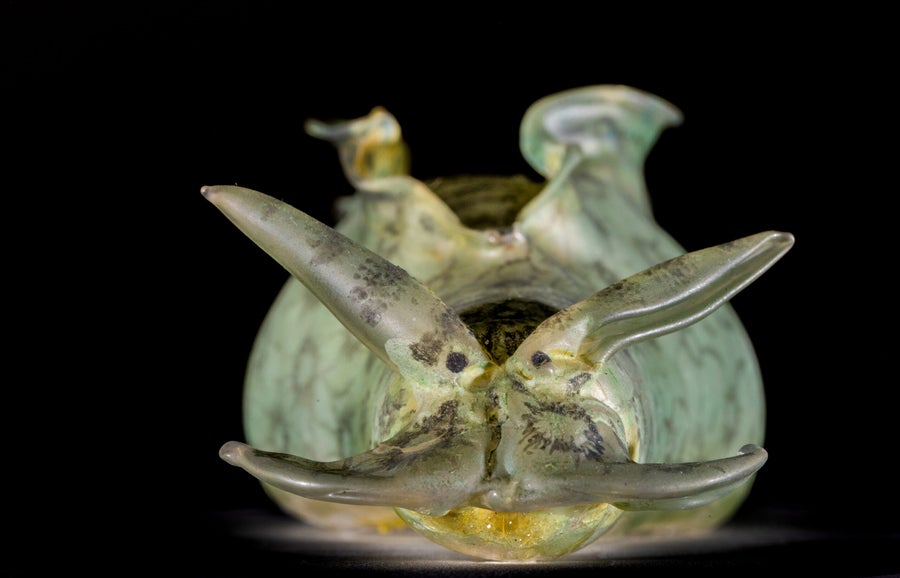 Leopold Blaschka, who hailed from Bohemian glassworkers, started out making jewelry and then glass eyeballs both for humans and taxidermy. He also made stunning glass flowers, producing more than 4,000 with his son for Harvard. What's surprising is that these two artists in landlocked Dresden could have replicated marine species so accurately.
Leopold Blaschka did in fact glimpse live jellyfish in all their glasslike luminosity years before he started making them, while sailing across the Atlantic to the United States in the 1850s. By the late 1870s he and his son had acquired a seawater aquarium and ordered live animals that came wrapped in seaweed from marine stations throughout Europe. (Much of what we know of them comes from their archives at the Corning Museum of Glass.)
Zoological illustrations were also essential. Early on, Leopold Blaschka emulated drawings of anemones by Philip Henry Gosse, a Victorian naturalist and collector of marine species known as the inventor of the modern aquarium (and for trying to reconcile his creationist beliefs with his scientific findings). Later, the Blaschkas borrowed illustrations from Ernst Haeckel, a German zoologist and skilled artist who cataloged many of the thousands of marine species pulled up by the HMS Challenger, a British ship that spent 3 1/2 years, starting in 1872, gathering data from the ocean's depths.
"There was so much documentation of marine invertebrates in the 19th century," Rose said. "Citizen scientists were walking the shores noticing these things."
This escalating fascination with the sea helped fuel the Blaschkas' success, "along with Darwin's publication of the 'Origin of Species' and explorations going to all kinds of places," Hanken said.
With those explorations, of course, came marine creatures as invasive as the humans leading them.
The exhibition includes several models of invasive sea squirts, or tunicates, named for the leathery tuniclike sheath that protects their soft bodies. They tend to grow in clusters and create a slimy blanket that can befoul aquaculture and create drag on ship hulls. And then there are the living ecosystems they disturb.
"We generally don't like to see invaders," Carlton told me while watching recent video footage of some of the sea squirts swaying in the tidal surge in nearby Stonington Harbor, where they blanket docks and pilings. "They could replace or displace a native species. And it might have a cascade effect." The most visible, lightbulb sea squirts, named for their translucent white tubelike forms that seem to glow, are native to Europe but were discovered in Long Island Sound in the early 2000s. The Blaschkas' version is encased nearby and shows three colorless glass tubes sprouting from a base, each filled with tiny glass coils that seem like precursors of fluorescent light bulbs.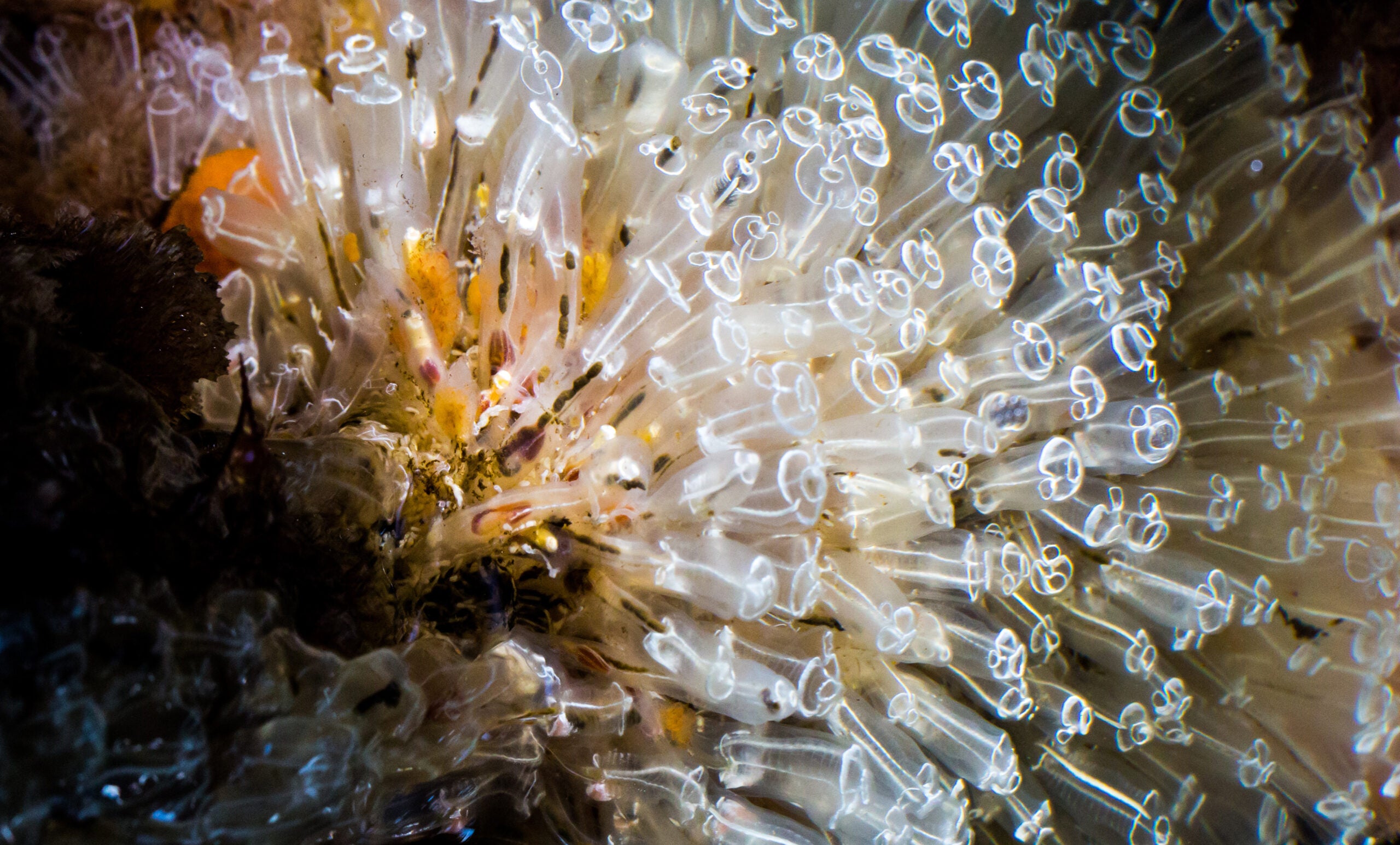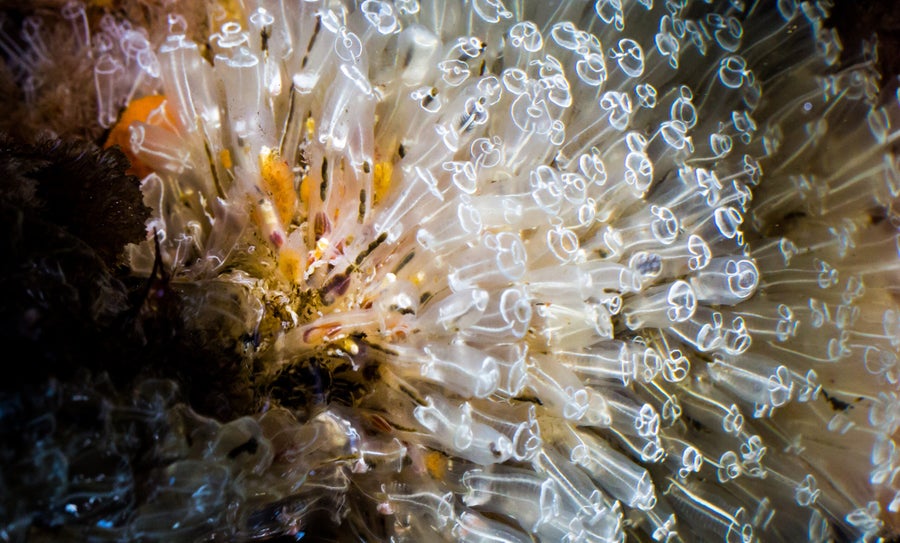 The Blaschkas' models brought attention to the ocean's changing biodiversity when a Cornell professor, Drew Harvell, set off on a scuba diving journey in 2013 to see how many live versions of the Blaschkas' models she could locate. Coral reefs damaged by pollution, blast fishing and ocean warming were among her finds. A book and film documented the project.
Warming waters are also enabling non-native species to survive where they previously could not, Carlton said. What we can do, as individuals, he said, is "try to clean as well as possible whatever we're moving or transporting" that might have associated species tagging along.
Once again, "our eyes on the shore are citizen scientists," Rose said, pulling up an app on her phone, inaturalist, a nonprofit organization that's building a crowdsourced database detailing where and when living things appear. "Anyone can report a species sighting, and then it gets confirmed by others," she said.
Carlton said, "One step ahead of science."
—
This article originally appeared in The New York Times.