Patriots
"Everybody needs to be ready to go."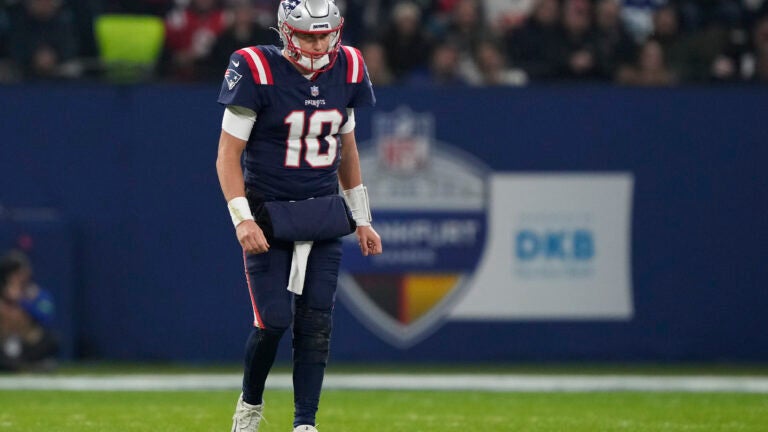 FOXBOROUGH – Bill Belichick's phrase of the day was "I've told everybody to be ready." He said a version of that phrase a dozen times Tuesday as reporters asked questions about the Patriots' quarterback situation.
Has Belichick decided who the starting quarterback will be on Sunday? 
"I've told all the players the same thing, be ready to go. So, hopefully they will be," said Belichick. 
With Mac Jones coming off of his third benching in 10 games and Bailey Zappe completing 40 percent of his passes this season, is there a chance Malik Cunningham could get some snaps? 
"I told every player to be ready to play," said Belichick. "So, we'll see how things go, and we'll go from there."
At what point in the week should the team know who its starting quarterback is ahead of Sunday's game?
"Everybody needs to be ready to go. So, that's where we are for today," Belichick said. "Today's Tuesday, go out there, be prepared, be ready to take advantage of their opportunities. Then, we'll go to Wednesday."
There have been no public indications – from Belichick or offensive coordinator Bill O'Brien – about who the Patriots' starting quarterback will be for the football game that is five days away. 
There's a chance it could be Jones. The Patriots have started him every game this season no matter how bad the results have been the game before. Could the interception at the end of the Colts game on Nov. 12 have been a tipping point? Perhaps, but the Patriots have been very consistent in giving Jones opportunities. 
Then there's Zappe, whom the Patriots replaced Jones with for the final drive of the Colts game. He has completed 10 of his 25 passes in three games this season for an average of 4.2 yards per completion, with no touchdowns and one interception that came on a fake spike attempt after he took over for Jones. O'Brien said Jones, Zappe, and Will Grier — who the Patriots signed on September 22 and who has not seen game action –have all gotten reps in practice. While explaining Grier's reps, Belichick said that the bye week presented an opportunity for players who haven't played as much to show what they can do.
"That was true for everybody across the board," Belichick said. "We didn't work on any scout team plays, we just ran our plays. So, everybody got to run what we ran. We had some guys who were out there, some guys weren't out there. A lot of the guys who have played a lot didn't practice as much." 
Asked if there are enough reps in practice to give a large enough sample size to choose between multiple quarterbacks, Belichick said, "Everybody needs to be ready to go. You saw what happened in the Dallas game. [Daniel] Jones went out, [Tommy] DeVito went in. That could happen on the first play of the game. It could happen in the middle of the game. 
"Everybody needs to be ready to go. That's our job right now, to prepare the team to play well on Sunday. That's all of them. Not one of them, not two of them, but all the guys. "
Sign up for Patriots updates🏈
Get breaking news and analysis delivered to your inbox during football season.