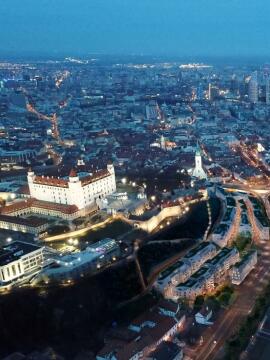 Considering the current situation on the real estate market, buying an apartment or a family house is more worthwhile in smaller cities than in larger ones, including regional ones. Whether this trend will change in the foreseeable future and what the coming months will bring in connection with the falling value of real estate, real estate expert and managing director of AAA-Real Slovakia Peter Skubenič also talks about this for TREND.
In which cities is it worth renting today and where is it more profitable to buy an apartment at current interest rates?
In general, the current situation in Slovakia is such that it is more and more worthwhile to buy in smaller cities than in regional ones, including Bratislava. Let's look at it through the numbers. In Banská Bystrica in 2021 and 2022, you could buy an older three-room apartment for 160,000 euros, and the monthly installment of a similarly high mortgage, thanks to interest rates of approximately 1.5 percent, was 650 euros. Currently, at an interest rate of five percent, it comes to more than 1,050 euros. Of course, the costs associated with the use of the apartment must be added to the payment, which amounts to around 220 euros. It follows that the total cost for a three-room apartment, when you buy it today, is approximately 1,250 euros per month.
How does it look in this case with the rental price?
For example, the rent price of the aforementioned three-room older apartment in Banská Bystrica was around 600 euros in 2021 and 2022, including utilities. Currently, it is 750 euros including utilities, so the rental price has grown more modestly over the same period. Currently, it is more worthwhile for people to rent, especially in cities such as Bratislava, Košice, Trnava, Žilina, Nitra or Banská Bystrica, where there is a big difference between the monthly costs of renting and the monthly costs of buying. Due to the increase in interest rates, rental housing is more advantageous today.
Despite the fact that fewer flats are being sold, rental prices are not rising as much. To what do you attribute this condition?
In individual regional cities, over the past year, rent prices for one-, two-, and three-room older or newer apartments have increased by an average of 10 to 15 percent compared to last year. It was due to the increase in energy prices, which was reflected in monthly advance payments for services connected with the use of the apartment. At the same time, it is caused by the lower availability of own housing due to the high interest rates. At a time when interest rates were low, people preferred to buy apartments. Therefore, there was less interest in renting. Over the last period, the number of purchased apartments for rent has increased, but the rental price has decreased precisely because of the larger supply. However, with current interest rates and the availability of own housing, the overall demand for rental housing has increased.
What will the next year bring for the rental market? To what extent will rent prices change?
Subscribe to TREND for the best price starting from €1/week
Full access to premium articles and archive
Premium access to Medialne, TRENDreality and ENJOY websites
Less advertising on TREND.sk
Order a subscription

Already subscribed?

Log in