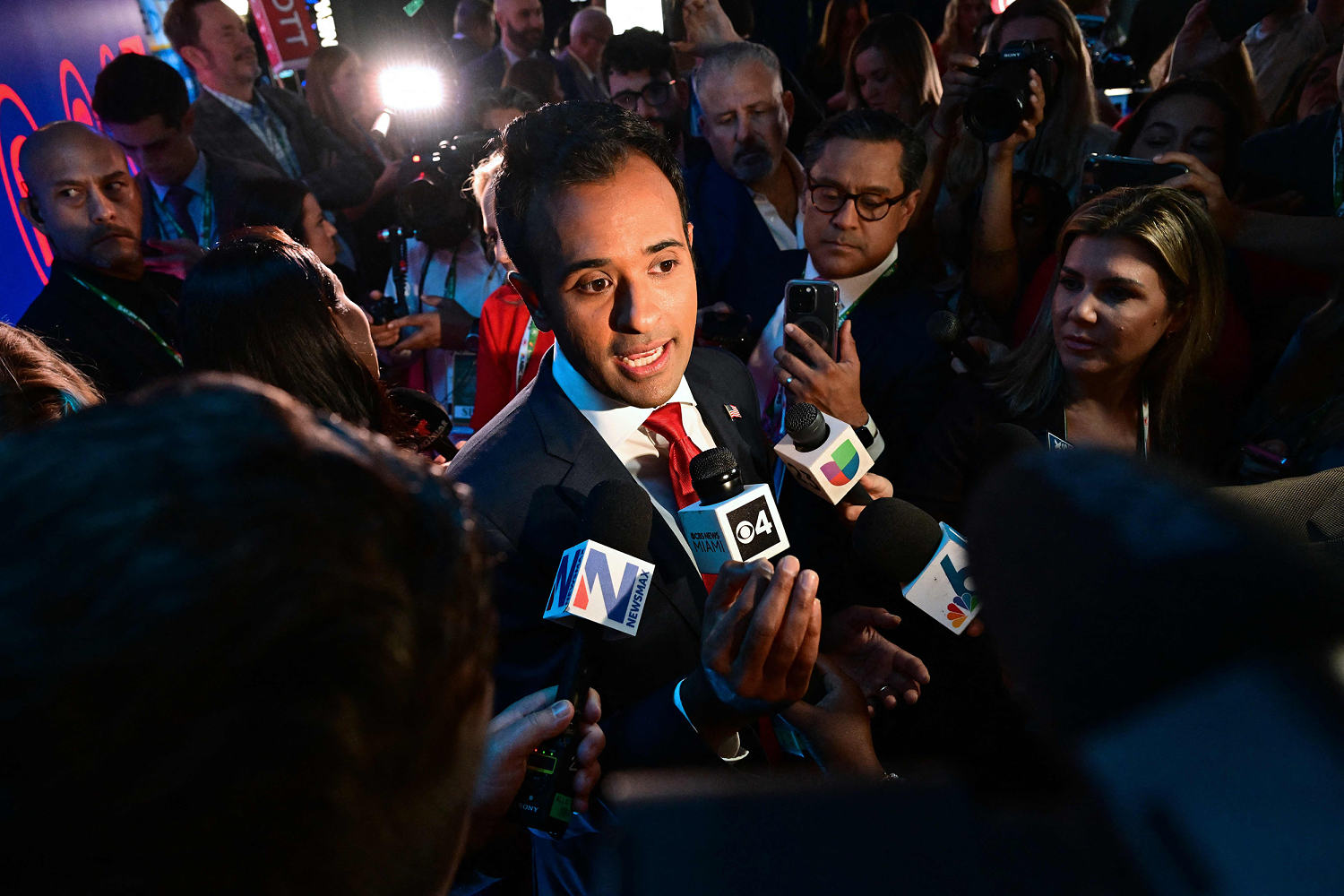 MANCHESTER, Iowa — Vivek Ramaswamy knows he doesn't have the foreign policy chops of some of his opponents. He hasn't been a president, an ambassador, a senator or even a governor. But still, he wants to talk about it.
At campaign stops in early states, Ramaswamy is urging voters to ask him about his foreign policy views.
"Anybody have any questions about my foreign policy?" the candidate eagerly asked a roomful of Iowans at a diner in the small town of Manchester on Monday. 
Luckily for Ramaswamy, a voter took him up on it. 
"I was going to say that's one of the criticisms about you, is that you don't have enough experience in foreign relations," the voter said. Ramaswamy acknowledged that he could tell his lack of experience was "weighing on people's minds."  
"I think we should just talk about it in the open," he said before diving into the two key pillars of his foreign policy plan. 
"My foreign policy is clear: stay out of World War III, declare economic independence from communist China," Ramaswamy said.  
Ramaswamy's reluctance to leave his foreign policy unaddressed on the campaign trail comes on the heels of fresh attacks on the debate stage from rival Nikki Haley, who was ambassador to the United Nations in the Trump administration and was governor of South Carolina.
"Putin and President Xi are salivating at the thought that someone like that could become president," Haley said at the most recent debate in Miami, slamming Ramaswamy for wanting to stop funding Ukraine in its war with Russia.  
After the attack, Ramaswamy shifted his strategy on the campaign trail. Previously, the 38-year-old businessman took questions from voters after delivering a stump speech without the subject-matter suggestion. But now, he wants to make sure his foreign policy stone isn't left unturned. 
Just three days after the third GOP debate, while on a swing through New Hampshire on Nov. 11, he again pressured voters to challenge him on the topic. 
"And if anybody else, while we're on this topic of foreign policy, we can maybe hit a couple of foreign policy questions and then we'll bring it back home," he said while campaigning in Hillsboro. 
Haley's swipe at Ramaswamy for his foreign policy views wasn't the first time she's taken aim at him. At the first GOP presidential debate in August, again while Ramaswamy was questioning American support for Ukraine, Haley went for the jugular.  
"You have no foreign policy experience, and it shows," Haley said to applause from the crowd.  
But it wasn't until Haley's latest barrage of attacks that Ramaswamy took on this new tactic. 
Ramaswamy's plan to avoid the next world war relies on his noninterventionist philosophy and includes freezing the current lines of control between Russia and Ukraine. He's also promised to keep American boots off the ground in Israel or Palestinian territory. 
He has said he and former President Donald Trump are the only "non-neocon" candidates in the primary, taking aim at what was the predominant foreign policy stance of the Republican Party, particularly during the presidency of George W. Bush.
"As your next president, my sole moral duty is to you the American citizens here in our homeland, not any other country," he explained, questioning if billions of dollars in aid to fund foreign conflicts benefit the people of the United States. 
"I sense that there's a lot of people who love aspects of my candidacy but have questions about my absence of abroad experience, foreign policy experience in particular," Ramswamy explained to NBC News on Monday when asked why he's urging voters to ask him about his foreign policy.  
"Questions about faith also come up," he added. 
Ramaswamy, who is Hindu, has been dogged by questions about his religion since he began campaigning in the first-in-the-nation caucus state, but he wants to bring it "out in the open."
After a man questioned him about his faith during a campaign stop in Marshalltown, Iowa, this week, Ramaswamy called out the topic: "I think it ends up being an elephant in the room at times." 
"I think they're two of the topics that I want to give people full comfort in and asking about," he said, referring to his new strategy of inviting questions about his religion and his foreign policy views. 
"If you think about it like a due-diligence checklist," he added, "I think that those are some items that we need to make sure … people fully know where I am on."