Bruins
"I don't know if I'm ready for that yet because I don't think my hips and my knees could actually keep up."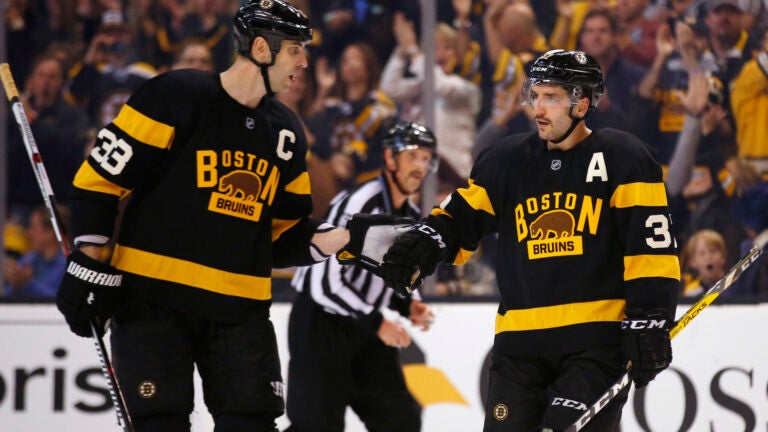 For 14 seasons in Boston, Zdeno Chara and Patrice Bergeron shared the ice as a pair of franchise pillars for the Bruins.
But with Bergeron now joining Chara in retirement, could the future Hall of Famers share the same road during a 26.2-mile gauntlet from Hopkinton to Boylston Street?
Chara, who called it a career in September 2022, hasn't spent much time putting his feet up since hanging up his skates.
The 6-foot-9 defenseman's latest passion rests in marathon running, with the imposing blueliner completing five marathons within the last six months — a daunting schedule that began with a 3:38:23 time during the 2023 Boston Marathon.
The former Bruins captain doesn't seem to be ready to slow down any time soon. Chara already announced on Nov. 13 that he will run in the 2024 Boston Marathon, and plans to run in other "major" marathons beyond Boston and New York City — which include London, Tokyo, Berlin, and Chicago.
And with Bergeron now enjoying the retired life after 19 seasons spent with the Bruins, the six-time Selke Trophy winner acknowledged that Chara has already tried to recruit him for some arduous training.
"I've tried a lot of things. lately. I've tried tennis and played soccer," Bergeron said of his current hobbies during an interview with NHL Network this week. "[Chara] has tried to get me to run some marathons with him. I don't know if I'm ready for that yet because I don't think my hips and my knees could actually keep up — my back as well.
"So I don't know how he does it and kudos to him. Zee, I love you. … Eventually I'd love to get a challenge going and find a way to kind of challenge myself with something to look forward to and kind of work for and get ready for."
For now, Bergeron seems content with being the "Uber driver for the family," as he acknowledged during his retirement press conference back in July.
As expected, the 38-year-old Bergeron acknowledged that he "had the itch" to return to the ice after attending Boston's season-opening game against the Blackhawks on Oct. 11. But that natural reflex to hop over the boards subsided, with Bergeron noting that he's "at peace" with his decision to step away from the game of hockey.
"I couldn't see myself go through the grind and the schedule," Bergeron said. "It's demanding, it's hard on the body, it's hard on the family life. And it's almost like I felt like it was time."
"I don't have time to watch that many games, to be honest," Bergeron added when asked if he still watches his former team. "I watch more highlights than I watch games or I watch bits and pieces. They're on a special run. They're a great team and I wish them all the best and obviously I'm going to be cheering them on the rest of the year."
Newsletter Signup
Stay up to date on all the latest news from Boston.com
Sign up for Bruins updates🏒
Get breaking news and analysis delivered to your inbox during hockey season.