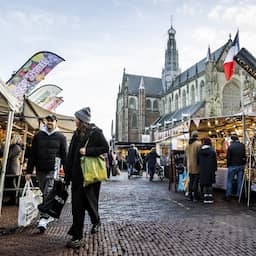 ---
Although on average many Dutch people are doing well, there is still inequality in our country. That is a persistent problem, concludes the Social and Cultural Planning Office (SCP) in a new report.
For example, about one in six Dutch people not only have less money, but also, for example, fewer friends, they are less comfortable with computers and they speak fewer languages ​​than the rest. This is according to the report published on Tuesday Contemporary Inequality of the SCP.
"On average, many Dutch people are doing well," says researcher Cok Vrooman of SCP. "And the picture is that the Netherlands is a fairly equal country. But that picture is not correct if you look more closely."
Seven social classes emerge in the study. Two of those social classes, about 16 percent of the population, lag behind the rest of the population. The highest social class (about 20 percent) has an advantage.
This inequality has major consequences for people's lives. For example, people who lag behind the rest of the population feel less part of society, they more often have mental complaints or they do not vote.
Moreover, the contradictions in society have not really changed in recent years. This points to a problem, also because the economy has been doing well for a long time and policies have been drawn up in the meantime to combat this inequality.
Dit zijn de zeven sociale klassen (en dit betekenen ze)
De werkende bovenlaag. Bestaat uit ongeveer 20 procent van de bevolking. Heeft veel kapitaal: zowel economisch, als sociaal, cultureel en persoonlijk.

Jongere kansrijken. Ongeveer 9 procent van de bevolking. Zijn gemiddeld 34 jaar oud, vaak hoogopgeleid en hebben ook veel sociaal, cultureel en persoonlijk kapitaal, maar nog niet veel geld.

Rentenierende bovenlaag. Ongeveer 12 procent van de bevolking. Zijn vaak hoogopgeleid en gepensioneerd en hebben veel geld. Omdat ze ouder zijn, hebben ze wel een lager sociaal kapitaal en kampen ze soms met gezondheidsproblemen.

Werkende middengroep. Met bijna een kwart van de bevolking de grootste groep. Scoren overal gemiddeld op en wordt dus gezien als de 'middenklasse'.

Laagopgeleide gepensioneerden. Ongeveer 18 procent van de bevolking. Zijn vaak gepensioneerd en lager opgeleid, maar hebben wel relatief veel geld door onder meer overwaarde op hun woning.

Onzekere werkenden. Deze groep werklozen, mensen zonder vast contract en zzp'ers, bestaat uit ongeveer 10 procent van de bevolking. Ze hebben vaker last van mentale problemen en minder kapitaal dan bovenstaande groepen.

Precariaat. Ruim 6 procent van de bevolking. Dit zijn bijvoorbeeld gepensioneerden of mensen die arbeidsongeschikt zijn. Deze groep mensen heeft het minste kapitaal.
SCP fears growing inequality
The SCP fears that these contradictions will become greater in the future if the group of disadvantaged people grows due to an aging population, migration processes and digitalisation.
The institute has been researching inequality in the Netherlands for some time now. In this study they looked at the different social classes into which you can divide adults based on four types of so-called capital.
That is the economic capital (for example, how much money and what level of education you have), cultural capital (do you go to museums a lot, can you handle a computer or do you speak several languages) and social capital (do you have many friends, do you have a professional network, you have people around you who can help you with chores). The SCP also mentions personal capital (what do you look like, are you physically healthy, do you feel good mentally).
The government must scrutinize policy
The government should look at those forms of capital. The SCP cannot give really concrete proposals because it is a complex problem that plays out on several levels, explains Vrooman. "It's not something you solve with a particular project." Because a project to combat low literacy helps some people, but does not solve the other problems of that group.
"The government should actually look at what all groups need at every stage of life, and make policy for this," summarizes Vrooman. "You have to ask yourself whether our basic facilities, such as care and assistance, are in order. Are there still people who are left out? Do we have to do something extra for the groups for whom things are not in order?"
In addition, SCP also wants to draw attention to the problem with this study, says Vrooman. "We think that this should also be discussed by politicians and the public."