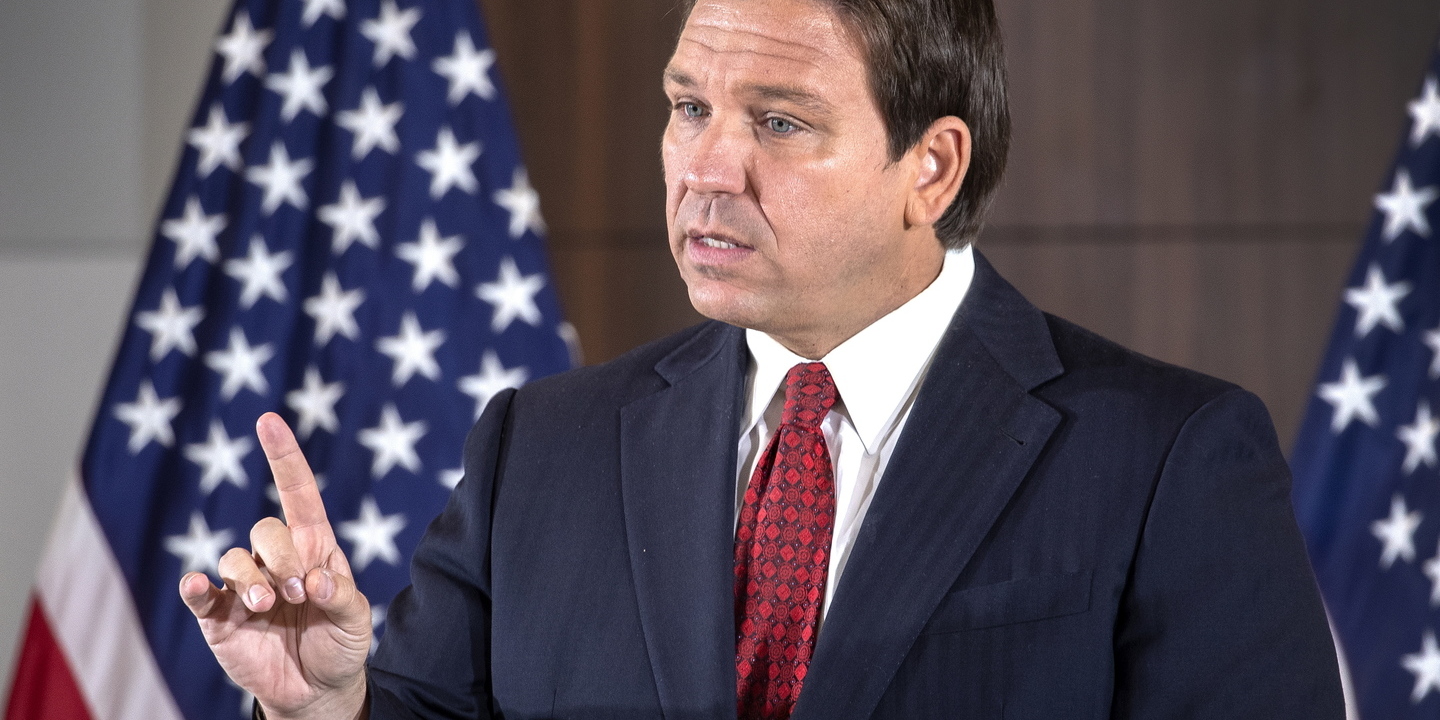 Ron DeSantis' race started out a bit rocky after the broadcast of launch of your campaign suffers from technical failures. With the help of Twitter CEO Elon Musk, he delayed the launch scheduled for this Wednesday afternoon in his country. Meanwhile, a video appeared where the world was announced to the one suspected of replacing Joe Biden at the helm of America and ending Trump's dominance on the Republican side. The premise is simple: he wants to run for the White House "to lead the return" of the United States ("Great American Comeback," according to the campaign slogan).
But who is this republican disciple who wants to be the commander of American destinies? From his full name Ronald Dion DeSantis, he was born in Jacksonville, Florida in 1978. the current governor of the US state of Florida, a position he has held since 2019.
Before that, it is known that he graduated from Yale in 2001, with a degree in History, and where, always with a spirit of leadership, he was captain of the baseball team, according to the newspaper. The Guardian. After graduating, he was for a few years a teacher at Darlington, a boarding school in Rome, Georgia.
After Darlington, he attended Harvard Law School, where he would eventually complete his training in 2005. While still a student at Harvard, he joined the US Navy as an officer in the corps of judges (JAGs) in 2006, and was seconded to the detention center at Guantanamo Bay.
In 2007, DeSantis was deployed to Iraq and served as legal counsel for Seal Team One, a US Navy special force. He would later be awarded the Bronze Star Medal and the Iraq Campaign Medal.
It would only be in 2012 that the world would hear about a candidacy of DeSantis to Congress, where he would eventually serve three terms through 2018. Among the policies he tried to pursue during his time in Congress, notable in 2015 was his attempt to help form the ultraconservative House Freedom Caucus, with the aim of changing Republican leadership and policies to take a stand further to the right, and even the various attempts to promote social and health budget cuts. It's known, in 2013, the vote on a law, however failed, to raise the retirement age to 70 years.
Even during this initial incursion into politics, the evident opposition to the Obama Government stands out. At the time, and according to the BBCcondemned what he considered to be the government's tendency to intervene in "virtually any issue, from children's waistlines to the temperature of the Earth".
About this time, he recalled last year at a conservative rally in Texas: "My mission was mainly to stop Barack Obama", referring to his time in Congress with "Good fights. Important fights".
In 2018, he was supported by Trump to run for governor of the state where he was born, Florida, where he would be elected in 2019. Here, he became famous for his evident opposition to Covid-19 policies, having in July 2020 given the order to reopen schools when cases skyrocketed nationally.
Since that time, it has also expanded the right to guns in this American state, as well as the death penalty. He has also become a strong repressor of illegal immigration, and has signed a bill that bans most abortions after six weeks of pregnancy, pledging to "defend the dignity of human life and make Florida a pro-family state."
In January of this year, it also banned African-American studies in secondary schools in the state, stating that this subject "has no educational value".
In addition, it is famous for its legal dispute with one of the largest companies and employers in the United States, Disney, which promptly criticized the bill informally called "Don't Say Gay" ("Don't say Gay", in free translation ), approved in Florida with the objective of prohibiting discussions about sexual orientation and gender identity in schools in any school year.
As a result of this conflict, Florida voted to restructure the special district that was created more than 50 years ago to oversee development on the land surrounding Disney World, which includes four theme parks, dozens of hotels and entertainment venues. These changes gave DeSantis the power to appoint members to the district's board of directors, removing that authority from landowners, with Disney holding the largest area.
According to BBCthe power demonstrated in this type of political struggle raised his status, among the electorate, to that of a potential Republican candidate for the presidency, moving further and further away from Donald Trump and increasing his credibility individually.
Despite still having to win the Republican primaries, he told British journalist Piers Morgan, who interviewed him in March: "'If I run, I'll be running against Biden,' pushing away the competition from the former Republican president.
As far as his personal life is concerned, he is married to Casey DeSantis, a former television presenter and mother of his three children who is described as the presidential candidate's "greatest asset".
Casey was particularly instrumental when she accompanied her husband during recovery efforts after Hurricane Ian in 2019. However, she was known to have helped oust members of the Florida Republican party delegation who were seen as more loyal to Donald Trump.
About the candidacy for the presidency, not much is known yet. However, together with his friend Elon Musk, he launched the motto this Wednesday and promised: "I am running for president of the United States to lead our great American comeback".
He also told the Americans: "We know that our country is heading in the wrong direction. We see with our own eyes. And we feel it in our bones."
And he left the promise on Twitter: "if you elect me, you can set your clock to January 20, 2025, at noon, because on the west side of the US Capitol, I will take the oath of office as the 47th president of the United States United," said DeSantis. "No excuses, I will do the job", he underlined.
According to the American channel CNN, the decision to share the stage with Musk, who bought Twitter last year and leads a group of "fanatical right-wing fans", was an odd choice for an aspiring president, although it is also a way to attract right-wing supporters, who more and more make up the users of the social network.
Among the main topics addressed in this appearance on the social network, criticism of the NAACP, the main civil rights organization in the country, stands out, calling it a leftist organization, and accusing it of banning books by a "selection that is not consistent with state standards."
He also spoke out against Congressional action to limit cryptocurrencies, a topic particularly discussed on Twitter.
"You have every right to use Bitcoin," said DeSantis, to which Musk responded by alluding to Dogecoin, the alternative cryptocurrency that the billionaire helped make famous. In the conversation that the two were having, the now candidate also underlined that he intends to control the federal bureaucracies and that he will be a frequent user of Twitter from that Wednesday.
As reactions to this campaign launch, one of his biggest opponent, Donald Trump, in his social network Truth Social stands out, who initially did not appear to comment.
He later pointed out that "his collar is too big."
Pointing out in yet another post: "Wow! Launching DeSanctus on TWITTER is a DISASTER! Your whole campaign will be a disaster. GO SEE IT!" he said. This was followed by a series of publications praising himself and the success of his future campaign.
Now the account Twitter of the current President of the USA, Joe Biden, published a 'link' to his own fundraising page, where he mocked the technical problems that the republican candidate's transmission initially had, he wrote "This link works", sharing the page of fundraising for his future campaign to be re-elected.