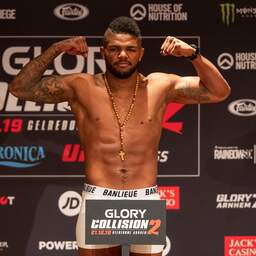 ---
10 mrt 2023 om 14:11Update: 2 minuten geleden
Kickboxer Luis Tavares returns to the ring on April 29 after a doping suspension. The Rotterdammer wants to force a fight against the Croatian Antonio Plazibat during a four-man tournament of GLORY. The winner of that fight takes the interim world heavyweight title.
The intention was that Plazibat would challenge Rico Verhoeven for the world title this spring. But De Brabander, uninterrupted world champion since 2014, is expected to be sidelined until the summer with a knee injury.
Plazibat did not want to wait for a fight with Verhoeven and that is why GLORY has set up a fight for the interim world title for June 17. The winner of that match will probably fight Verhoeven in the autumn for the real world title.
The winner of the four-man tournament announced on Friday can normally compete against Plazibat for the interim world title. In addition to 31-year-old Tavares, Tariq Osaro, Nordine Mahieddine and Enver Sljiva will participate in GLORY 85.
GLORY 85 winner qualifies for Grand Prix
Tavares tested positive for the use of banned substances last summer. That happened in the run-up to a light heavyweight title fight against Sergei Masloboyev.
Osaro, who grew up in Amersfoort, plays for Nigeria. Mahieddine was born in Marseille and has roots in Algeria. The Bosnian Sljiva has never played for GLORY before.
GLORY 85 is also a qualifier for the Heavyweight Grand Prix (formerly K-1 World Grand Prix). The kickboxing association announced last month that the prestigious tournament will return in December after ten years.
The Grand Prix is ​​a separate championship, where no world title is at stake. For the annual eight-man tournament, participants are selected through qualifiers and wild card entries throughout the year.