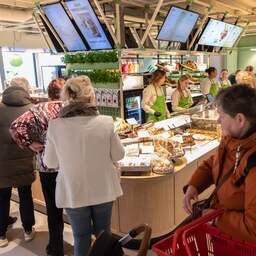 ---
May 26, 2023 at 11:58 amUpdate: 12 minutes ago
La Place, which once started in the shops of the defunct V&D, is once again housed in a department store at HEMA. Both HEMA and La Place are wholly or partly owned by the Van Eerd family, the owners of supermarket chain Jumbo. HEMA products have already been placed on the shelves of Jumbo, La Place is a new step in that cross-pollination.
"Within the collaboration with Jumbo, we do what people find logical," says CEO Saskia Egas Reparaz of HEMA in conversation with NU.nl. "Customers show quickly enough whether something works." Since HEMA has taken a different course under the new owner, the chain has been doing better again.
HEMA also made a decent profit in the past financial year and that was a long time ago. The more than 700 stores – of which 543 in the Netherlands – and the web shop generated a profit of more than 31.5 million euros with a turnover of almost 2 billion euros. "All of which is reinvested in the stores."
And that is necessary. Because when HEMA was still in the hands of investors, things were not going well. Not only with turnover and profit, but also with what the stores looked like and the number of customers that came. For this summer, ten stores are now being transformed into a new concept.
"We are testing, among other things, a 0.0 bar, with non-alcoholic beer and wine, plain cakes that you can decorate yourself and scoop biscuits," says Egas Reparaz. "That suits Jip & Janneke." Frozen pizzas that could still be found in some HEMAs do not fit in with that, she says.
A tompouce cost 0.80 euros and now 0.95 euros
In the very large HEMA stores there is room for a La Place, instead of the well-known HEMA restaurant. "Typical HEMA products such as the smoked sausage, hot dog and sausage roll will also remain for sale as take-away products." In medium-sized businesses, the restaurant will continue to exist, in addition to the take away. The famous tompouce is also for sale there.
That tompouce, HEMA sold 1.3 million of them on King's Day, has not escaped inflation. "It cost 0.80 euros and now 0.95 euros. Everything is becoming more expensive, so also with us. We waited quite a long time to raise prices, perhaps too long," says the top woman. "In times of inflation, the quality has to go up, then a higher price will hurt less. We are working hard on that."
HEMA has also become more critical of its range. "If we used to have a 2-pack, 5-pack and 10-pack of something, we now only have the 5-pack with socks, for example. This makes your purchase cheaper. I urge everyone in the company to make every dime not once, twice or three times, but four times."
'We are a house brand'
According to Egas Reparaz, customers appreciate HEMA's new direction. "Old customers return and new customers know where to find us. In that sense, we are on our side. In times of inflation, people fall back on the private label, we are a private label."
In the summer, HEMA decides what the course will be for the stores and when which store will be renovated. This is not necessary for every store, because many of the HEMA stores run by franchisees have already been modernised. "We are completely tackling some of our own stores."
How a store will look after the renovation depends on many factors. Not only the number of square meters is taken into account. "But also to what the customers in that city need and what may or may not be available in the area. We adjust the range to that. We make sure to always be there for everyone."