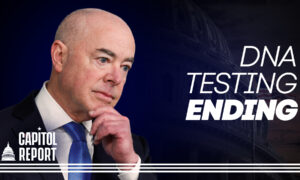 We have the latest on debt ceiling negotiations, heading into the Memorial Day weekend. Will the country avoid an unprecedented default?
DNA testing at the southern border is said to prevent human trafficking, but reports say it soon won't be used anymore. Lawmakers are demanding answers from the Biden administration.
Target and Bud Light lost big bucks after pushing controversial gender ideas. Is the MLB next? The LA Dodgers are facing backlash after re-inviting a group of self-described trans-nuns to receive an award at their stadium. We hear from a voice in the catholic community, Brian Burch, about his efforts to counter what he describes as a mockery of the Christian faith.
Are more Americans getting upset with companies that require diversity, equity, and inclusion (DEI) training? We explore the issue with an entrepreneur who founded a job-seeking platform for workers looking to avoid so-called progressive ideologies.
Patients across the nation are unable to get lifesaving medications due to a shortage. It's particularly problematic for cancer patients. Find out what the FDA has to do with this shortage and what solutions are on the table.