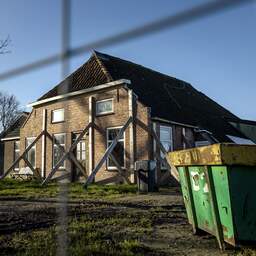 ---
06 mrt 2023 om 20:46Update: 3 uur geleden
Groningen residents who have gone to court with earthquake damage are, in principle, no longer charged with an appeal. This should ensure that the government has less time against Groningen residents. This is the first measure resulting from the hard-hitting report on gas extraction in Groningen.
The Institute for Mining Damage Groningen (IMG) is responsible for handling earthquake damage. In some cases, the IMG appealed, so that residents who had already been ruled in favor by the 'ordinary' court were in even longer financial uncertainty.
If Groningen residents "have suffered damage, have lodged an objection and also conducted and won a lawsuit – then I do not think that a government should appeal again", writes responsible state secretary Hans Vijlbrief on Twitter.
Instead, the IMG will ask the court for a so-called 'preliminary ruling'. With such a preliminary ruling, the court explains the applicable rules.
Groningers no longer have to pay compensation
But this explanation has no financial consequences for the people of Groningen. If this higher court says that according to the rules they are not entitled to compensation after all, they do not have to repay the amount paid. If such a ruling is not possible, the IMG can still appeal.
For the eight known harrowing cases in which the IMG has already appealed, residents do not have to repay the compensation they have already received. Not even if the IMG wins the appeal.
It is the first concrete measure after the publication of the report Groningen over Gas on February 24. It was said, among other things, that the handling of the damage should be milder, easier and more humane.