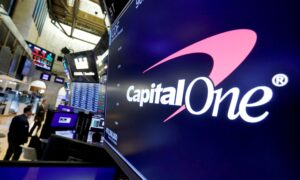 New York City's banking commission voted Thursday to freeze new deposits at Capital One Bank and KeyBank, saying that the banks failed to submit a plan detailing steps they're taking to "root out discrimination" in their operation.
The 3-0 vote by the commission, consisting of New York Mayor Eric Adams, Comptroller Brad Lander, and Commissioner of Finance Preston Niblack, means that Capital One and KeyBank won't receive new deposits from the Big Apple's public agencies for up to two years.
In addition, the banks won't be able to renew contracts or enter into new agreements with the city during the suspension.
At the end of April, Capital One held $7.2 million in city funds across 108 accounts, while KeyBank held $10 million across three accounts, according to the commission.
The two banks "outright refused" to certify their "policies of nondiscrimination in hiring, promotion, and delivery of banking services, and for bank closings," the commission said in a statement following its first-ever public hearing Thursday.
During the hearing, the three-member panel heard testimonies from "Muslim New Yorkers who have experienced discrimination in the process of opening or closing accounts," tenants who complained about "predatory lending practices," as well as climate change alarmists who condemned banks for lending fossil fuel companies billions of dollars despite their pledge to eliminate carbon emissions, according to the statement.
Brad Lander, a progressive Democrat who co-founded New York City Council's Progressive Caucus, also voted against making Wells Fargo, PNC Bank, and International Finance Bank eligible for holding the city's deposits.
"Despite several opportunities to do so, five banks failed to comply with the New York City Banking Commission's designation process—leaving us to conclude that they are not taking meaningful actions to combat discrimination in their operations and are not responsible stewards of public dollars," Lander said.
A KeyBank spokesperson said Thursday that the bank had provided the required information and is looking forward to clarifying any "misunderstanding" with the commission.
A Capital One spokesperson said what the bank's 2023 submission was "consistent" with what it submitted in previous years.
"Capital One prohibits discrimination and harassment against any applicant, intern, Associate, vendor, contractor, customer, or client on the basis of protected characteristics," the spokesperson added.
In February, the New York City Banking Commission announced new requirements for banks wishing to become approved depositories for municipal funds, demanding that they "demonstrate a meaningful commitment to combat discrimination in employment, services, and lending."
That decision came about a year after the city said it would not open any new depository accounts at Wells Fargo due to allegations of racial discrimination, including a federal lawsuit accusing the bank of being biased against black homeowners seeking a refinance. Wells Fargo denied those allegations, saying they are against racism and "do not believe that these claims are based on factual analysis."
Woke vs. Anti-Woke
While Democrat-run New York City shuns banks for not being committed enough to progressive social causes, governments of several Republican-led states have stopped doing business with banks that align themselves with left-wing "woke" ideology.
In Texas, a 2021 law bans certain state and local government entities from working with financial institutions contracting with banks that have adopted the so-called Environmental, Social, and Governance (ESG) policies against the fossil fuel and firearms industries. This means Texas cities may no longer hire ESG-minded banks to underwrite their bonds.
Among those affected banks is Citigroup, one of the largest underwriters for municipal bonds across the Lone Star State. In February, Texas Attorney General Ken Paxton said his office has determined that Citigroup discriminates against firearms manufacturers and dropped it from a planned $4.3 billion dollar municipal bond deal.
The ESG movement refers to the practice by investment firms and fund managers of screening investments based on a set of progressive social criteria, such as whether a company promotes climate change activism or creates a racially diverse workforce, as a way to encourage businesses to adhere to the left-wing "woke" social agenda.
The law also prohibits certain state agencies from investing funds in financial companies taking any action intended to "penalize, inflict economic harm on or limit commercial relations" with an energy company that doesn't commit or pledge to ESG goals. The investment provisions cover a $56 billion public school fund, as well as the retirement systems for public school teachers, law enforcement officers, and emergency responders.
"We're concerned the ESG framework has become more of a marketing tool than a tool for making investment decisions," Texas Comptroller Glenn Hegar said in a report released this week. "It lacks transparency and has evolved into a campaign by financial institutions to push a political agenda while restricting access to capital needed by the oil and gas industry, which is a critical sector of our state's economy."
At least eight other states—namely Arizona, Florida, Idaho, Kentucky, North Dakota, Oklahoma, Utah, and Wes Virginia, have enacted similar boycott laws or rules against ESG investing with public funds.