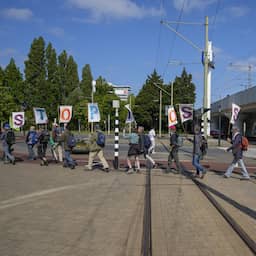 The police have deployed a water thrower at the demonstration of Extinction Rebellion climate activists on the A12. It was warned in advance that the water cannon would be deployed if the several thousand demonstrators did not leave that part of the highway.
It is not the first time that demonstrators have blocked part of the A12; they did this in March as well. Then thousands of people showed up. Even now there seem to be thousands of protesters.
They walked onto the highway around noon and were initially stopped by the Mobile Unit. According to the police, the protesters have since broken through the cordon. Just like in March, they have started a so-called sit-down action.
The municipality has banned the action of the climate group. The police have called on activists to leave. A water thrower was used.