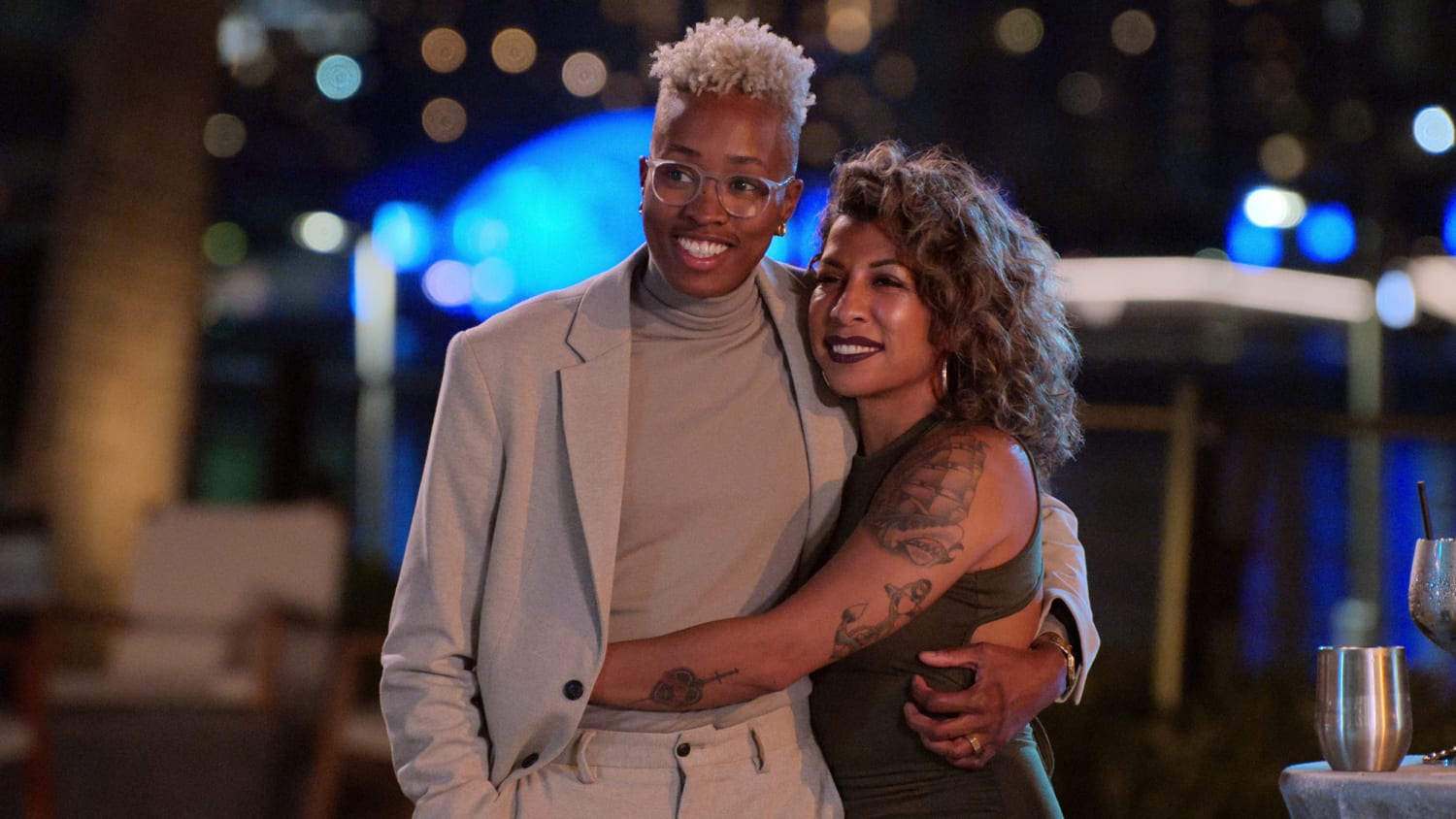 This post includes spoilers for the first four episodes of "The Ultimatum: Queer Love."
When Netflix released the trailer for the all-queer season of "The Ultimatum" in April, it caused quite a stir among the legions of reality dating show fans, especially content-starved LGBTQ audiences. Now the first four episodes of the — in some ways —groundbreaking series have arrived, delivering plenty of platonic bonding moments, steamy, night-vision scenes and lots and lots of tears.
"The Ultimatum: Queer Love" follows the same convoluted, marriage-oriented premise as the straights-only debut season, which premiered last year. In this iteration of the burgeoning franchise, five couples facing the choice between getting hitched or breaking up enter into a seven-week "experiment" — to use the show's verbiage — in which they try out pseudo-marriages with other cast mates before deciding whether or not to get engaged to the person they came with. And this time around, the test subjects — which are made up of five "ultimatum-givers," those demanding a proposal, and five "ultimatum-receivers" — are all sapphic, cisgender women and nonbinary people. 
"I think, for me, I didn't really understand the gravity of what we were doing at the time. You can conceptualize it's the first queer reality dating show. But I don't think you really grasp what's going on until after the fact," Mal Wright, one of the stars of the series, told NBC News during a junket ahead of the show's release.
While "Queer Love" isn't strictly the first queer take on the genre, it certainly is one of the few in a flooded reality dating show landscape. And given Netflix's wide reach, it's probably the most commercially significant yet. That, of course, means that it has all the trappings of a big budget, viewer-friendly reality show, down to the manufactured verbiage, metallic drinking cups and straight host, JoAnna Garcia Swisher.
"I feel like now, more than ever, it's so important that everyone shows up to celebrate and shine light on this community and these types of relationships. I never even batted an eyelash," Swisher said about signing on to host her first reality show. "Sometimes, when I get offered jobs, I think, 'Why me?' But not this one. I just thought, 'Yeah, this is exactly what I want to be doing. This is the kind of show that I want to be supporting.'" 
Led by an enthusiastic Swisher, the series' 10 participants, who are all apparently potential matches for one another, begin the show by breaking up with their partners and spending a week choosing a "trial wife" among themselves. Then they return to their original relationships for three weeks, to find out whether or not distance really does make the heart grow fonder — or, at least, whether it breaks down a person's resolve.  
Early on in this process, Wright, who is one of the oldest cast members at 36, emerges as a sure-fire fan favorite. The self-described ultimatum-receiver banters with other masculine-presenting castmates during awkward speed-dating setups, uses air quotes when referring to "my ex" and seems to have a very logical reason for not being ready to get engaged. Basically, she has the makings of the elusive, grounded reality TV star — an image that holds up during the junket, when she says her motivation for going on the show was to be a "supportive partner" to her girlfriend of three years, Yoly Rojas.
During the post-breakup process, Wright gravitates toward 24-year-old Lexi Goldberg. Goldberg, who gave an ultimatum to her partner of three years, said she was motivated to be on the show to, in part, provide young audiences with the queer representation she didn't have growing up. 
"I remember moments in high school and college when I didn't know who I was or who I wanted to love and just looking around for somebody that loved the way I loved or that dated the way I dated or was attracted to people I was attracted to," Goldberg, who was paired up with Wright during the junket, said. "It's really amazing to see it being on such a large platform — for people to really be able to digest that we're human, we have relationships the same as everybody else, we fight over closet space, that our relationships are just as normal or abnormal as any other."
For years, queer fans have been complaining that, while straight relationships are highlighted in a plethora of messy reality shows, their relationships just aren't. This has been chalked up to a variety of factors, from the overall underrepresentation of queer people on TV to the confounding issue, according to some producers, of adopting dating show formats for potential love interests who can't be kept separate along gender lines. But others have argued that the issue is more with straight showrunners, who aren't motivated to think creatively about featuring queer relationships on screen.
In some ways, "Queer Love" exemplifies those challenges as it, seemingly by design, stops short of presenting a well-rounded picture of its stars, who represent only a subset of the LGBTQ community. Outside of their ages and very minimal biographical details, the participants' lives remain a total mystery — as if to suggest that audiences only really need to know their marital status. A few of the stars who identify differently than the cisgender lesbian majority talk about their struggles with gender presentation and learning words to identify themselves, like "pansexual." And others talk vaguely about their previous marriages or, in one participant's case, having a child. Though, to be fair, just about everyone talks about their astrological signs and love for their pets.
The most deep cut, queer moments happen when the couples are talking about family planning and the financial burden of IVF, one of Wright's espoused reasons for holding off on marriage. But ideas like nonmonogamy and rejecting the traditional family unit are either glossed over or rejected outright. And, in that way, the series does fit well with its heteronormative predecessor, which normalizes 20- and 30-somethings issuing marriage ultimatums after just a few years (or less) of dating.
When asked about the show's potential blind spots, Goldberg pushed back and said if the show tried to encompass the whole queer spectrum, "it would have made the experience more inauthentic."
"As much as we would have loved to have been able to represent every single type of queer person, queer experience, queer argument, queer situation, I think the fact that it remained authentic — and that we weren't ever forced to discuss things that weren't true to us — is something I'm really proud of. It's something I feel super confident about when I talk about my experience on the show," she said.
For her part, Wright said the show is universally relatable because it shows how anyone, queer or straight, would react to the pressure of giving or receiving an ultimatum on TV — or, as she describes it, "When you put your relationship in a microwave and blow it up."
By the end of episode four, a few short of midway through the series, it's unclear what exactly is cooking in the "Queer Love" microwave. The trial marriages are predictably well underway, with some new couples firmly out of the friend zone. (This is the community that invented U-Hauling, after all.) But all of that could be turned upside down with exes reuniting, ultimatum day and a reunion on the horizon. 
Ahead of these romantic ups and downs being aired to the world, the cast of "The Ultimatum" say they're happy to have been a part of the series, however it all turns out in the end.
"We made it through something that was really humanizing and really exposes your vulnerabilities. So I feel proud of us and grateful to have learned the lessons and the language," Wright said. "I feel proud; I don't know if I feel good or bad, yet."
Goldberg said she has similar feelings when looking back at the experience and would jump through the hoops of being on a reality show 10 times over if it meant getting to where she is now. 
But perhaps no one is prouder of the cast of "Queer Love" than Swisher, who had a front-row seat as the participants traded anonymity for a chance at happily ever after.  
"When people ask me why I wanted to be a part of this show, it's because love is on the line," Swisher said. "It's not easy to rattle your life up like that when you're in a happy relationship and things are kind of chugging along."
She applauded the cast for throwing "all of their stuff out on the table," and then provided a bit of dramatic foreshadowing. 
"I would have loved to have seen a happy ending all over the place, because they all did seem to come in genuinely in love with each other. I just think, you know, that's not always how it works out."
Episodes 1 — 4 of "The Ultimatum: Queer Love" are available on Netflix. Episodes 5 — 8 will go up on May 31, followed by the finale and the reunion episodes on June 7.