Paphos will soon become a distinct option for retirement living, where personal five-star service will meet the warmth of its community.  Unveiled at its first formal presentation earlier this month, the new luxury residential community, Cypress Park, is designed for older individuals to enjoy their lives in a stimulating, lively and engaging setting.
The well-attended event, which was held at the Elysium Hotel in Paphos, provided guests the opportunity, through a thorough Q & A session, to learn more about the all-inclusive, community-centred retirement village that recognises a diverse set of demands and lifestyle choices defined by happiness, security, peace of mind and health.
The project is designed and constructed by award-winning Class A construction and development company, Medousa Developers. "Cypress Park offers excellence in design, service and security along with peace of mind that comes from living in a safe and supportive environment," CEO Tasos Loizou said,
"Our development's primary goal is to offer the perfect balance of sophisticated living, shifting away from traditional and outdated models by including a fully licensed, on-site medical centre, supported by St George and Bluecross – one of Paphos' leading and credible private hospitals," Loizou added.
According to Dr Antonios Economides, CEO of St George and Bluecross, the inclusion of the medical centre as part of Medousa's ground-breaking development is a significant step forward in retirement resort development in Cyprus towards a modern model that promotes increased independence, fosters continued engagement in life, and maximises individual human potential.
"With on call doctors and nursing staff, ambulance, and 24/7 emergency response, as well as St George and Bluecross' state-of-the-art services and facilities, residents will have direct digital access to the medical centre from the comfort of their own homes," Dr Economides said. "This pioneering project will add value to the Paphos region."
The in-depth presentation showcased Medousa's commitment to providing an affordable retirement option inclusive of enriching social activities, fine dining and superior services of an upscale resort. "We believe that Cypress Park best exemplifies this design, and we are proud to introduce it to the town of Paphos," Loizou stated.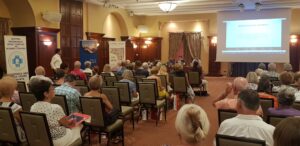 The purpose-built retirement community, aimed at people over 60, will have 105 modern freehold residences, ranging from studios to one-, two-, and three-bedroom apartments, all of which will be spread across an area of more than 20,000 square metres and situated in lush, landscaped communal gardens.
The legal team representing Medousa, who attended the event, stated that "clients who have already reserved their properties at Cypress Park have recognised the significance of a sound property investment." Legal advice was also given to the audience about title deed security, safeguarding one's property investment in Cyprus, and resale potential.
"Each property in Cypress Park retirement village is sold on a freehold basis, and residents are free to sell at any stage, enjoying the benefits of a continued investment in a property of your own," the legal team added.  "As with many off-plan developments, it is advisable to reserve your place at the early stages, as both increasing demand and prices will appreciate during the development period."
"The response to our retirement resort has been overwhelming," Tasos Loizou told the Sunday Mail. "Foreign nationals from South Africa, the United Kingdom, Israel and countries in northern Europe are among our current clients."
Based on the positive response from clients who have already invested in the development and those in attendance at Cypress Park's unveiling presentation, Medousa Developers is unquestionably exceeding clients' expectations by creating an environment that is second-to-none with a plethora of on-site amenities and services, catering for residents and guests, including wheelchair users, at the same time providing strategic support conveniences for its vibrant community.
"We truly believe Cypress Park is the future of senior living in Cyprus," Loizou added.
For those who require a little more persuasion, however, Medousa Developers has created a showhouse whose interior mirrors the result of one's investment. "Clients will view the unique range of superior specifications and finishes on offer that ensure comfort, contentment, functionality, and a measure of indulgence,"  Loizou said.
"We believe that Cypress Park meets the criteria for a one-of-a-kind, beautifully planned, centrally located, purpose-built community that offers the right location and five-star amenities for residents to live full and rewarding lives while receiving the support and care they need."
If you are "ready to rethink retirement," visit Cypress Park's website:  www.cypressparkretirement.com
or contact +357 99 612238 or +357 99603993, email:  [email protected] 
 or visit  www.medousadevelopers.com