Six days after the Tour de France, part of the peloton is again focused on the Vuelta: part of the participants in that grand tour want to compete in the Tour of Poland still some work on the top form. In that week keeps In the leader's jersey All winners are added and there is a preview of what is to come!
The Tour of Poland has moved on the calendar in recent years, but has now secured a place at the end of July/beginning of August. This ensures that some candidates for the Vuelta final victory will compete to succeed Joao Almeida on the honors list. In the five years before that, a Belgian won no fewer than three times: Remco Evenepoel (2020), Dylan Teuns (2017) and Tim Wellens (2016).
Latest winners Tour of Poland
2021 Joao Almeida
2020 Remco Evenepoel
2019 Pavel Sivakovy
2018 Michal Kwiatkowksic
2017 Dylan Teuns
2016Tim Wellens
2015 Ion Izagirre
2014 Rafal Majka
2013 Pieter Weening
2012 Moreno Moser
Tour of Poland 2022: route, climbs and times
Stage 1, Saturday 30 July 2022: Kielce – Lubin (218.8 km)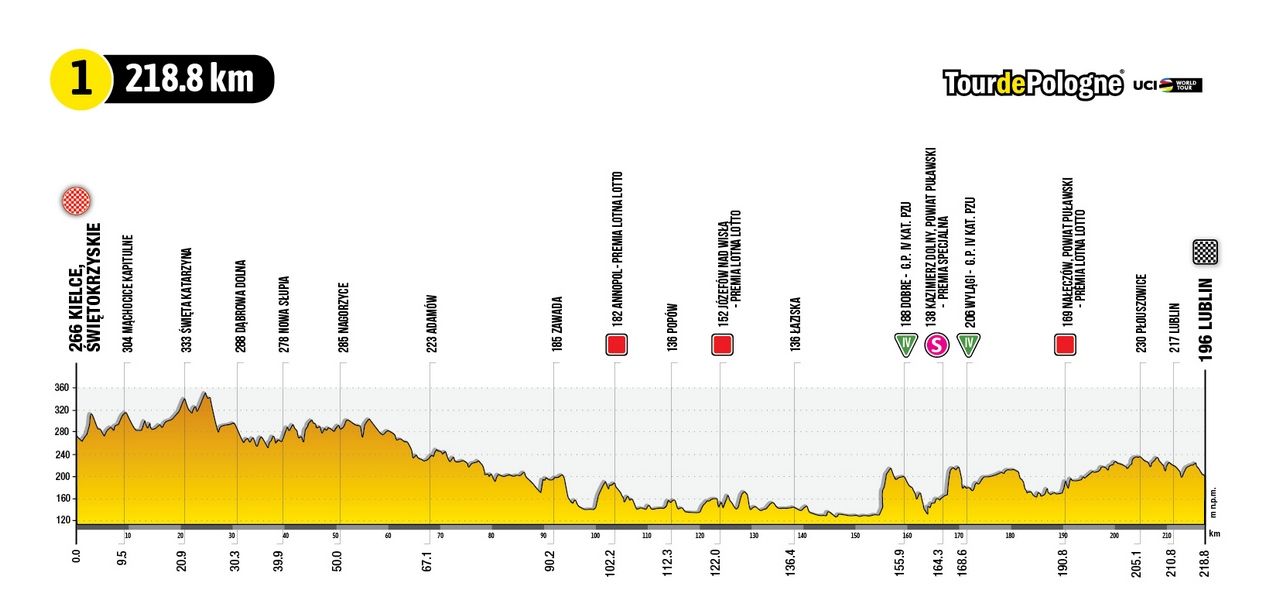 The peloton starts with a flat stage of no less than 219 kilometers, in which the sprinters were allowed to get out of their room for the first time in the arrival place Lubin. The race was still colored by five escapees, three of whom hoped to score in their own country. Unfortunately for the quintet, the sprinters had circled this stage with red as mentioned. Their escape attempt was therefore unsuccessful. In the end it was Olav Kooij who raced for the flowers by beating Phil Bauhaus and Jordi Meeus. Obviously he is the first leader in the race.
Climbs
156.5 km: Dobre (1.4 km at 5.1%)
167.0 km: Wylagi (0.8 km at 5.1%)
Winner
Olav Kooij (Team Jumbo Visma)
Wearers of the sweaters
Leader jersey: Olav Kooij
Points jersey: Olav Kooij
mountain jersey: Jonas Abrahamsen
Stage 2, Sunday 31 July 2022: Chelm – Zamosc (205.6 km)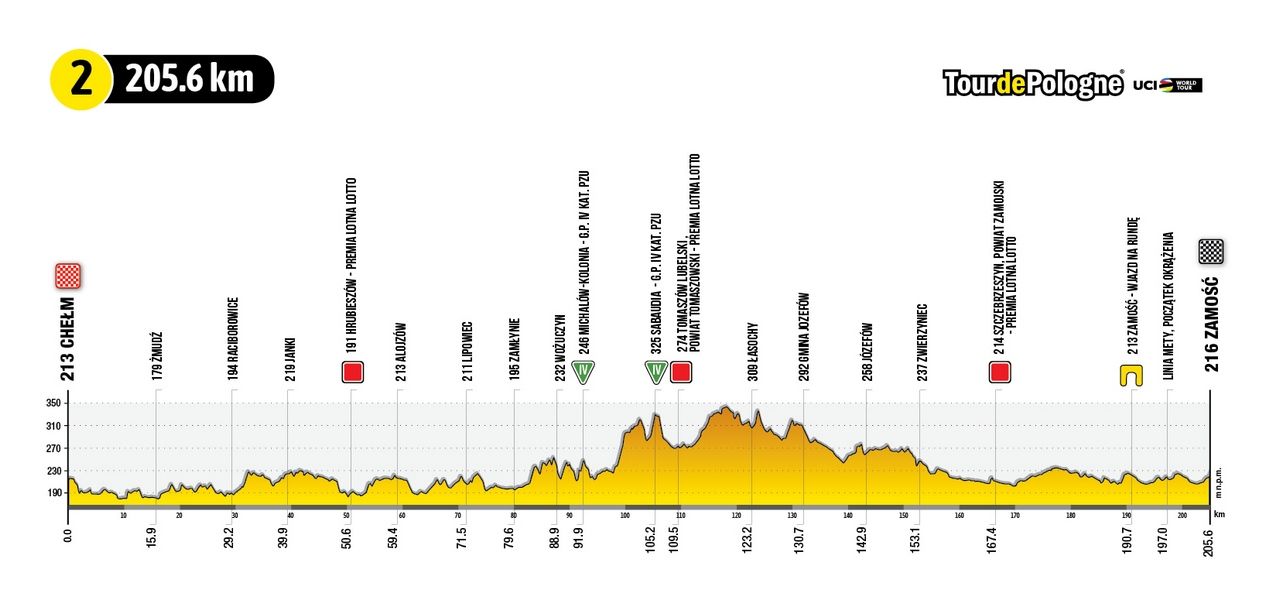 The second stage was again one of more than two hundred kilometers long. The final was held over a technical course, where the victory was decided in a bunch sprint. Surprisingly enough, it was Gerben Thijssen who took the victory. Olav Kooij finished fourth, but lost the leader's jersey to Jonas Abrahamsen. He had collected bonus seconds in the flight of the day to take over the jersey.
Climbs
91.0 km: Michalow (1 km at 2.5%)
98.5 km: Sadaubia (1.6 km at 3.6%)
Winner
Gerben Thijssen (Intermarché-Wanty-Gobert)
Wearers of the sweaters
Leader jersey: Jonas Abrahamsen
Points jersey: Olav Kooij
mountain jersey: Jonas Abrahamsen
Stage 3, Monday 1 August 2022: Krasnik – Przemsyl (237.9 km)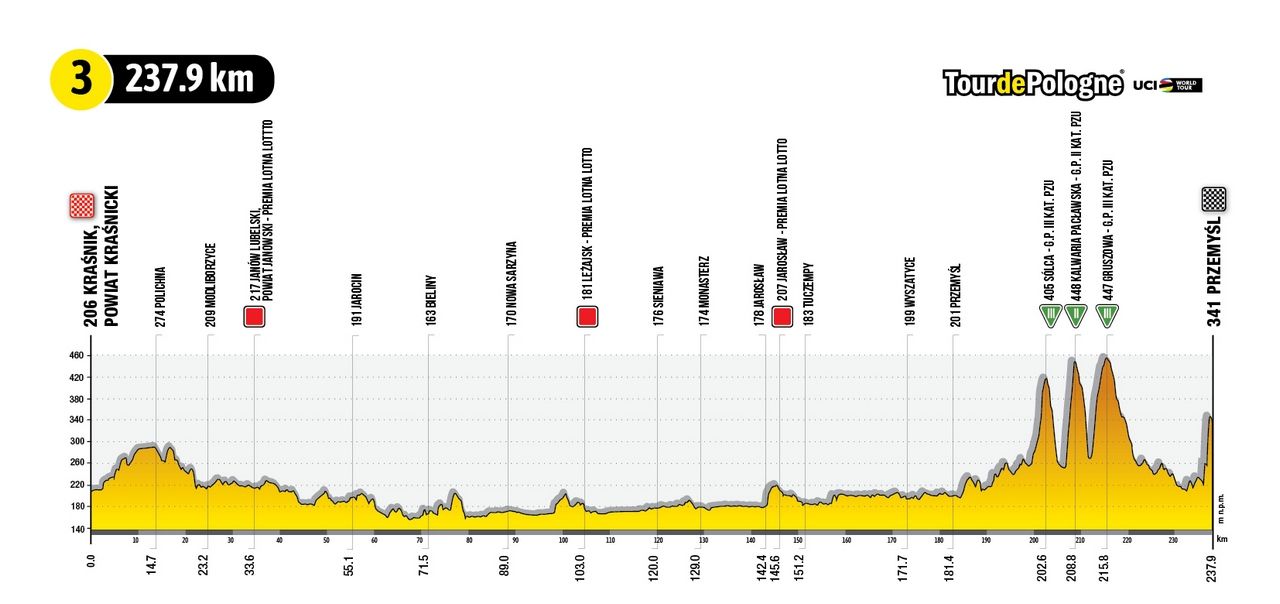 In stage three, the classification riders had to expose their buttocks. For the third day in a row, the organization had drawn up a route of more than 200 kilometers: in this stage to Przemsyl the peloton had to wait no less than 238 kilometers, with an uphill finish. The last mile went up at an average of 7.7 percent, and it got steeper towards the finish. Bacon to the mouth for Sergio Higuitawhich proved to be the most explosive on behalf of BORA not for the first time this year.
Climbs
200.5 km: Solca (3 km at 5.2%)
207.0 km: Kalwaria Paclawska (2.1 km at 9.2%)
213.0 km: Gruszowa (2.3 km at 6.7%)
237.0 km: Przemsyl (1.5 km at 7.7%)
Winner
Sergio Higuita (BORA-hansgrohe)
Wearers of the sweaters
Leader jersey: Sergio Higuita
Points jersey: Olav Kooij
mountain jersey: Michel Hessmann
Stage 4, Tuesday, August 2, 2022: Lesko – Sanok (179.4 km)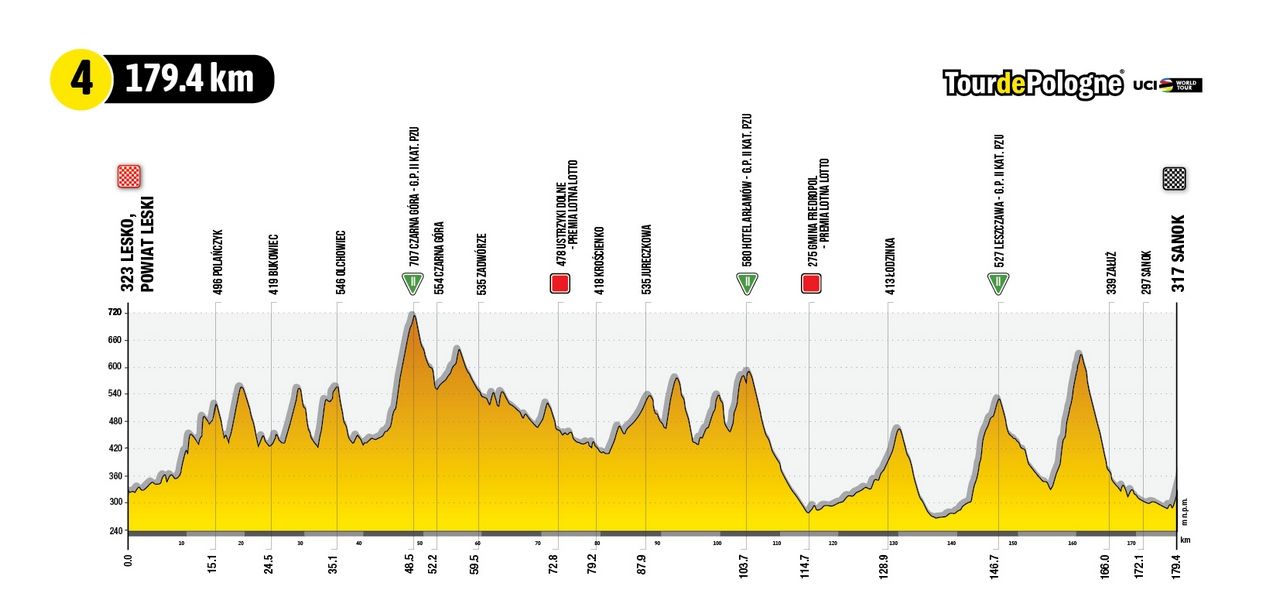 In the fourth stage, the riders finally get some breathing room when it comes to the number of kilometers to be covered. There are some altimeters hidden in the course, so it can just become a dime on its side between the strong escapees and the better climbing sprinters.
Climbs
48.5 km: Gmina Czarna (3.9 km at 6.2%)
103.5 km: Hotel Amarlow (1.7 km at 6.5%)
146.5 km: Lezscawa (4.6 km at 5%)
times
Start: 12.30 pm
Finish: 4.40 pm
Favorites
Tosh Van Der Sande (Jumbo-Visma)
Tim Wellens (Lotto Soudal)
Mauro Schmid (Quick Step – Alpha Vinyl)
Stage 5, Wednesday, August 3, 2022: Lancut – Rzeszow (178.1 km)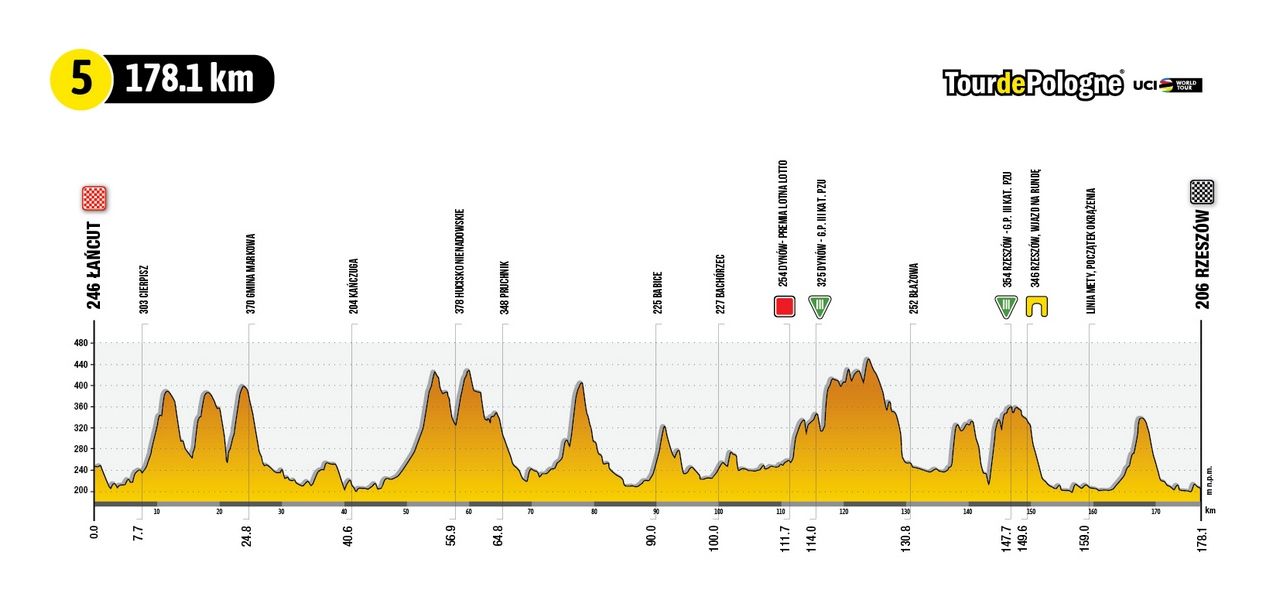 Stage five is quite similar to stage four: too heavy for the pure sprinters, too light for the pure climbers. It's no surprise that a lot of classic types and attackers have found their way to Poland, because this genre of stages is reserved for that category of drivers.
Climbs
148.0 km: Rzeszow (2.2 km at 5.7%)
times
Start: 12.30 pm
Finish: 4.38 pm
Favorites
Quentin Pacher (Groupama FDJ)
Quinten Hermans (Intermarché-Wanty-Gobert)
Samuele Battistella (Astana Qazaqstan Team)
Stage 6, Thursday 4 August 2022: Szaflary – Wierch Rusinki (11.8 km, time trial)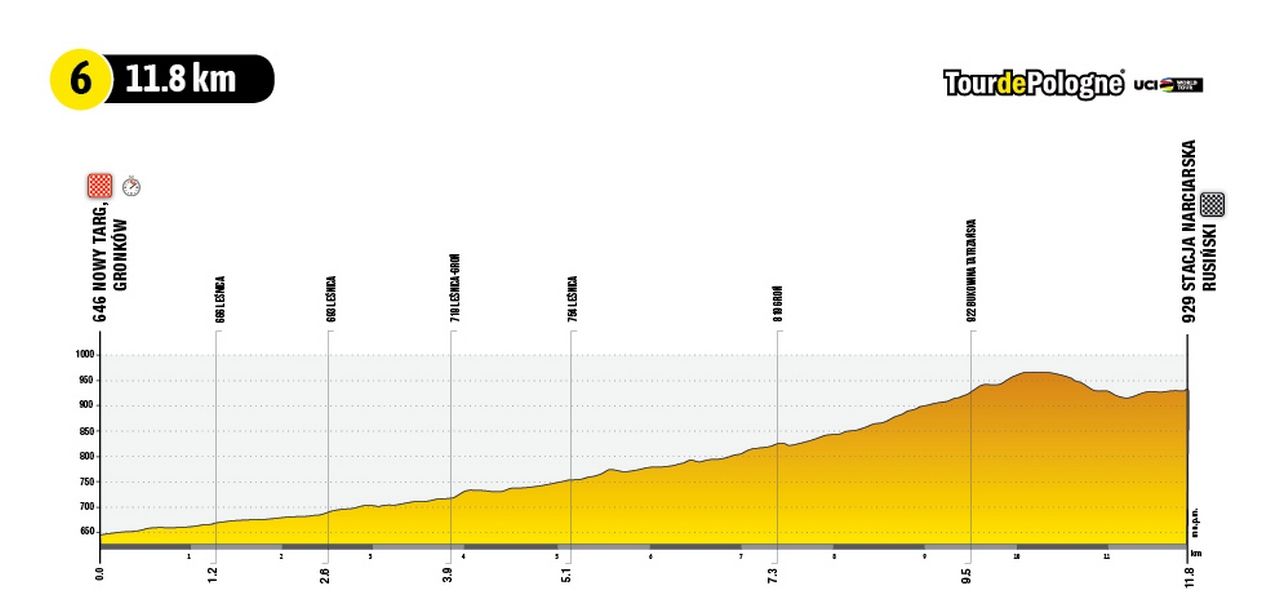 The penultimate stage could be decisive when it comes to the general classification in this Tour of Poland. There is in fact a climbing time trial (albeit mainly false flat) on the program, in which 328 altimeters are waiting in almost twelve kilometers. The last two kilometers are partly descending, partly flat.
Climbs
No.
times
Not yet known.
Favorites
Thymen Arensman (Team DSM)
Ben Tulett (INEOS Grenadiers)
Davide Formolo (UAE Team Emirates)
Stage 7, Friday 5 August 2022: Valsir – Krakow (177.8 km)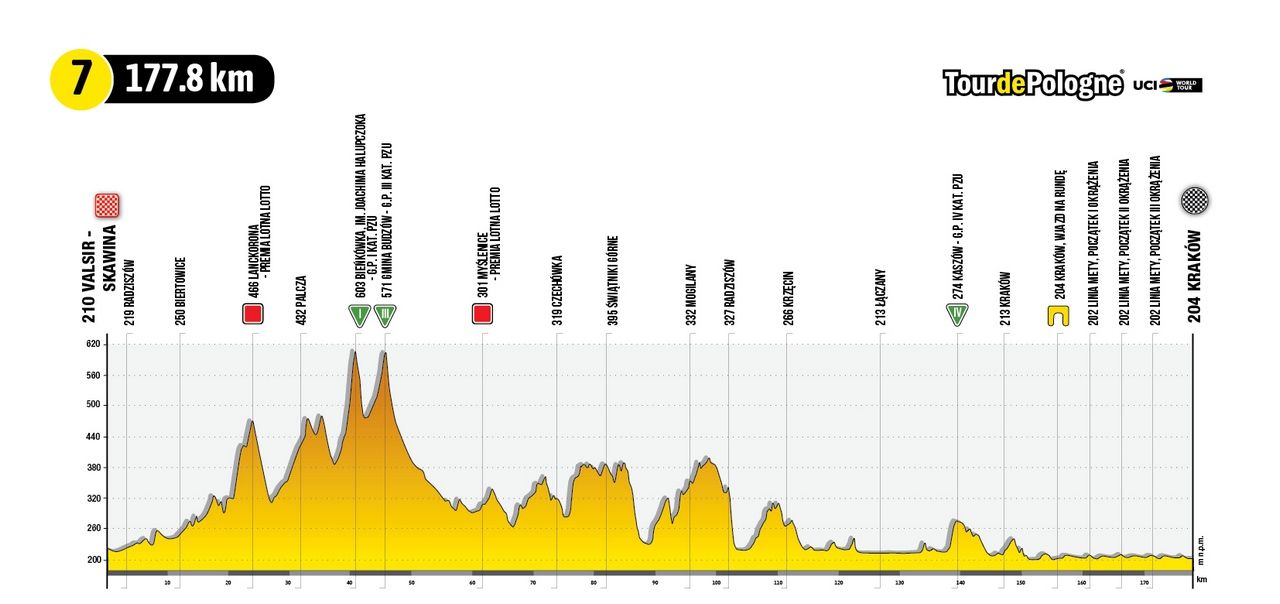 In the final stage it is normally up to the fast men present, if they have survived the Polish hills properly. In Krakow, a well-known place among tourists, the last kilometers of the stage are mainly flat.
Climbs
41.0 km: Bienkowka (2.7 km at 7.7%)
46.0 km: Gmina Budzow (1.4 km at 6.3%)
times
Start: 2.30 pm
Finish: 6.38 pm
Favorites
Arnaud Demare (Groupama-FDJ)
Olav Kooij (Jumbo-Visma)
Kaden Groves (Team BikeExchange-Jayco)
Rankings Tour of Poland 2022
Results powered by FirstCycling.com