The renewed Russian offensive this year has left the remaining civilians in eastern Ukraine fearing for their lives in shelters — but Moscow's forces are far from establishing full control over Luhansk and Donetsk, the two eastern regions that comprise the vast Donbas industrial heartland.
The Institute for the Study of War, a think tank in Washington, said Sunday that Ukrainian forces had likely made a partial retreat from Bakhmut, but said it was too early to say whether this would lead to a full withdrawal.
Citing Ukrainian media reports, the ISW said in an analysis briefing that Russian forces had yet to cross the Bakhmutka River and reach the center of the city.
Zelenskyy met with his top military leaders on Monday to discuss the situation. "They spoke in favor of continuing the defense operation and further strengthening our positions in Bakhmut," a statement from the president's office said.
U.S. Defense Secretary Lloyd Austin, on a trip to Jordan, played down the importance a possible Russian victory in Bakhmut. "I think it is more of a symbolic value than it is strategic and operational value," he told reporters.
"The fall of Bakhmut won't necessarily mean that the Russians have changed the tide of this fight," he said, according to Reuters.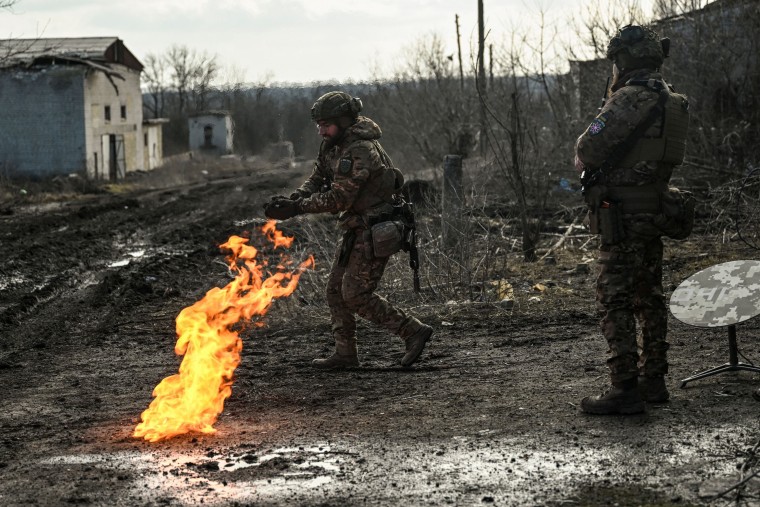 Even if Russia was able to take Bakhmut and use it as a base to threaten surrounding towns and cities, stalling Russian offensives nearby and endemic personnel and equipment problems would likely set the scene for a renewed Ukrainian counteroffensive, the ISW said.
Previously a mining community of around 80,000, Bakhmut now has only a few thousand civilians remaining in it and its surrounding towns, mostly elderly and those unwilling or unable to leave.
Drone footage released Monday by the Ukrainian military showed entire neighborhoods reduced to rubble and dust.
But Ukraine's armed forces said they continued to hold out, for now at least.