In 2022, formal employment in Mexico increased 3.7 percent while the average base salary rose 11 percent and stood at 486.6 pesos per day, which translates into a salary of more than 14 thousand pesos per month; However, this salary level is not common in many regions of the country, since, in La Laguna, the average monthly salary was above 11,000 pesos and was positioned below the national average salary.
Formal employment in Mexico ended 2022 with an advance of 3.7 percent, the third highest growth since records were recorded, and a total of 21 million 372 thousand 896 workers registered with the IMSS were reported; of these, 86.6 percent are permanent jobs and 13.4 percent are temporary.
In the Laguna region, the number of employees affiliated with the IMSS was 336,251, which represents about 1.58 percent of the total labor force in the country. In all of last year, the region created a total of 7,188 formal jobs and ended the year with an increase in its payroll. On the other hand, the average monthly salary of La Laguna workers was located at 11,579.1 pesos, thus the average remuneration for employment in La Laguna was below the national average, which was 14,598 pesos per month.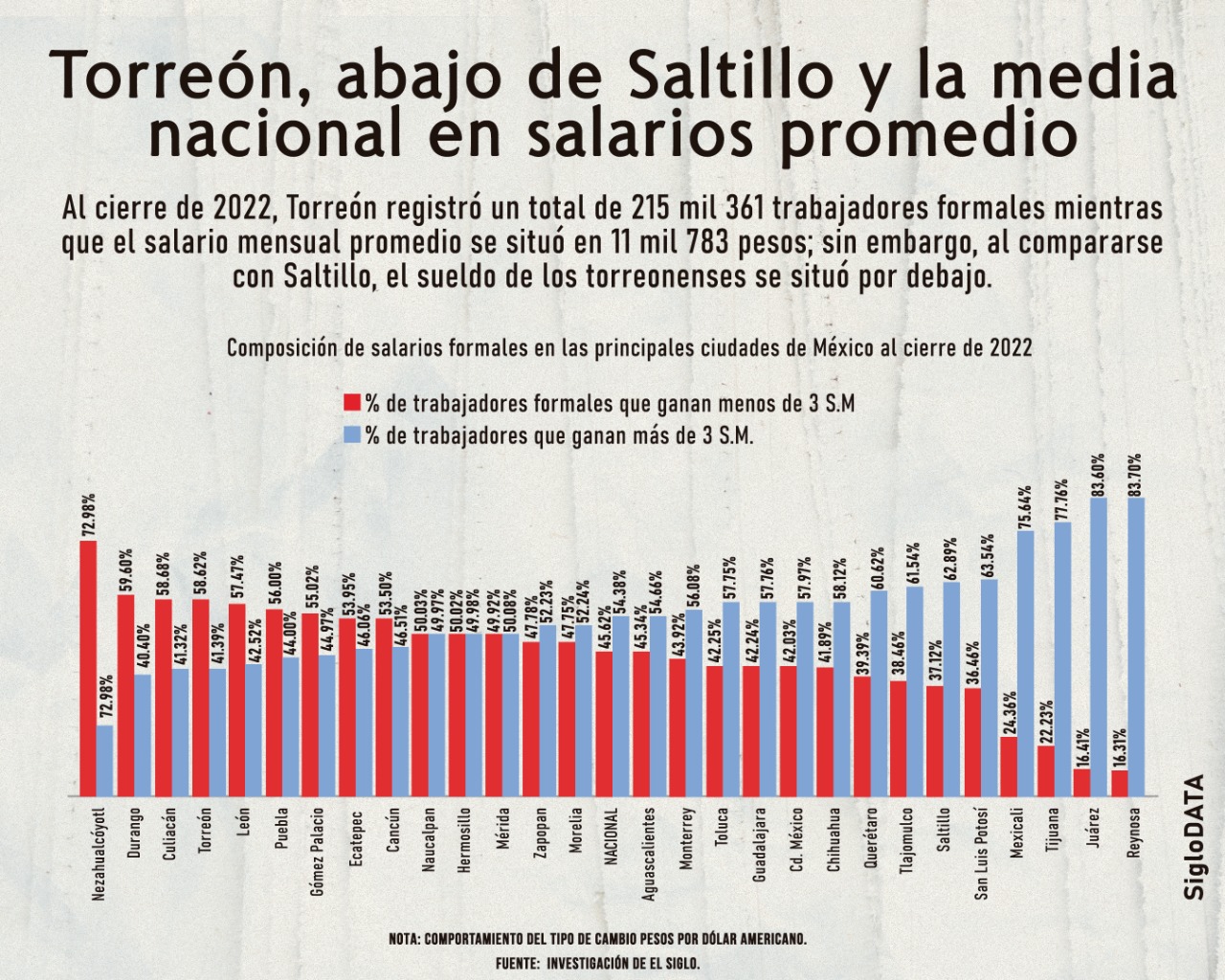 At the end of 2022, Torreón registered a total of 215,361 formal workers while the average monthly salary stood at 11,783 pesos; However, when compared with Saltillo, whose labor base is similar, the salary of the people of Torreon was below what the people of Saltillo receive.
On the other hand, the average wages of the lagoon workers were below the national average, as demonstrated by a study carried out by SigloDATA of El Siglo de Torreón, with information from the Mexican Social Security Institute (IMSS).
In the study, a comparison was made of the main cities of the country regarding the level of employees and the average salary they receive with respect to the municipalities that make up La Laguna.
Torreón has a payroll of 215,361 formal workers, being the Laguna municipality with the largest labor force with an average monthly salary of 11,783 pesos; However, when compared to a city with a similar number of workers such as Saltillo, the average salary of Torreón residents is lower than that of the capital of Coahuila, since Saltillo residents average 15,173 pesos per month.
This result is mainly explained by the low percentage of formal workers in Saltillo who earn one to three daily minimum wages, since only 37 percent of wage earners receive an average of just over 6,000 pesos per month. while almost 60 percent of workers in Torreón receive the same salary on average. On the other hand, experts point out that the type of economic activity that predominates in each municipality can affect the statistics of the average salary in the city.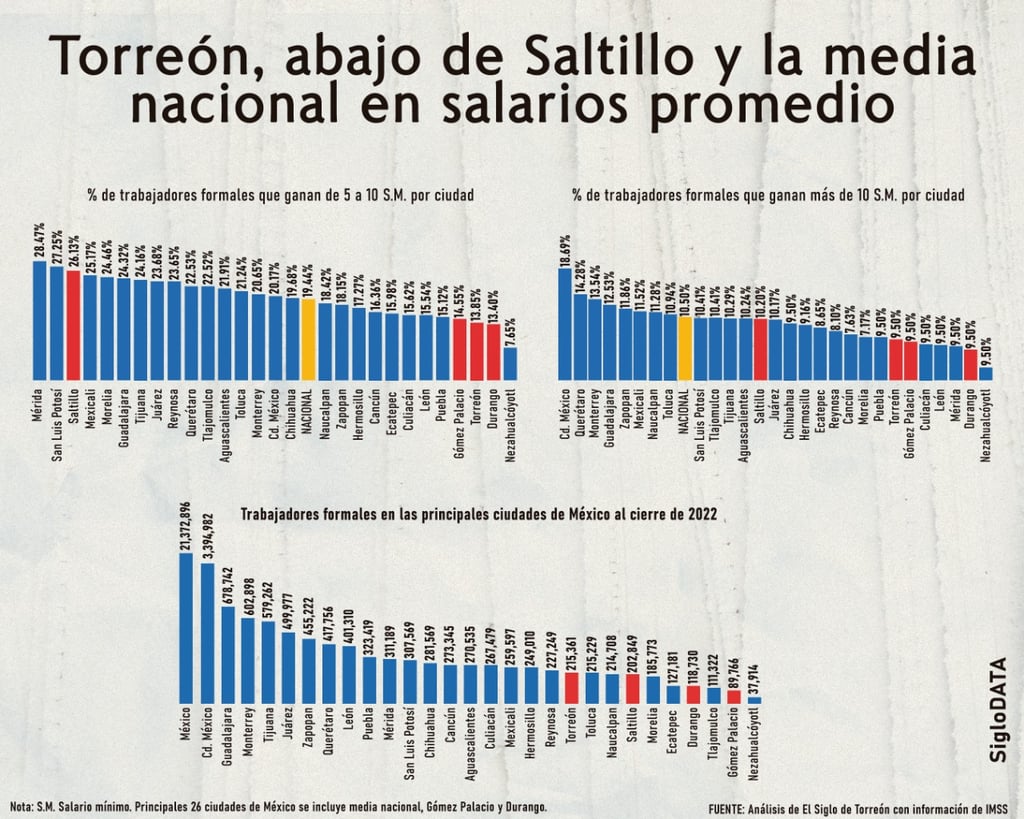 (JOSÉ DÍAZ / THE CENTURY OF TORREÓN)