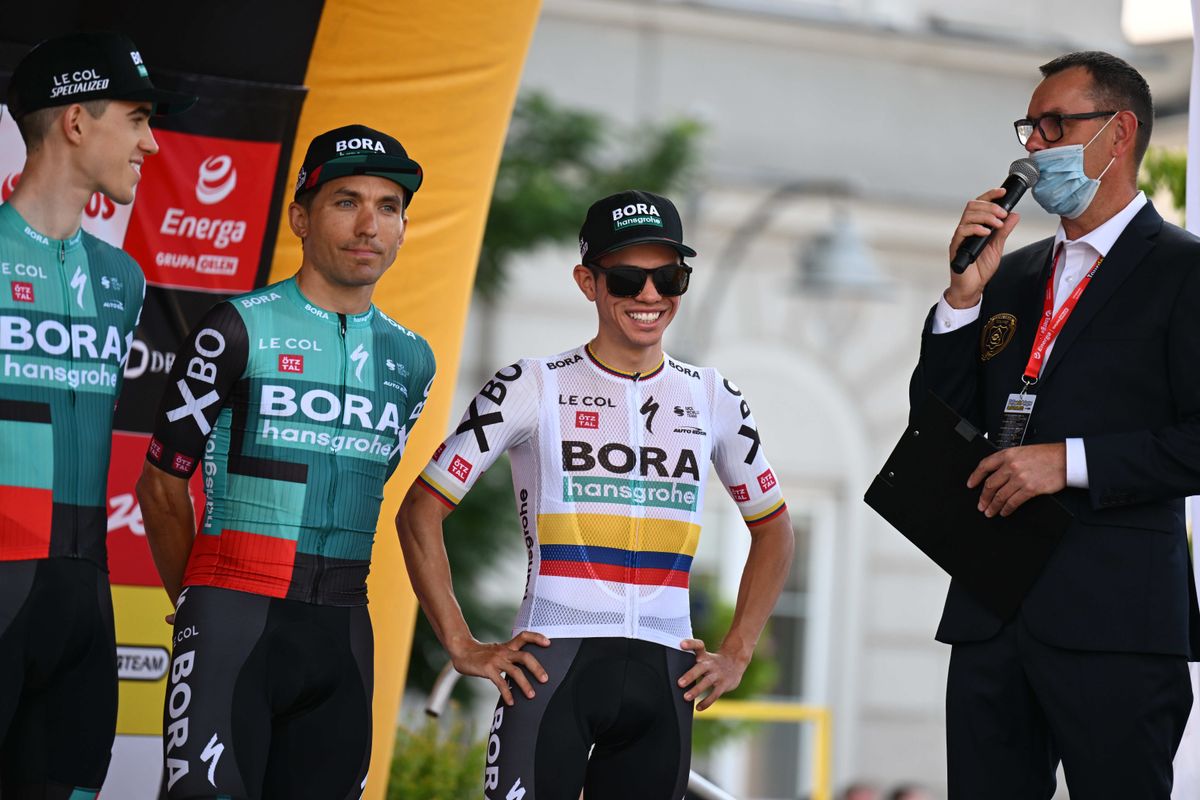 Sergio Higuita has reached the third stage in the Tour of Poland won. After two flat stages it was day three for the better climbers and explosive men. On the final climb of one and a half kilometers at more than seven percent, it was Higuita who eventually turned out to be the fastest, for Pello Bilbao and Quinten Hermans.
Just like on day one (219 kilometers) and two (206 kilometers) was an insanely long ride. The riders had to cover 238 kilometers (!), with the first 190 almost flat. It turned out to be a playground for an early flight, consisting of Matthias Brändle (Israel), Edward Theuns (Trek), Michel Hessmann (Jumbo-Visma), Piotr Brozyna and Marcin Budzinski (both of the Polish squad).
De Gendt dares to cross, Hessmann strongest at the front
The five front runners were given more than five minutes, but soon there were teams that wanted to check. Three minutes were taken from the lead, but nobody benefited from closing those last two minutes. Thomas De Gendt therefore decided to go solo at seventy kilometers from the finish and risk the crossing. He came a long way, but the leading group did not want him and accelerated. De Gendt eventually let himself be caught by the peloton.
Then we had to wait for the last fifty kilometers, in which all climbs were included. After the climbs of the Solca and Kalwaria Paclawska it was Hessmann who turned out to be the strongest at the front. The young German took off alone, but had the peloton within a minute when entering the last thirty kilometers. Team DSM, Quick Step and Alpecin-Deceuninck, among others, rode fast.
Thinned peloton starts, Teunissen accelerates
While the first early breakers were being caught, there was finally an attack from the suit on the third and final climb of the three-stage rocket. Mauri Vansevenant (Quick Step) and Davide Formolo (UAE) wanted to go to Hessmann and got Quinten Hermans (Intermarché) and Jhonatan Narváez (INEOS) behind them. The peloton did not give up and quickly fished the four pursuers back in. Hessmann followed not much later.
For the last twenty kilometers we had a complete peloton again, with now suddenly UAE Team Emirates that started to set a fast pace with Vegard Stake Laengen. It was descending and pedaling hard towards the final climb of one and a half kilometers, where the stage had to be decided. BikeExchange was the first to turn up, but it was Mike Teunissen who immediately flipped over and left a big gap.
INEOS blown up, Higuita with good timing
INEOS chased and overtook Teunissen 800 meters from the finish. Narváez looked around and saw that his two leaders – Richard Carapaz and Ethan Hayter – suddenly were no longer in his wheel and fell through. The British formation was done with that, allowing others to try.
Israel's Sebastian Berwick turned it into a huge long punch, with longtime Quick Step's Mauro Schmid in his wheel. In the very steep final meters, however, it came down to timing and when Berwick and Schmid ran into the red, Higuita, Bilbao and Hermans were still able to accelerate. The Colombian champion from BORA was the fastest and rode to victory on a bicycle length.
=https://twitter.com/CajaRural_RGA/status/1554113727825330180″ data-service="twitter">
Result stage 3 Tour of Poland 2022
Results powered by FirstCycling.com