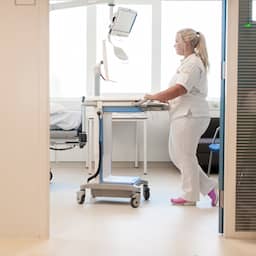 ---
06 mrt 2023 om 15:00Update: 4 minuten geleden
The number of corona patients in hospitals rose to 907 on Monday. That is the highest level since October 19 last year. The vast majority of patients are in a nursing ward, but a significant increase can now also be seen in intensive care.
This is evident from the figures of the National Coordination Center for Patient Distribution (LCPS). Since Friday, the number of admitted patients rose by 139 net.
It is especially busy in the nursing wards. Within a month, the number of corona patients there has risen from about 300 to 859. This could rise to well over a thousand in the coming weeks, the LCPS has calculated.
The situation in intensive care units for people with COVID-19 was stable for a long time, but there is now also a significant increase. In two weeks, the number of patients there has risen from about twenty to almost fifty. That's more than expected. Last week, the LCPS assumed that the ICs would accommodate almost forty people with corona by mid-March.
People admitted as a result of corona infection
In the past day, 191 new corona patients ended up in a hospital. That is the highest influx since mid-October. In the past seven working days, an average of 156 corona patients have been admitted per day. That is 50 percent more than in the seven working days before.
The LCPS makes no distinction in the figures between people who have been admitted as a direct result of their corona infection and people who had other health complaints and who also happened to be infected. The RIVM does make that distinction and sees that more people are actually being admitted due to the corona infection.
Most people who test positive for the virus are 80 years or older, and the elderly are more at risk if infected.