Celtics
"Don't ruin the season off a bad week"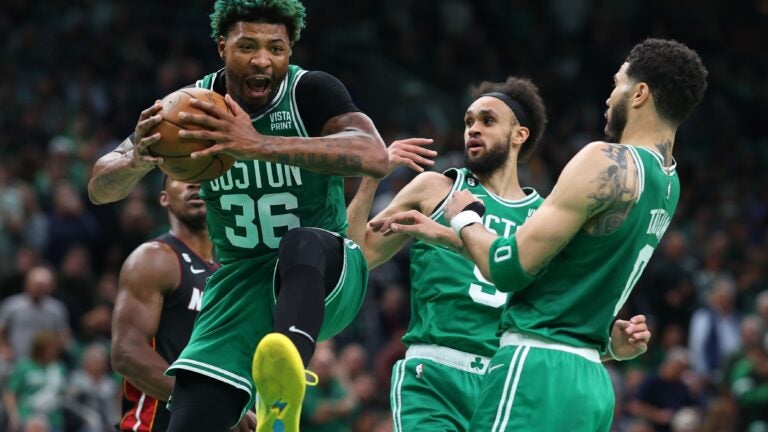 As the Celtics grappled with the realities of the 3-0 hole they put themselves in, one of Joe Mazzulla's assistants offered a bit of perspective.
Boston cobbled together the NBA's second-best record over several months. Then they beat the Hawks in six games, and narrowly staved off elimination against Philadelphia with a Game 7 win.
As Boston struggled against Miami, it was a few positive words from a Celtics assistant that may have helped turn the tide.
"Don't ruin the season off a bad week," Celtics assistant coach Matt Reynolds said to the team, according to Jay King of The Athletic.
The Celtics responded, winning back-to-back games and forcing a Game 6 in Miami on Saturday night.
"Sometimes you have a bad week at work," Mazzulla said. "We obviously didn't pick the best time to have a bad week, but we did, and we're sticking together and fighting like hell to keep it alive, and the guys are really coming together."
Marcus Smart is quoted as saying Reynolds isn't much of a talker. But Reynolds spoke up, telling players "I have something to say." The speech wasn't long, somewhere between 35-45 seconds. But Reynolds got his point across.
"He killed it," Celtics guard Derrick White said. "He killed it."
White said Reynolds is respected in the Celtics' locker room because of the work he puts in. He joined the Celtics as a video coordinator before working his way up to assistant coach.
Smart, who joined the team before Reynolds did, said the team responded well to his message.
"I've been here nine years and I haven't really heard him be that passionate when talking like that," Smart said. "But we're all grown up. We've all grown together. And we all figure out ways to help this team win. And that was one way that he could figure out to help us. We needed it. We needed it a lot."
Sign up for Celtics updates🏀
Get breaking news and analysis delivered to your inbox during basketball season.