We must start tackling wildfires now to ensure that they do not become uncontrollable. It may take decades for the measures to take effect, researchers say to NU.nl. The Netherlands Fire Service wants the government to designate one party responsible for the approach.
Nederland gaat vaker en op grotere schaal te maken krijgen met natuurbranden. Die branden krijgen steeds meer impact op de samenleving en worden lastiger te bestrijden.
Dat zijn de hoofdconclusies van een rapport van het Nederlands Instituut Publieke Veiligheid (NIPV), het KNMI, Wageningen University & Research (WUR), de Vrije Universiteit Amsterdam (VU) en onderzoeksinstituut Deltares. Dat rapport wordt maandag gepubliceerd.
Hans Hazebroek van het NIPV vergelijkt de manier waarop we deze branden moeten voorkomen met autorijden. "Elke keer als je in de auto stapt, doe je een veiligheidsgordel om. Niet omdat je verwacht dat je precies die rit een aanrijding krijgt, maar omdat het zou kúnnen gebeuren." Nederland moet volgens hem ook constant alert worden op dit soort branden. "Dat hebben we nooit gedaan, omdat het risico altijd gematigd is geweest."
Als het risico op natuurbranden groter wordt, raken er ook meer partijen betrokken bij het voorkomen van deze branden. Denk daarbij aan bijvoorbeeld waterschappen en provincies. "Dat maakt het lastig regie te nemen op dit dossier", zegt Hazebroek. "Op dit moment heeft geen enkele partij eindverantwoordelijkheid." Zo zijn bij het voorkomen en bestrijden van natuurbranden zeker vier ministeries betrokken.
"Het moet in ieder geval duidelijk worden wie de verantwoordelijkheid moet hebben voor het geheel", zegt Anton Slofstra, portefeuillehouder natuurbranden bij Brandweer Nederland.
'Klein brandje heeft in Nederland al groot effect'
Het rapport stelt dat er een Nationaal Actieplan moet komen om de natuurbranden te beheersen. Volgens Slofstra bestaat dat plan uit drie elementen: meer onderzoek naar hoe we natuurbranden kunnen beheersen, het voorkomen of vertragen van natuurbranden en het versterken van de brandweer.
Nederland kan niet alleen veel leren van natuurbranden in het buitenland, maar moet ook meer onderzoek doen naar branden binnen de grenzen. Ook moet er kritisch worden gekeken naar de inrichting van met name natuurgebieden. "Een natuurbrand is op zich vervelend. Maar de impact in Nederland is al snel groter omdat we veel functies in en rond de buurt van natuurgebieden hebben", zegt Hazebroek. "Een klein brandje heeft daar al een enorm effect."
Dat brandgevaar moet ook worden meegenomen bij de inrichting van een natuurgebied. Dat kan bijvoorbeeld door te kijken naar het soort beplanting en hoe het gebied vochtig gehouden kan worden. Die aanpassingen hebben soms pas over tientallen jaren effect, zegt Slofstra. "Een boom groeit niet sneller dan een boom groeit."
Maar er zijn ook maatregelen die wél meteen effect hebben. De onderzoekers wijzen onder meer naar gemeenten die droge bermen in natuurgebieden maaien. Een weg in een natuurgebied is een uitstekende brandbuffer, maar niet als het gras in de berm een halve meter hoog staat en kurkdroog is, voegt Slofstra toe.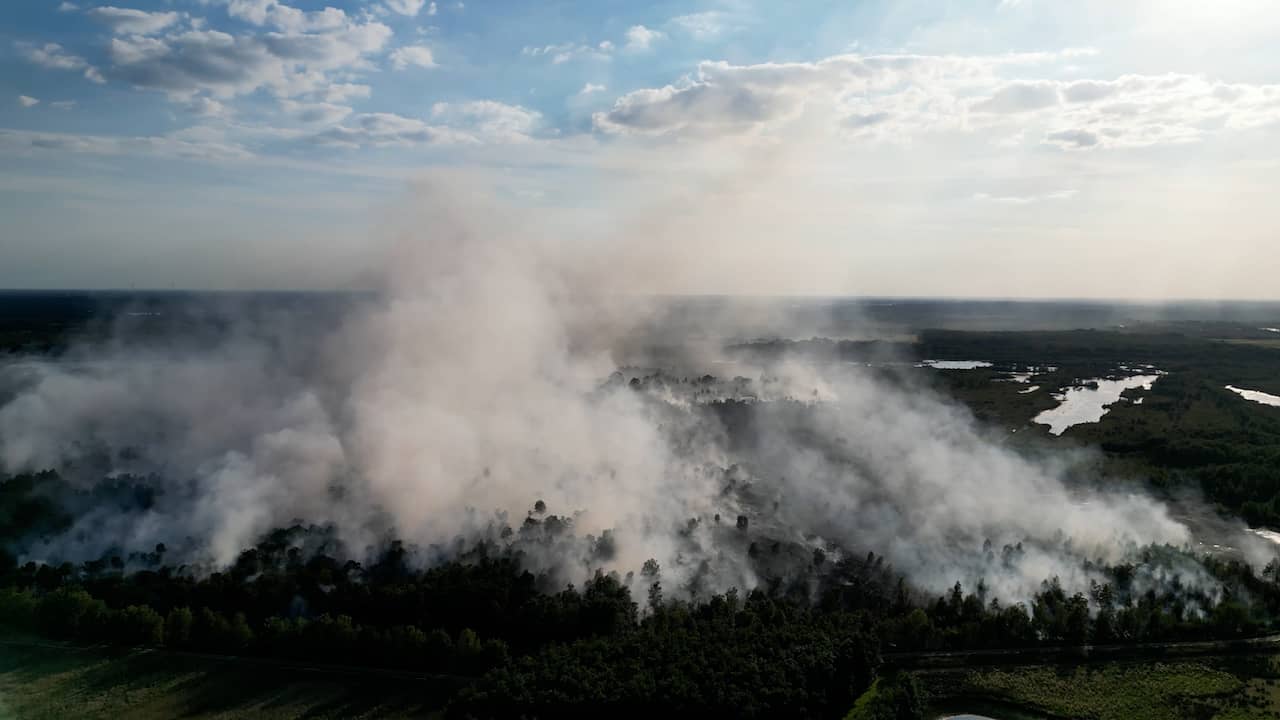 The fire service is mainly geared to the built environment
Finally, the fire service itself must also take into account the extinguishing of wildfires. Until now, the fire service has always seen this as a kind of 'by-product' of its activities. "The entire system of how we deal with fire and control it is fully geared to the built environment," says Hazebroek. That has always been the biggest risk so far.
The fire service system must therefore be adapted. For example, the researchers point to the fire service training and training courses, which could go into more detail about wildfires. The material used by the fire brigade can also be better adapted to this. This is evident, for example, from the suits that the firefighters wear, which are much too hot for hours of extinguishing an exposed heath.
"The report shows that the problem plays along different lines: both the short and the long term," summarizes Slofstra. According to him, the report confirms that we should start now, but that we will only notice the effect of some measures in decades. "I like to make the comparison with the fight against water. We will also have to fight to keep wildfires limited."