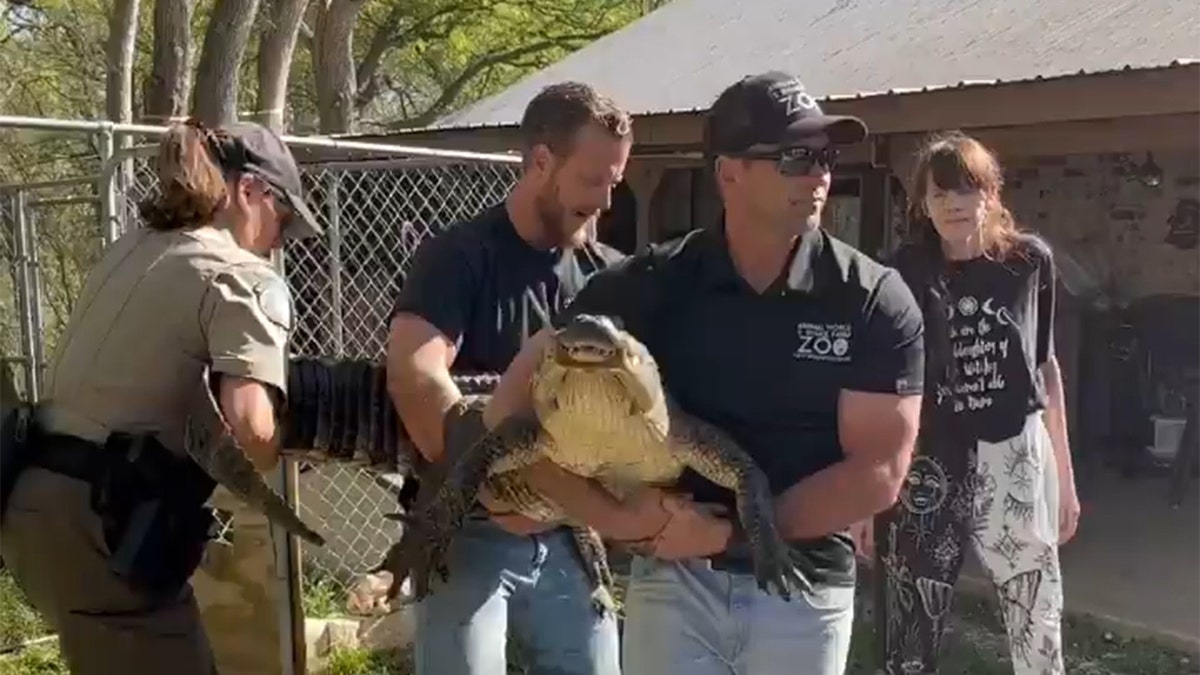 An alligator living in the backyard of a Texas home for more than 20 years has been rescued and relocated, officials say.
"Alligators don't make good pets, y'all," Texas Game Wardens posted with the rescue video on Facebook. 
The nearly 8-foot-long alligator had been illegally living in someone's backyard for many years and was relocated to the Animal World & Snake Farm Zoo, which provided more history about the reptile.
"Evidently they were a volunteer here actually at Animal World & Snake Farm way back then, decades ago, and apparently stole this alligator – either the egg or the hatchling alligator at the time – put it in their pocket and took off," a zoo spokesman said in a subsequent Facebook video. 
FLORIDA ALLIGATOR BITES MAN ON HIS FRONT PORCH AFTER HE OPENS DOOR: POLICE
The person responsible for taking the alligator has only been identified as a woman, and the alligator was found about 50 miles away from the zoo. 
The alligator was introduced to the rest of the alligator gang at the zoo and will live out the rest of her life there, the spokesman said. 
TRAPPER, NEIGHBOR DETAIL DEADLY FLORIDA ALLIGATOR ATTACK AS VICTIM IDENTIFIED
Texas law allows people to keep alligators if they are farming, educating or using the animals for zoological reasons, KSAT-TV reports.
The woman keeping the alligator reportedly did not have the proper permits to have it. Despite it being healthy and well-cared for, the alligator had outgrown the space the woman provided.
CLICK HERE TO GET THE FOX NEWS APP
The woman apparently will face up to $1,000 in fines and fees for illegally possessing the alligator. Any charges for stealing the egg or hatchling decades ago are past the statute of limitations.