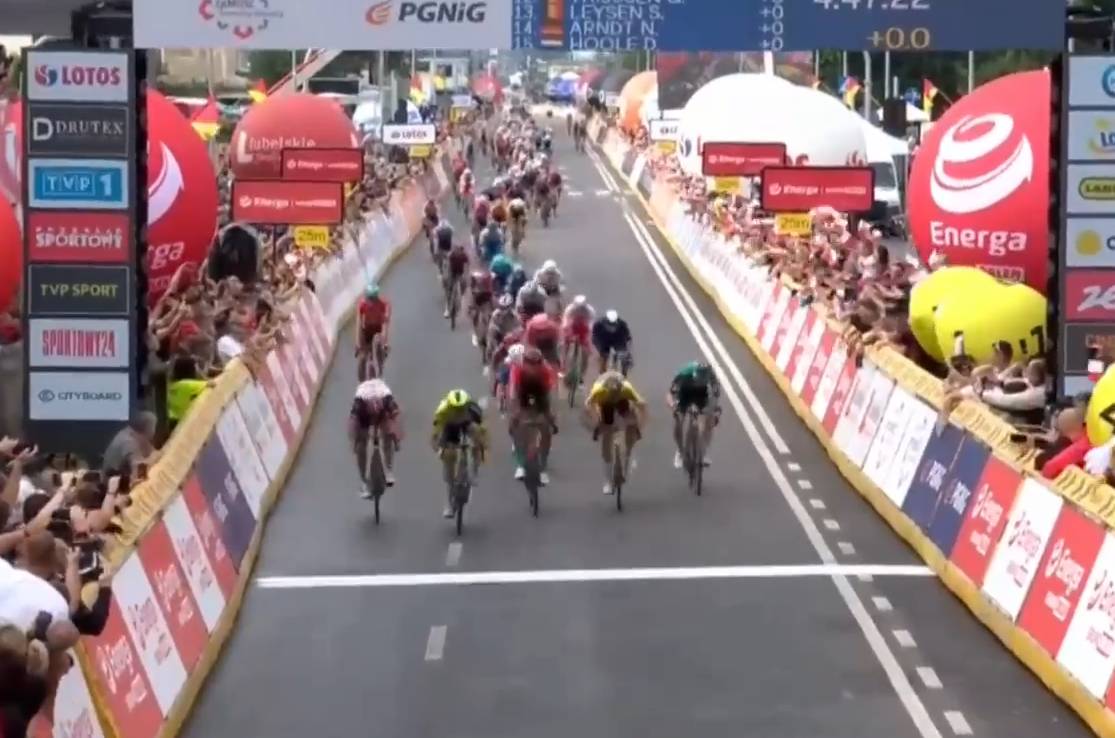 Gerben Thijssen surprisingly won the second stage in the Tour of Poland won. In a chaotic final phase he was the fastest in a bunch sprint. Olav Kooij finished fourth in the stage.
After the first stage of the Tour of Poland ended chaotic with a crash in the last kilometer, eight riders were unable to start in the second stage. Among them were two Dutchmen: Antwan Tolhoek and Sam Oomen. The latter was Olav Kooij's teammate, who started this stage in the leader's jersey. He got another chance to win in the stage to Zomasc, as the chance of sprinting before the stage was considered high.
However, the hectic weather conditions of the two hundred kilometer long stage still had to be dealt with first. Rain made it a not-so-pleasant day for the riders in the peloton, while efforts were also made to draw fans. However, this came to nothing.
Four front runners, De Buyst the strongest
At the front, four riders rode ahead of the peloton, including one Belgian. Jasper De Buyst (Lotto Soudal) was the only rider present on behalf of the WorldTour in the early break. He was joined by Jonas Abrahamsen (Uno-X), Patryk Stosz and Piotr Brozyna (both Polish national selection). The foursome grabbed a lead of about five minutes on the peloton.
The foursome did not manage to sing it out together until the end. Brozyna and De Buyst got rid of their fellow refugees in the final, after which it turned out that Lotto Soudal's husband in particular had something left. With a nice solo attack he tried to avoid the peloton, but unfortunately his lead proved insufficient for him. He was caught again with a mile and a half to go.
Thijssen takes victory after chaotic final
When De Buyst was charged, the peloton was already in full sprint preparation. Dangerous situations were not avoided, partly caused by the technical final round with a lot of street furniture. Not all riders made it through the final phase unscathed, although there were fortunately no major massive falls.
In a chaotic sprint, Roger Kluge tried to surprise the sprinters, but was overrun by the sprinters on duty during his ultimate effort. Thijssen surprisingly turned out to have the fastest legs of them. He held off Pascal Ackermann and Jonathan Milan in the battle for the stage victory.
More soon.
Result stage 2 Tour of Poland 2022
Results powered by FirstCycling.com