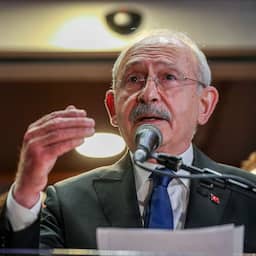 Kemal Kilicdaroglu becomes the joint candidate of Turkey's six main opposition parties. He will face incumbent President Recep Tayyip Erdogan in the elections on May 14.
There was some disagreement between the parties about who would be Erdogan's opponent. Initially, the parties had already chosen 74-year-old Kilicdaroglu, but on Friday the right-wing party IYI withdrew that decision. Meral Aksener, the chairwoman of IYI, did not agree with Kilicdaroglu. According to her, he cannot beat Erdogan.
But the six opposition parties have now reached a compromise. Kilicdaroglu remains the joint candidate. But it has been agreed that the mayors of Istanbul and Ankara, Ekrem Imamoglu and Mansur Yavas, will both become vice presidents if the opposition candidate wins the elections.
May's elections promise to be one of the biggest challenges for President Erdogan in his 20 years in power. He has been president since 2014. From 2003 to 2014, Erdogan was the country's prime minister.