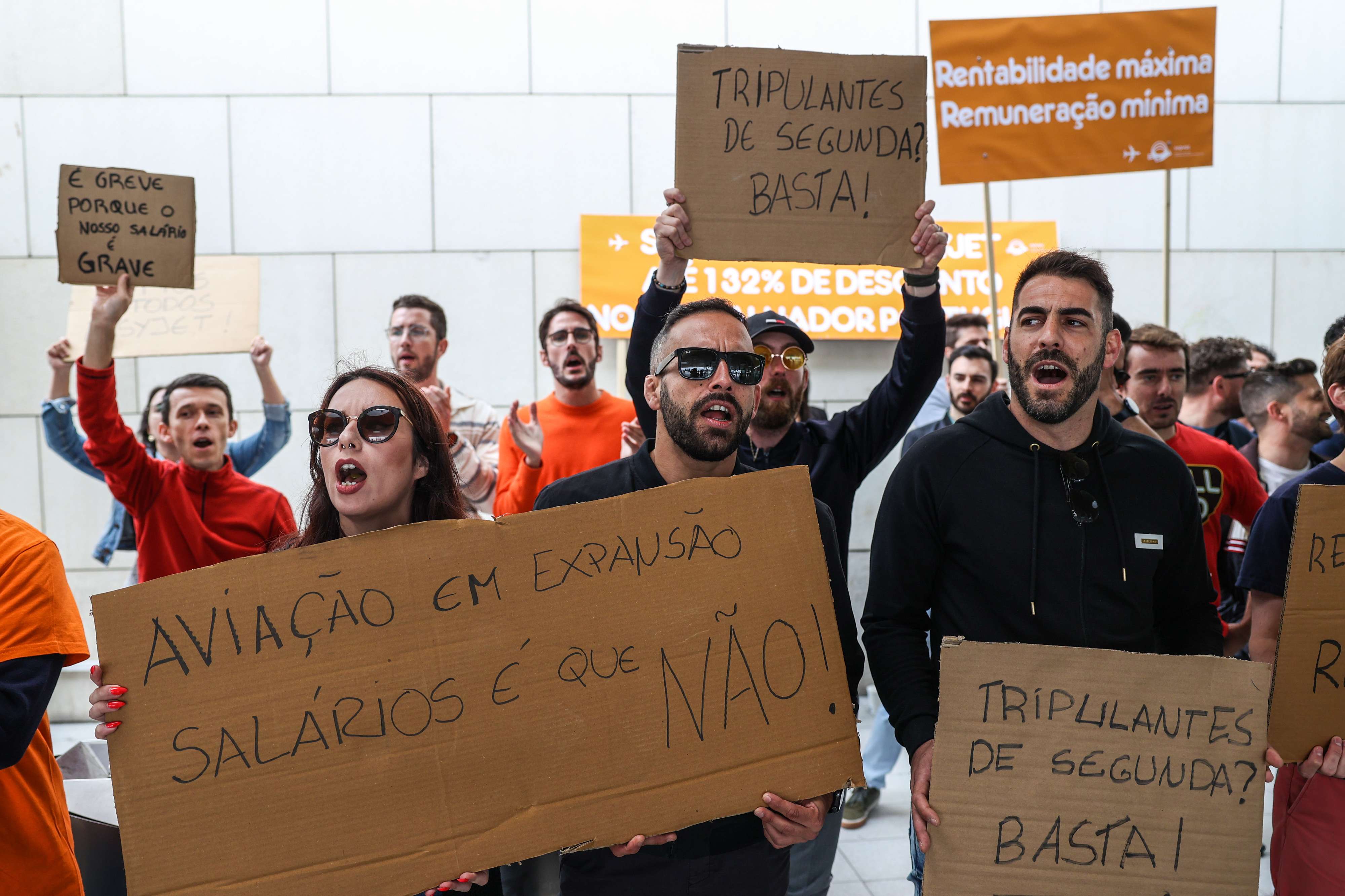 Speaking to the Lusa agency, Ana Dias, from the board of the National Union of Civil Aviation Flight Personnel (SNPVAC) said that, similarly to what happened in the strike from April 1st to 3rd, adherence is 100%, because the The only flights being carried out correspond to minimum services, except for the Lisbon-Porto connection at 19:30, which will be ensured by management.
An official source from the airline told Lusa that around 30% of the crew scheduled to work today showed up for service at the respective airports, that is, that adherence to the strike is around 70%.
Dozens of easyJet cabin crew are now concentrated outside Terminal 1 at Lisbon airport to ask for better working conditions, in the first of five days of strike, which led the company to previously cancel 385 flights.
Speaking to journalists, the president of the National Union of Civil Aviation Flight Personnel (SNPVAC), Ricardo Penarroias, insisted on the fact that the company had come, over the years, to approach the demands of workers in other countries, but not in Portugal.
He also added that the company wants to convey an image that there is no chaos at the airport, devaluing the strike and preferring to cancel flights, and recalled that the stoppage had already had its impact because only minimal services are being carried out.
The easyJet cabin crew strike started today and will run again on the 28th and 30th of May and the 1st and 3rd of June.
The stoppage covers "all flights operated by easyJet", as well as "other services to which cabin crew members are assigned", whose "presentation hours occur in national territory starting at 00:01 and ending at 24:00 on each of the days" mentioned, reads in the notice of strike, released by the union.
When the stoppage was scheduled, easyJet said it was "extremely disappointed" with the call for the strike, considering the union's proposal for raises between 63% and 103% "unworkable", and announced that it would make changes to flights before the strike. strike, to mitigate the impact on customers.
In a statement on May 19, SNPVAC guaranteed that "easyJet previously decided to proceed with the massive cancellation of flights: of the 458 original flights to leave the Portuguese bases in Lisbon, Porto and Faro, the company has already canceled 384 flights in advance, that is , 84% of planned flights".