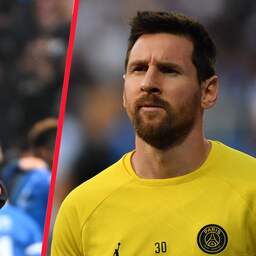 ---
Who will take the German title? Will Mark van Bommel also win the championship in Belgium with Royal Antwerp FC after the cup? And does the curtain fall in England for Leicester City, the sensational champions of 2016? NU.nl maps out the state of affairs in the foreign competitions, which are heading for the denouement.
Belgium
Title fight
There is a three-way battle with our southern neighbours. Van Bommel's Antwerp is at the top with 45 points with two rounds to play, just as many as number two Union Saint-Gilloise. KRC Genk faces a three-point deficit. Club Brugge, the fourth participant in the play-offs for the championship, no longer plays a role with 33 points.
On Sunday at 1.30 pm, a real title clash is on the roll with Antwerp-Union, with Van Bommel's team needing a victory for the championship. A three-point deficit would be unbridgeable for Union due to the manner of finishing after the regular season.
That's how it works: if teams are equal in points, it is first looked at how the points are rounded after the regular season. Prior to the playoffs, everyone's total went by half. Union, Genk and Club Brugge finished on an odd number and saw their totals rounded up. Antwerp ended on an even number and therefore had no rounding windfall. If teams end in a tie, teams without such a windfall will be given priority in the standings.
Relegation battle
KV Oostende, Zulte Waregem and Seraing occupy the bottom three positions in the regular season and have to prepare for a stay at a lower level.
The top four in the Belgian league
1. Royal Antwerp FC 4-45 (+2)

2. Union Saint-Gilloise 4-45 (+2)

3.KRC Genk 4-42 (-2)

4. Club Bruges 4-33 (-2)
Germany
Title fight
In recent seasons, Bayern Munich has been so dominant that the players were often able to celebrate the title while the 'r' was still in the month. This year everything is different. Borussia Dortmund is in pole position at the start of the last day of play and is crowned champion with a home victory over mid-engine FSV Mainz 05. If 'BVB' loses points, Bayern will still take the eleventh national title in a row if it wins at 1. FC Cologne.
Relegation battle
At the bottom, FC Augsburg (34 points), VfB Stuttgart (32 points), VfL Bochum (32 points) and Schalke 04 (31 points) compete for enforcement. One of these clubs accompanies the already relegated Hertha BSC to the 2. Bundesliga, the other team has to play in the play-offs for promotion/relegation. Schalke awaits a visit to RB Leipzig on the afternoon when arch enemy Dortmund can celebrate a title celebration.
The top five in the Bundesliga
1. Borussia Dortmund 33-70 (+39)

2. Bayern Munich 33-68 (+53)

3.RB Leipzig 33-63 (+21)

4. Union Berlin 33-59 (+12)

5. SC Freiburg 33-59 (+8)
England
Title fight
The cards are shuffled. Manchester City are champions and the other Champions League tickets are prey for Arsenal, Manchester United and Newcastle United. Liverpool and Brighton & Hove Albion are sure of a Europa League ticket. Aston Villa (58 points), Tottenham Hotspur (57 points) and Brentford (56 points) are fighting for the starting ticket for participation in the preliminary round of the Conference League.
Relegation battle
It is very clear: if Everton beats AFC Bournemouth at home on Sunday, Leicester City and Leeds United will descend to the Championship. Leicester caused a huge shock in 2016 by winning the title and then remained a sub-topper. For both 'The Foxes' and Leeds, they can only pass Everton with a victory, provided the club from Liverpool drops points. Leicester hosts West Ham United and Leeds play a home game against Tottenham Hotspur. Southampton's relegation is already certain.
The top five in the Premier League
1.Manchester City* 37-89 (+62)

2. Arsenal 37-81 (+40)

3.Manchester United 37-72 (+14)

4. Newcastle United 37-70 (+35)

5.Liverpool 37-66 (+28)

*kampion
France
Title fight
The French national title is the absolute minimum that can be expected from Paris Saint-Germain. The star ensemble can take the last step towards this success on Saturday evening at RC Strasbourg, where a draw is already enough. Chaser RC Lens only has a chance of winning the title if it wins twice with big numbers and PSG loses twice. After another Champions League failure – this season it went wrong in the eighth final – the Ligue 1 triumph is no more than a cloth for the bleeding for the Parisians.
Relegation battle
The fate of Troyes, Ajaccio and Angers has already been sealed. AJ Auxerre (34 points) and FC Nantes (33 points) determine who is relegated as the fourth club. There are still two rounds to go in Ligue 1.
The top five in Ligue 1
1. Paris Saint Germain 36-84 (+50)

2. RC Lens 36-78 (+34)

3. Olympique Marseille 36-73 (+29)

4. Monaco 36-65 (+15)

5. Lille 36-63 (+20)
Italy
Title fight
Behind champion Napoli, the fight for Champions League tickets is especially interesting. Lazio, currently second, qualifies for the billion dollar ball anyway. Internazionale (66 points), AC Milan (64 points), Atalanta (61 points), AS Roma (60 points) and Juventus (59 points) compete for the remaining two tickets. The latter club was deducted ten points at the beginning of this week for financial mismanagement.
Relegation battle
Cremonese and Sampdoria will play a level lower next season. Lecce (33 points) or Spezia (31 points) will be the third relegated.
The top seven in Serie A
1.Napoli* 36-86 (+47)

2.Lazio 36-68 (+27)

3. Internazionale 36-66 (+27)

4.AC Milan 36-64 (+18)

5. Atalanta 36-61 (+16)

6. Roma 36-60 (+12)

7.Juventus 36-59 (+23)

*champion
Spain
Title fight
FC Barcelona is already certain of the national title and Real Madrid and Atlético Madrid are dueling for second place. We will see all three teams back in the Champions League next season. Real Sociedad has a good chance of winning the fourth ticket for the elite tournament: with two matches to go, the Basques cherish a five-point lead over Villarreal.
Relegation battle
Elche has long been relegated. Above the gate closer, the differences are small. There are only five points between number thirteen Valencia and number nineteen Espanyol. The bottom three teams disappear from the top podium.
The top five in La Liga
1. FC Barcelona* 36-85 (+48)

2. Real Madrid 36-74 (+38)

3. Atletico Madrid 36-73 (+36)

4.Real Sociedad 36-68 (+16)

5. Villarreal 36-63 (+20)

*champion