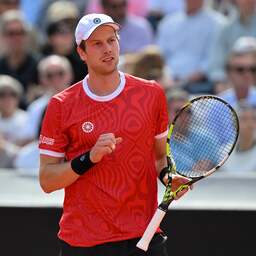 ---
Botic van de Zandschulp and Tallon Grepespoor will compete in the first round of Roland Garros against a qualifier, the draw showed on Thursday. It is not yet clear which tennis players these are.
The two best Dutch tennis players of the moment know who their opponents are on Friday. Then the last qualifying rounds for the gravel tournament will be completed.
Arantxa Rus and Jesper de Jong also have a chance to win a place in the main tournament in Paris. Both Dutchmen are one win away from participation in Roland Garros in the qualifying tournament, which starts on Sunday.
Van de Zandschulp, who is seeded 25th at the Grand Slam tournament in Paris, is seeded in the same part of the schedule as Casper Ruud (ATP-4), Holger Rune (ATP-6) and Taylor Fritz (ATP-9) .
Greek track can be found in the same part of the schedule as Novak Djokovic (ATP-3) and Andrey Rublev (ATP-9). The Dutch number 39 in the world withdrew from the Geneva ATP tournament on Wednesday. The Haarlemmer has been playing with a damaged right ankle for a while.
Lesley Pattinama-Kerkhove, Arianne Hartono, Gijs Brouwer and Jelle Sels were eliminated in the qualifying tournament earlier this week.