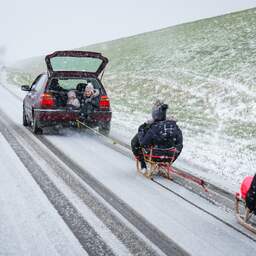 Tuesday starts the day with a lot of rain. During the day the mercury drops and then the rain will turn into (wet) snow. In the south this can lead to a thin snow cover.
The day starts rainy. Only in the north is there a local chance that the sun will break through for a while. It will be 3 to 5 degrees, but the temperature will drop during the day and the chance of snow will increase.
In the south it can snow for a long time in the evening. The chance that snow will actually remain is greatest in Limburg and the east of North Brabant. In other places in the country it will mainly be wet snow.
The temperature drops below freezing during the night. In many places the light will freeze.
It doesn't look like the wintry scenes will last very long. There is still a chance of winter showers for the rest of the week, but the weather remains changeable and the temperature will rise slightly towards the end of the week.
Look at here the full weather forecast at your location. You will also always find the weather report at the top of the front page.