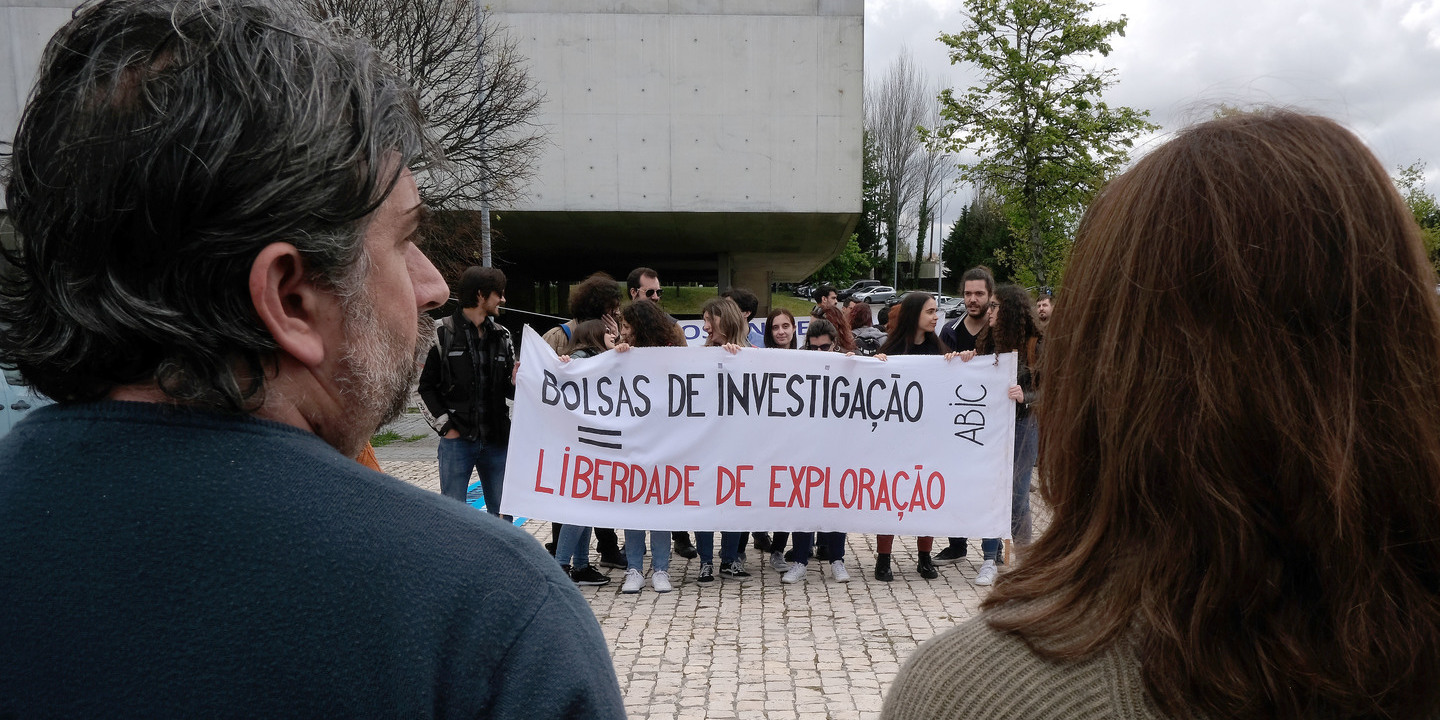 «Science» is a body of knowledge that makes evolution and development possible.
In Portugal, scientific researchers work in various types of institutions. Whether in public or private laboratories, or in research units integrated in universities and institutes, these workers carry out their activity every day. From the study of agricultural and animal species in Portugal, to the study of phenomena such as epidemics, from traffic to bridges, from astronomy to climate change, from memory conservation to cinema representations. Having people dedicated to the study of society's problems and the development of theses and scientific experiments, we can evolve in a more sustainable way, to improve the human condition.
It so happens that, in Portugal, precariousness in research continues to be the watermark in Higher Education and Science. According to 2023 figures from the Ministry of Science, Technology and Higher Education, 90% of researchers have precarious contracts, not counting PhD fellows.
There is a Scientific Research Career, but the norm is that the researcher in Portugal is not working under that career. In the case of higher education teachers, the growing precariousness and the use of guest teachers to respond to the permanent needs of the institutions is also a factor of concern. But even so, the norm is that teachers are hired under the career ladder. Like doctors and nurses from the National Health Service, like civil servants.
Until 2017, most researchers, in addition to not being hired under their specific career, were not hired at all. These researchers were fellows. After finishing their doctoral fellowship, what awaited them were decades of competitions for post-doc fellowships or grants included in research projects. This means that the construction and expansion of the national scientific and technological system in recent decades was based on the work of scholarship holders, generalizing and normalizing the use of hiring highly qualified work in the form of grants or precarious contracts.
In the last legislatures, between 2015-2019 and between 2019-2021, measures were applied – directly and indirectly – to researchers, which slightly changed this situation, namely: the publication of Decree-law 57; the creation of the Program for the Extraordinary Regularization of Precarious Bonds in Public Administration (PREVPAP), and the creation of the Scientific Employment Stimulus Program (CEEC). With regard to combating precariousness in scientific research, the measures mentioned above, although in some cases allowing the hiring of researchers previously with a scholarship, did not solve the problems of the precariousness of ties in Higher Education and Science, as most researchers, now hired, were not integrated into the career and have fixed-term contracts. On the other hand, higher education institutions were not guaranteed the financial means to open competitions for the research career. Thousands of these contracts started in 2017 are coming to an end and these workers have no serious prospects of seeing their professional stability guaranteed in the future.
With regard to PhD scholarship holders, the demand is simple: to end the statute that crystallizes the exceptionality of an employment relationship that should not be. Regardless of their career stage, even before or without a PhD, fellows are researchers who produce science every day, and do so without the labor rights enshrined by law for any worker. The fact that they develop research that allows them to reach a certain academic degree, which is part of their training, does not mean that this work should not be carried out under conditions of labor protection.
This can already be seen in several countries, where scholarships ended and were replaced by fixed-term contracts, coinciding with the end of the doctorate. But it is not even necessary to go abroad because, even in Portugal, doctors who have not yet completed their training, and are doing their internship, have – and rightly so – the right to an employment contract. The same for primary and secondary school teachers when they are doing their internship.
An employment contract means, finally, having access to the most basic labor rights, none of which are enshrined in the Statute of Research Fellows. It means having discounts corresponding to salary for sickness protection, parenthood, for retirement purposes. Means holiday and Christmas subsidy. And it means that after 4 years of work you are entitled to unemployment benefit, and you are not left on the precipice.
This precipice removes, at the starting line, all those who do not have a support network, who do not belong to a class for which it is possible to survive several months without a salary (besides, and right from the start, in the several months in which waiting between the results of the grants, the signature of exclusivity contracts with the Foundation for Science and Technology, and the actual payment of the grant). Many reach the end of the 4 years and, without having been able to finish their thesis, they need to find a job, outside the area, because there are bills to pay. Or even after finishing the thesis, they need another contest to continue earning income, and that requires months of waiting. Many are then pushed out of Science.
It is increasingly evident that precariousness is not an incentive to do better science or more "competitive" science. Precariousness is, indeed, what guarantees the perpetuation of social reproduction and the elitist character of the profession.
And researchers with a doctorate, who today are under fixed-term contracts, can only do science on a fixed-term basis, without the conditions for the necessary depth that the scientific process requires.
For all these reasons, on the 16th of May, national scientist's day, the largest demonstration ever in the sector took place in Lisbon, organized by various unions, research groups and by the Association of Scientific Research Fellows (ABIC), where there were many of those who work in Science in Portugal. Researchers, contracted or with a grant, but also science managers and laboratory technicians, many of them with equally precarious contracts. There were also career teachers who understand that researchers are not an adversary but, on the contrary, workers from the same universe and on whose stability a scientific system and a more developed education system depend.
More funding is needed for institutions to integrate teachers and researchers into their respective careers and safeguard the public interest in this sector, and not find false solutions, real band-aids, to keep everything the same.
The appeal that these workers make to society in general is that they show solidarity and reject accepting a scientific system in their country based on a repeated violation of the right to work for researchers, whose results must demand being placed at their service.