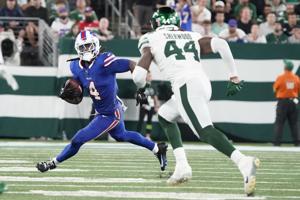 NEWS STAFF REPORT

Here is how News sports reporters see the Bills-Raiders game on Sunday:
Jay Skurski: The once-a-week nature of the NFL invites overreactions. That's especially true after Week 1. Remember last year how good the Bills looked in the season opener against the Los Angeles Rams? We must remember it's not how you start, but how you finish. With that in mind, however, there does need to be a sense of urgency in this game for the Bills. Starting 0-2 overall and in the AFC would be digging a rather deep hole in September. The best way to avoid that is to get out to an early lead to get the home crowd buzzing. The Raiders will undoubtedly want to run the ball with Josh Jacobs, keeping Josh Allen and Co. off the field and killing clock. It's not a bad idea against a Bills run defense that struggled in Week 1.
The Bills need to — football term incoming — maintain their gap integrity and win the early downs to force the Raiders into obvious passing situations. Offensively, someone other than Stefon Diggs needs to step up. The Bills also need to pay extra attention to Maxx Crosby, the Raiders' dynamite pass rusher. If they do those things — and Allen cleans up the turnovers — the home crowd should drive home happy. Bills, 28-14.
Mark Gaughan: I'd like to see the Bills strive to stay balanced vs. the Raiders. Las Vegas will have to respect the Bills' passing game, which should create opportunities for the Bills' running backs. James Cook needs to average better than 4 yards a carry. I'd like to see Damien Harris and Latavius Murray combine for eight carries, too. I'd target Cook a bunch as a receiver, too, against this Raiders defense. The running backs and tight ends should catch a bunch of passes.
Josh Allen and Stefon Diggs are familiar with Raiders' No. 1 cornerback Marcus Peters, who played for the Ravens last year. The other corner, Jakorian Bennett, is a fourth-round rookie who runs 4.30 in the 40. Look for the Las Vegas offense to try to pound the run with a fullback and try to shorten the game. Will the Bills respond with "big nickel" Taylor Rapp? Raiders quarterback Jimmy Garoppolo likes to get the ball out of his hands quickly. He needs to stay out of third and longs. Bills, 30-20.
Katherine Fitzgerald: Sean McDermott was quick to note both quarterback Josh Allen and the team's ability to bounce back: "We've been through this experience before in terms of having to reset after a game like that," McDermott said Wednesday. "And that's what I expect them to do fully."
I expect the Bills to do so as well. Monday's loss to the Jets was ugly, particularly from a turnover standpoint, but I don't think it's an indication of how the rest of the season will go. The season opener showed some lingering concerns from past seasons. Still, I think Allen will have a particularly strong game Sunday to steady the team. From a defensive standpoint, the Bills have the edge, and – with the help of a cleaner game from Allen this week – Buffalo will win the takeaway battle. Bills, 31-21.
Ryan O'Halloran: The Bills have started with a 0-2 record 21 times … and have never won a playoff game in any of those seasons. History dictates terming Sunday's game as a must-win over the Rai-dahs.
Three points of emphasis:
1. I would like to see the Bills coach/defensive play-caller Sean McDermott turn up the heat on Las Vegas quarterback Jimmy Garoppolo. According to my pencil, the Bills rushed five or more players on only three of the New York Jets' 26 drop-backs (11.5%) in Week 1.
2. In the second half against the Jets, the Bills used, at various points, receiver Gabe Davis, running back James Cook and tight ends Dalton Kincaid and Dawson Knox as chip edge blockers before running their routes. That should be in order against Raiders pass rusher Maxx Crosby.
3. The Bills book-ended regulation in Week 1 with no-huddle drives, one by choice (first quarter), one by necessity (fourth quarter). Open the game up with it again. Get a lead and put the Raiders on their heels.
The 9½-point spread is a little much for my liking, but quarterback Josh Allen commits only one turnover and throws three touchdowns. Bills, 27-20.