Things about the Bills entering Sunday's home opener against the Las Vegas Raiders:
1. Rapp's role. One noticeable change defensively under new play-caller Sean McDermott highlighted a first-time role for Taylor Rapp: Hybrid safety-linebacker.
Against the New York Jets, Rapp – signed away from the Los Angeles Rams during the offseason – replaced nickel back Taron Johnson on 18 snaps, including several plays when the Jets ran "13" personnel (three tight ends).
Rapp is listed at 208 pounds compared to 192 for Johnson.
"It's kind of a foreign position to me, basically like a 'big nickel' or 'strong-side linebacker' in base," Rapp said after practice Thursday.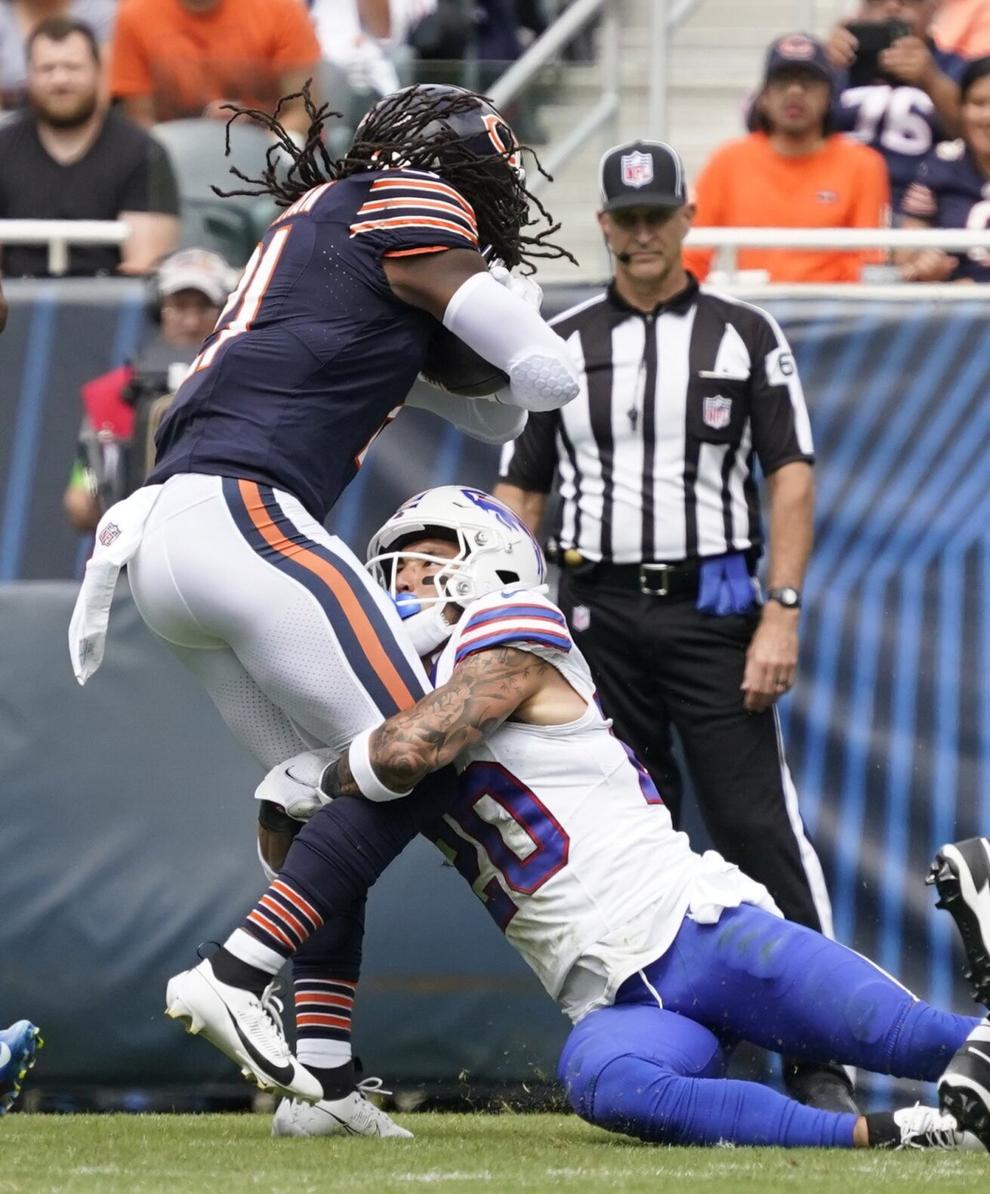 The strong-side linebacker is aligned on the side of the "strength" the offensive line (tight end or multiple tight ends next to the tackle). Rapp had four tackles and when going against bigger men, he didn't try to dodge them.
"You have to be stout in there and play like one of the linebackers," he said. "It's definitely important (to be strong against the run). You're one of the linebackers and you have to play ball."
Said assistant head coach/defensive line coach Eric Washington: "He can match up against certain receivers and he's a good matchup for us close to the line of scrimmage. We know he's going to be physical and a heat-seeking missile if you will."
2. "02" debuts. The Bills waited until their second offensive play to unveil "02" offensive personnel (two tight ends and three receivers), and it's already a personal favorite of mine because it's out of the box.
The rundown: Receivers Deonte Harty (running back), Stefon Diggs (slot right) and Gabe Davis (wide left) and tight ends Dawson Knox (slot left) and Dalton Kincaid (wide right).
Harty gained 5 yards on a reception. On two plays later in the game, Diggs caught a 3-yard pass (after Knox took the fake handoff) and Kincaid a 9-yard pass.
"Oh, it's awesome," Knox said. "It's just getting weapons spread out everywhere. I truly believe it could be a defensive coordinator's worst nightmare in not knowing what to call. We can bring guys into the backfield, we could go empty. There are just so many options."
Offensive coordinator Ken Dorsey called "02" personnel "just a good change-up. You can do some different things out of it to create some issues."
Receivers coach Adam Henry said the Bills began practicing "02" during the offseason program.
"(Dorsey) does a good job of just using all of the resources," Henry said. "It's something that will help us out."
While researching a story earlier this month on "12" personnel (two-tight end, two-receiver), I watched New England's AFC title-game win over Baltimore in January 2011, and the Patriots ran several snaps of "02" with tight ends Rob Gronkowski and Aaron Hernandez.
3. Kickoff rule a bum steer. The new fair-catch kickoff rule – allowing teams to place the football at the 25-yard line via fair catch – was a nonfactor in Week 1.
The 16 games had one fair catch – the Rams' Ronnie Rivers waved his arm at the 4-yard line, giving his team possession at the 25.
The teams combined for 33 returns and one recovered onside kick.
Was it weird to have such an uneventful debut to the rule, which was pushed into existence as a way to prevent injuries?
"I thought it was super interesting," Bills special teams coordinator Matthew Smiley told my News colleague Jay Skurski. "I thought that there were some times when the new rule could have been used and was not used, but you never know what each team is setting up as their parameters (for calling a fair catch) so you don't know if you're attempting to get that big return."
Smiley said the rule change has been discussed "a ton" internally by the Bills.
Bills kicker Tyler Bass told me he was "not surprised" by the lack of fair catches.
"I think it's something to monitor," he said. "It's a copycat league so you want to see what's going on around the league and go from there."