Warning: Spoilers for Star Trek – Picard's Academy #1IDW's latest Star Trek series, set during the early days of Jean-Luc Picard's tenure at Starfleet Academy, promises to depict how young, brash cadet seen in its debut issue goes on to become the stalwart captain of the USS Enterprise-D. While a naturally capable student, Picard's experiences at the Academy shaped him from someone who could only trust himself into the familiar leader who valued every possible perspective.
Star Trek – Picard's Academy #1 – by writer Sam Maggs, artist Ornella Greco, colorist Charlie Kirchoff and letterer Jeff Eckleberry – finds young Jean-Luc hesitant to put his faith in his fellow cadets, believing himself and his abilities superior to those around him. As Trek fans will know, this depiction of the character completely conflicts with Captain Picard's leadership style on the Enterprise, setting up the character's arc for the series.
Related: Star Trek Sets Up Amazing New Mission in Two Words – "Space Dinosaurs"
Captain Picard's Greatest Strength Is Trusting His Crew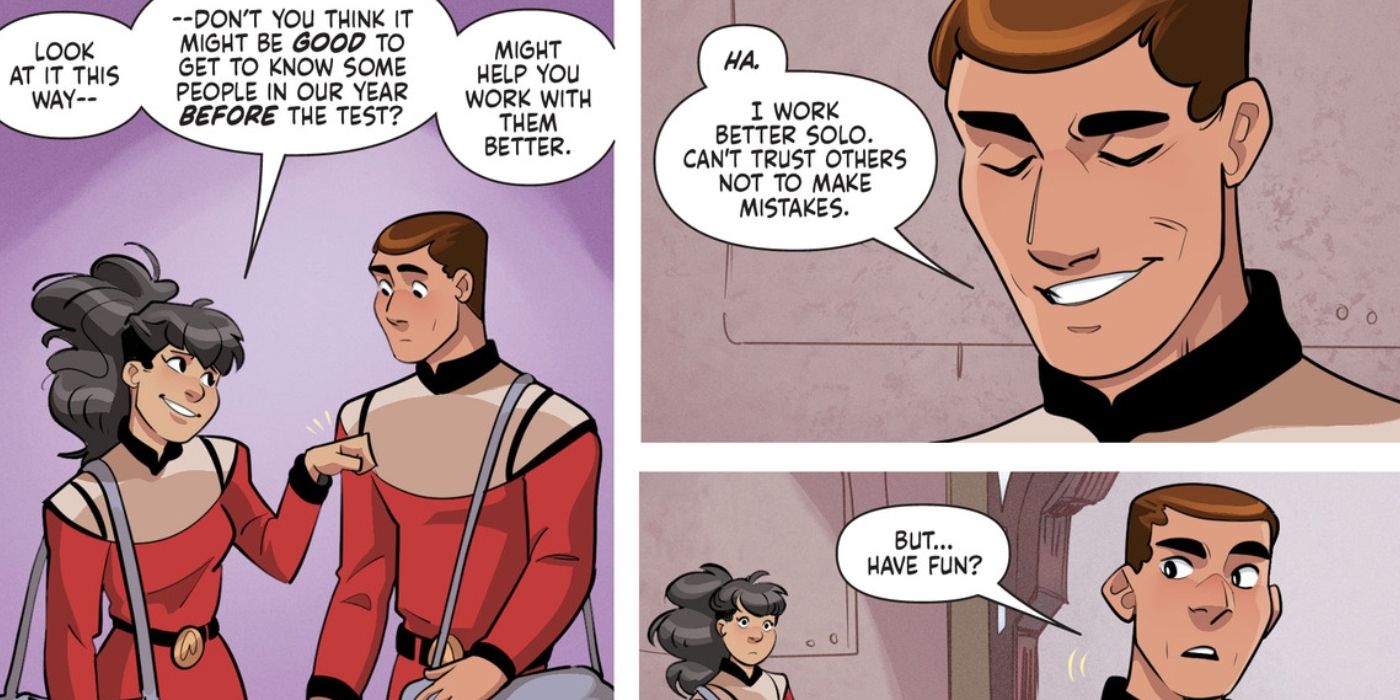 Guided by a strong moral compass, Picard is renowned for putting more trust and faith in his crew when making critical decisions than most captains in Star Trek. Often at the end of debriefing session, what he says before anything else is, "Suggestions?" This query is then quickly followed by every high-ranking officer in the room sharing their own opinions on the matter. Many times, there are disagreements between at least two of Picard's officers. In the vast majority of these cases, Picard doesn't state his own opinion. Instead, he chooses one of his crew members' suggestions, and explains why, before putting in the order to "make it so."
Picard's Academy Sets Up Its Protagonist's Story Arc In Issue #1
Given how often Picard followed this routine throughout all seven seasons of Star Trek: The Next Generation, it's hard to believe that even a younger, more brash version of Picard would ever espouse the view of not only being unable, but unwilling to trust others. And yet, readers see him sharing that very opinion within the first few pages of Picard's Academy #1. Although Picard's Academy has yet to show how he grows to be more aligned with that of Captain Picard, it is clear from the comic's delivery, and the overall emphasis on him being a loner, that this new series from IDW Publishing will revolve around this particular theme.
Of course, Next Generation fans know that Picard was very different during his Academy days. The flashback episode "Tapestry" famously featured him completely rejecting the reckless person he was as a student, to the point where he actually took steps to change his past to better reflect the type of man he had become. Naturally, this resulted in terrible consequences that eventually caused Picard to change his mind, even if embracing his wilder days could've meant his death in the present day. Now, IDW's new Picard's Academy series has positioned itself to tell the definitive story of one of Star Trek's greatest captains as he grows into his greatest self.
Star Trek – Picard's Academy #1 is available from IDW Publishing.