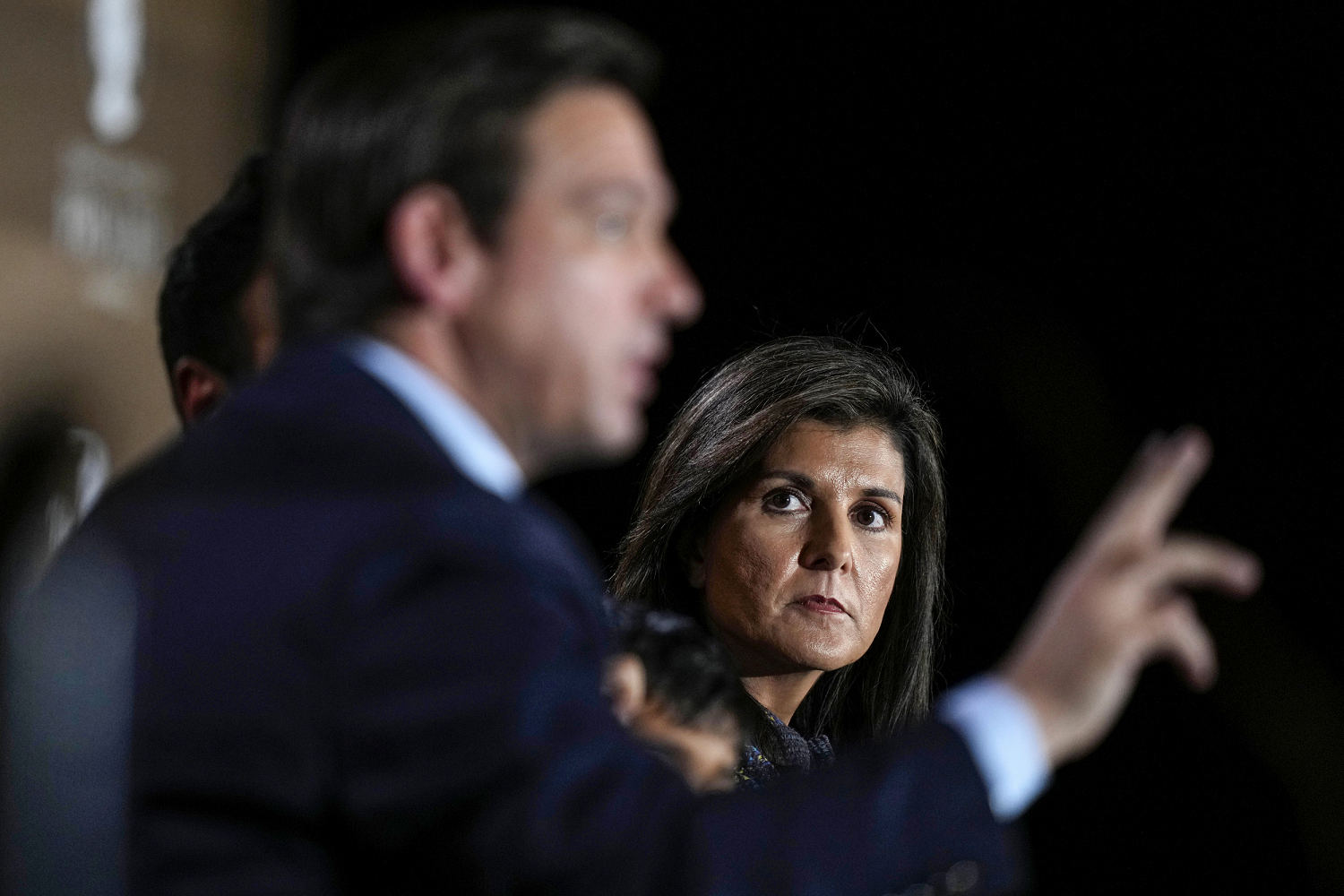 Fight Right, a newly formed super PAC backing Florida Gov. Ron DeSantis for president, will go after former South Carolina Gov. Nikki Haley for past comments she's made about Hillary Clinton in its first TV ad, according to a copy of the spot obtained by NBC News.
The 30-second ad takes past Haley quotes about Clinton out of context. It marks the latest instance of pro-DeSantis groups targeting the former United Nations ambassador, who has been rising in both early state and national polls, threatening DeSantis' long-established second-place standing in the Republican presidential primary.
"Crooked Hillary," the ad intones, as an animated stone bust of former Democratic presidential candidate Hillary Clinton is introduced on the screen. "But to Nikki Haley, she's her role model. The reason she ran for office." 
Fight Right did not immediately respond to an inquiry about this ad. 
While Haley has said in the past that Clinton was "the reason" she got into politics, the full comments make clear that it was not because of ideological commonalities or political agreement, but as a signal that more women are needed in the highest echelons of politics and government.
"Nikki Haley credited Hillary Clinton with saying young women shouldn't listen to critics who tell them not to run for office, but that's where the praise ended," campaign spokesperson Olivia Perez-Cubas told NBC News, referring to a 2020 interview where Haley encouraged other women to get involved and run for office.
"Haley has long said she doesn't agree with Clinton on anything and she'd be a disastrous president. Ron DeSantis spent $100 million to end up in fifth place in New Hampshire. Now, his lies are just embarrassing for him," Perez-Cubas added.
Haley is far from the only Republican woman to credit Clinton for blazing trails in politics for women, party politics aside.
In 2008, for instance, then-GOP vice presidential nominee Sarah Palin, said that her candidacy marked a chance to finish what Clinton had started with her first presidential bid. 
"I can't begin this great effort without honoring the achievements of Geraldine Ferraro in 1984 and, of course, Senator Hillary Clinton, who showed such determination and grace in her presidential campaign," Palin said then of the two Democratic female trailblazers, adding, "Hillary left 18 million cracks in the highest, hardest glass ceiling in America, but it turns out the women of America aren't finished yet and we can shatter that glass ceiling once and for all."
While the DeSantis team seeks to tie Haley to Clinton, it's the Florida governor's chief rival — Donald Trump — who has closer past ties to Clinton than anyone else in the GOP field. Both Hillary and her husband Bill attended Trump's wedding to Melania Trump in 2005.