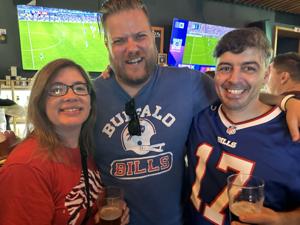 LISBON, Portugal – The Buffalo Bills are North America's team. And sometimes the world's.
Hugo Carmona is a case in point. He lives in Lisbon – and lives and breathes the Bills.
How did this happen? Simple, really. He grew up loving a local soccer club called Sporting.
"They gave me a lot of heartbreaks," he said during Sunday's Bills game. "I was looking for a team to love in American football, and I found out the Bills have a lot of heartbreaks in their history."
"I normally listen to heavy metal and podcasts about American football," Carmona said. "I started listening to the Rockpile Report, and I found it funny. Those guys are good."
When did Carmona pledge allegiance to the American football club that plays in Buffalo?
"I don't remember the year," he said, "but Rex Ryan was the new coach then."
"Since I have been their fan, things are getting better for Buffalo," he said.
That's fair, too, even if in the end the heartbreaks are ever with us.
It so happens that my wife and I are on vacation in Lisbon. (We recommend it, highly.) Sunday we wanted to find a place to watch the Bills play against the Las Vegas Raiders. A travel story in USA Today suggested the only place to see the NFL in Lisbon is The Couch Sports Bar.
When we walked in, almost all of the 33 TVs were tuned to football, just not the American kind. Soon enough we found two TVs tuned to the Red Zone channel. None had Bills-Raiders or any of the other 1 p.m. games (6 p.m. In Lisbon).
Then we saw a smiling man in a blue Bills jersey – Josh Allen's No. 17. We assumed he was from Western New York. Carmona is instead from Western Portugal.
He was chatting with a man in a Bills T-shirt and a woman in a T-shirt decorated with a Zubaz bison. Chuck Wolter and Lindsay Truesdell are on vacation from Buffalo and came to the bar to meet Carmona thanks to the matchmaking skills of Del Reid, co-founder of the grassroots movement known as Bills Mafia.
"I used to work with Del," Truesdell said, "and I figured if anybody is going to know somebody who knows where to watch the Bills In Lisbon, it's going to be Del. So he tweeted to his followers, and this man responded, and here we are."
Truesdell is a graduate of Williamsville South and Syracuse University who works for Delaware North. Wolter is a graduate of Park School and the University at Buffalo who works for Odoo Buffalo, the software company. They had planned a European vacation in 2020 but the pandemic put it on hold.
"We had three extra years to pay for it," Wolter said.
The bar was standing room only as Carmona regaled us with his stories.
"I have a shirt from Bills Mafia and every time I go someplace I wear it and send a picture to Del Reid," Carmona said. "America, Canada, Argentina, Uruguay, Spain, Germany, Belgium, England, Ireland. And I probably forgot a couple more."
He has been to Buffalo three times, all to see the Bills. He got to meet up with Drew Gier and Chris Krueger from the Rockpile Report.
"My first time to America not for work was to Buffalo," Carmona said. "It's very good. I love Buffalo. I could go to anyplace in America, and I chose Buffalo, to see the Bills."
The agent at border control in New Jersey looked skeptical when Carmona said he was coming to America to see the Bills play.
"He asked me, 'OK, who's the quarterback?' And I said, 'Josh Allen. That's too easy. Ask me the long snapper on the special teams.' "
We all laughed and toasted him.
"We only met Hugo a minute before you showed up," Truesdell said. "And now we're old friends."