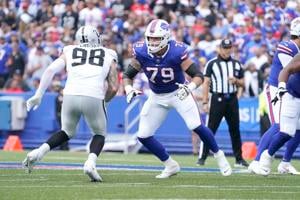 Spencer Brown spread the credit around for his good performance against star pass rusher Maxx Crosby in Sunday's victory over the Las Vegas Raiders.
"We got the win," Brown said in the Bills' locker room after the 38-10 triumph. "That's good confidence. I played against an All-Pro guy, a guy who's got good stats, gets paid a lot to rush the passer. It was a good week of preparation, a good week of play calling, we had a good plan for him, we executed that game plan and look forward to the next week."
That's a pretty good summation from the Bills' third-year right tackle.
Brown played well in a matchup Bills fans feared would be a big problem for the Buffalo offense. Yet it isn't like he singlehandedly "shut out" Crosby. The Bills had a smart game plan.
Brown had to single-block Crosby on pure pass-block sets on 15 plays, according to a News video review of the game. He got help from a tight end who jammed Crosby at the line of scrimmage before going out into the pass pattern on six plays. He got help from a running back who put a chip-block on Crosby on two plays. There were at least six other pass plays on which the pass was released extremely quickly, before Crosby had much chance to rush.
It was good game-planning by offensive coordinator Ken Dorsey, and it was the kind of respect many teams show for Crosby, who had 12.5 sacks in 2022 and ranked second in the NFL in QB hits (with 22) and third in QB pressures (with 81).
It also was an encouraging performance for Brown, who had a good rookie year in 2021 and then was hindered in 2022 as he recovered from back surgery.
The 6-foot-8 Brown has the kind of athleticism and length that's normally reserved for first-round picks from college football powerhouses. The fact he came from Northern Iowa made him a third-round pick in 2021. It would be huge for General Manager Brandon Beane's roster-building master plan if Brown can put together a good 2023 season.
"Spencer, he's got all the tools, man," said quarterback Josh Allen. "He can be so freakin' good when he puts his mind to it. And you know, we saw that today. And I've got so much faith in him. I got so much trust in him and he's just getting better each and every week."
Crosby was held without a sack. He had four hurries, but Allen completed passes on three of them, and the Raiders were penalized on the fourth.
Crosby is a great bull-rusher, and Brown handled a bull-rush from him on a bunch of plays, including on Allen's first completion of the game, an out route by Stefon Diggs.
"The bull rush was a point of emphasis for me this week, especially after last week with John Franklin-Myers got me," Brown said. "Watching tape, he sets you up with speed, sets you up with a spin and he'll come right down your chest. You've got to be ready for that."
The Week 1 loss to the New York Jets wasn't all bad for Brown, contrary to public perception. He handled the Jets' dangerous speed rushers – Bryce Huff and Jermaine Johnson – pretty well on numerous occasions. But he had trouble against Franklin-Myers, an unusually large edge rusher at 288 pounds. Brown gave up a sack and a hurry on bull rushes by Franklin-Myers.
Brown saw a flurry of moves from Crosby. One hurry came on a double-swipe move, in which Crosby knocked Brown's hands away, but Allen got the ball off incomplete for Dalton Kincaid. Crosby threw an inside spin move at Brown on the next play, but Allen hung in the pocket and delivered a great throw for a touchdown to Khalil Shakir.
"I was telling Mitch (Morse), I'm just chasing this guy," Brown said. "I have no idea what he's going to do. He has free rein to do what he wants. Some of those chips and jams, I was kind of thrown off, I was not expecting that. He has a good arsenal, a lot of moves, a lot of tools."
A jam is when the tight end gives the edge rusher a shot before going into the pattern. It takes some coordination. The tight end wants to slow the defender but not knock him so far off track that the tackle can't reach him. Kincaid did it well on a third-quarter play in which he leaked out to the right flat and caught an 8-yard pass.
"We had a good game plan for him," Brown said. "Jams, chips, everything like that. The tight ends helped me out, running backs out of the backfield."
Brown faced the Raiders' other defensive end, Tyree Wilson, only once and easily blocked him on a pass play.
Brown also credited Bills practice squad defensive end Kingsley Jonathan with simulating Crosby's moves in practice.
"It might have been one of the best scout team looks I've seen, ever," Brown said.
The game was a good learning experience.
"I respect the way he plays," Brown said of Crosby. "He has another motor. He plays football the way I think it should be played. I was telling him all day, that was a good move, dude. I respect the hell out of ya. We've got the same financial adviser. … It's always fun to go against those good guys."
There's no rest for offensive tackles in the NFL. Brown faces another star pass rusher this week in Washington's Montez Sweat.