Hellenic Bank on Tuesday announced robust financial results for the first nine months of 2023, posting an after-tax profit of €240.7 million, primarily attributed to increased interest income derived from placements with Central Banks, other financial institutions, and debt securities.
Antonis Rouvas, the group's interim Chief Executive Officer, stated that Hellenic Bank's performance "continued to be strong in the third quarter of 2023, with a nine-month profit after tax totalling €240.7 million".
"The main performance drivers remain the higher interest income arising mainly from Central Bank placements and debt securities due to the higher ECB interest rates, as well as lower total expenses reflecting the 2022 VEES," he added, noting that the bank's performance demonstrates the strength of its business model.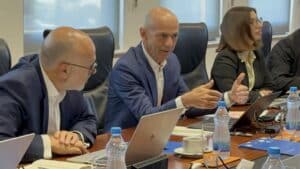 According to the results, the bank continues to maintain a solid capital position, boasting a CET1 ratio of 21.7 per cent and a Total capital ratio of 27.4 per cent, significantly exceeding regulatory thresholds.
Furthermore, Hellenic Bank has strategically managed its balance sheet, achieving an NPE ratio of 2.7 per cent, excluding NPEs covered by the APS agreement, thereby minimising risk.
Despite ongoing economic and operational challenges, Hellenic Bank noted that it remains steadfast in its transformation efforts, addressing structural issues with a focus on digitalisation and efficiency enhancements.
"The significant strengthening of the Bank's fundamentals has been recognised by major credit rating agencies," Rouvas said.
"In October 2023, the Bank's long-term deposit rating has been upgraded to an investment grade of Baa3 after 12 years by Moody's Investor Service. In November 2023 Fitch Ratings upgraded the Bank's issuer default rating by 2 notches to BB+," he added.
Nevertheless, Rouvas noted that the bank remains "watchful for any risks that could affect the bank's performance due to the challenging economic and operating environment, with rising interest rates, high inflation and heightened geopolitical risk".
Other key highlights from the report include a notable 11 per cent year-on-year increase in new lending, totalling €900 million for the period, aligning with the bank's annual targets.
"With about €900 million of new loans granted during 9M2023, up 11 per cent year on year, we remain on track to achieve our annual lending target of €1.2 billion," Rouvas stated.
Additionally, the bank has witnessed a substantial 84 per cent year-on-year rise in net interest income, reaching €379.7 million, attributed to escalating interest rates and a well-managed liquid balance sheet, particularly fueled by placements with Central Banks.
The bank's cost-to-income ratio stands at 36 per cent, adjusted for the Deposits Guarantee Scheme contribution and Special Levy, primarily influenced by higher net interest income and reduced staff costs following the Voluntary Early Exit Scheme implemented in December 2022.
Hellenic Bank also reported that 99.6 per cent of new lending exposures post-2018 demonstrate sound performance.
Moreover, its provision coverage ratio for NPEs (excluding those covered by the APS agreement) stands at a solid 45 per cent as of September 30, 2023.
What is more, the bank's results show ample liquidity, boasting a liquidity coverage ratio (LCR) of 506 per cent and placing €6 billion at the ECB (excluding TLTRO of €2.3 billion), while its MREL to TREA ratio sits comfortably at 29.8 per cent, well on track to fully comply with the final binding MREL requirement by December 2025.
In terms of the Cypriot economy, Rouvas stated that the bank considers it "imperative that the country has a stable and functional foreclosure framework for addressing strategic defaulters and for reducing moral hazard".
He explained that although non-performing loans were mostly shifted outside the banking sector, the level of problem loans in Cyprus remains one of the highest in Europe, negatively impacting the country's sovereign credit ratings.
"We reiterate our commitment to support our vulnerable customers and to work closely with the authorities for any proposed measures that will address the long-standing issue of NPEs, however, the continuous discussion about changing the legal framework is destabilising," Rouvas said.
"As far as labour issues are concerned, I would like to stress our constructive stance and irrevocable commitment towards finding solutions to all pending issues through dialogue and with the support of the Ministry of Labour and Social Insurance," the CEO concluded.