As thousands of Bills fans sat in bumper-to-bumper traffic on Sunday, they only had to turn on sports talk radio to hear the reason it took longer than usual to arrive at Highmark Stadium.
"Everybody is talking about the big hole in the ground," WGR host Jeremy White said.
"Which is a big, giant hole," added co-host Nate Geary.
Tailgaters on Sunday marveled at the massive pile of earth that had already been moved for the $1.4 billion stadium in Orchard Park, across Abbott Road from the current facility.
They snapped selfies with yellow backhoes and cranes behind them, as they were drinking Genesee Cream Ale and grilling Sahlen's hot dogs.
But fans like Mark Young of Rochester had their party time cut short by traffic snarls resulting from stadium construction.
"It's horrible," Young said. "It's always crowded in here, but today more so."
Tina Rivituso tailgated in the same spot she always does — on the "fieldhouse side" of Abbott Road — but estimated the construction added an extra hour to her drive time.
"We packed lunch and dinner," she said. "You spend the whole day here. You have to."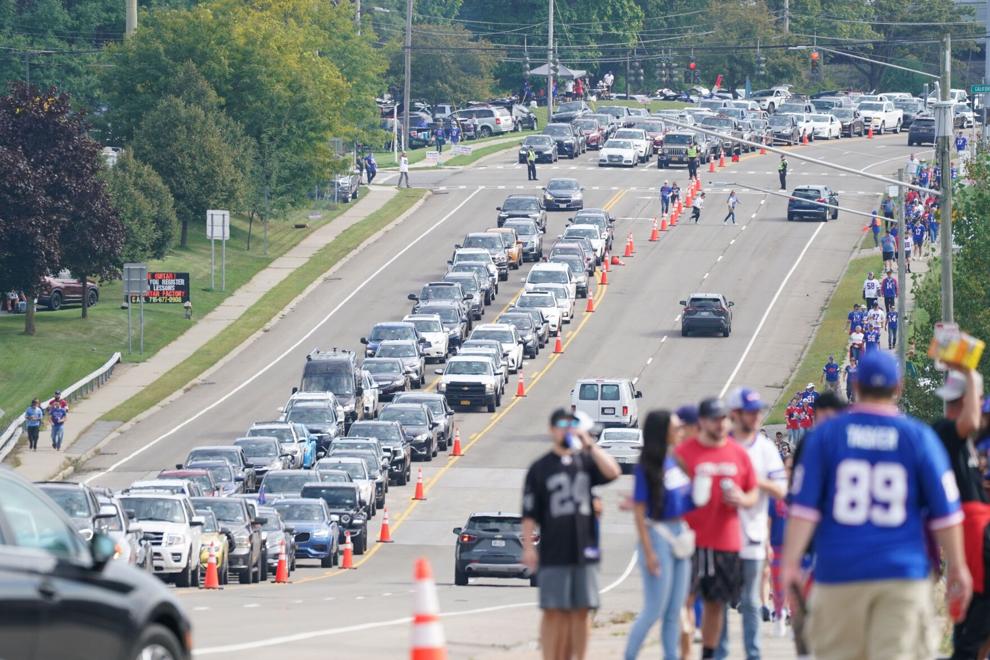 The western side of Abbott — near Erie Community College's South Campus — traditionally has hosted the Bills' RV lot, where those with campers and school buses set up to eat, drink and talk about football throughout the weekend.
With that lot closed, RVs were forced into alternate locations and side streets were packed with vehicles. Guy and Jo Delregno of Hamburg drove by the stadium Saturday just to scout out a location.
"It's a nuthouse up there," Guy Delregno said Sunday. "I'm just surprised they don't plan better. People are all worried and saying, 'Where do I park?' "
The chaos drove the Delregnos and about 40 others to leave their cars behind. They parked at the McKinley Mall in Hamburg and rode a Metro Bus to the stadium.
Starting last year, the Niagara Frontier Transportation Authority has been increasing bus service to Bills games, running express buses from suburban malls and from the Metropolitan Transportation Center downtown.
Brian and Barb Bartus of Grand Island began using the service last year. They parked at the McKinley Mall in Hamburg and paid $5 to ride a bus to the stadium.
"We don't mind paying," Brian Bartus said of the stadium lots. "But I'm not walking 10 miles when I can (ride the bus and) walk 10 feet."
Most people who got on at the mall were trying the bus service for the first time. They said they were afraid parking would be more difficult with the new stadium construction.
"I'm really impressed by how smoothly this has been run," said Juliette Giorgio, who was visiting her mother and had come from New York City.
Giorgio said she had never seen a fan base as excited for a football game as Bills fans appeared on Sunday.
"This is so great," she said. "I hope Buffalo knows this is so unique."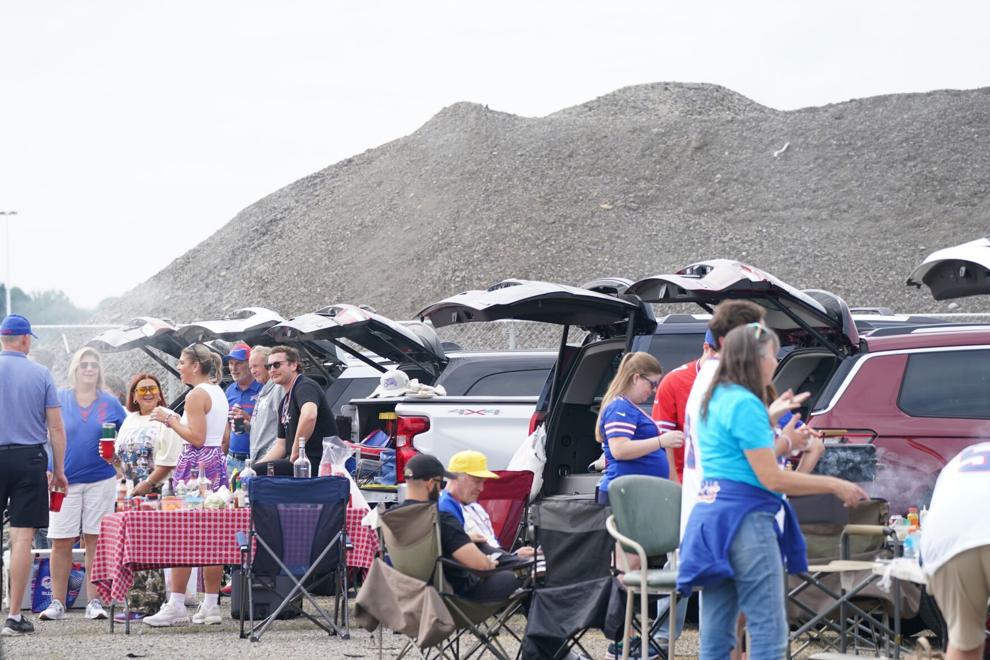 Annette Payne rode the bus from Buffalo's East Side for her job as a cleaner at Highmark Stadium. On game day, she said, traffic around the stadium "is torture."
But "as long as I get there, that's all that matters to me."
As the Metro Bus wound its way toward the stadium on Sunday, more than 50 people hopped aboard. A mass of fans in red, white and blue Zubaz pants grabbed ahold of the yellow bus rails next to their heads and what would normally be a five-minute drive turned into an hour.
Fans said the NFTA probably should have ordered two buses to pick them up at the 10:45 time slot en route to the stadium.
"We've been riding since last year and this is the most people we've ever had," said Bartus. "The last two times, almost everyone had a seat."
Many fans said the traffic delays were frustrating but didn't ruin their game-day experience.
"If you're in an RV lot, you're kind of screwed," said Jessica McGraw of Hamburg. "You're not so happy right now."
Paul Boser of Amherst said traffic was bad but not impossible. He still got to his parking space on the east side of Abbott.
"We left a little bit earlier, but it's not bad," he said.
Bartus seemed to sum up the attitude of Bills fans best.
"Nothing is going to stop us" from getting to the game, she said. "Nothing."